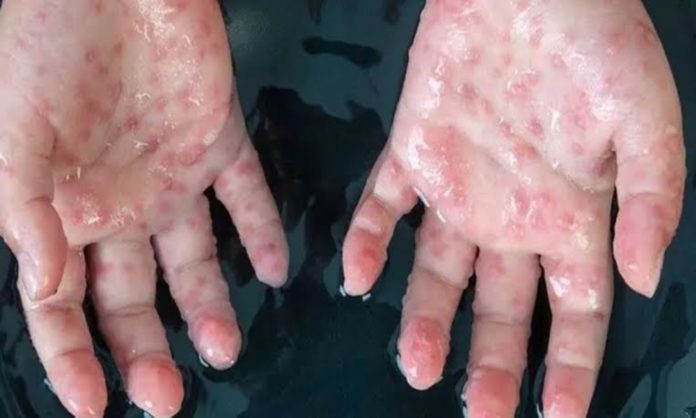 A new skin condition known as Monkeypox is on the rise. Amidst the rising number of cases, National Institute of Health (NIH) has issued a high alert and reporting of suspected Monkeypox cases.
What Is Monkeypox?
Monkeypox is caused by the Monkeypox virus, a member of the same family of viruses as smallpox, although it is much less severe and experts say chances of infection are low. It occurs mostly in remote parts of central and west African countries, near tropical rainforests.
Where Did It Emerge?
Scientists discovered the virus in 1958 after two outbreaks of a "pox-like" disease in laboratory monkeys — hence, the term Monkeypox . In 1970, a nine-year-old child in a remote section of Congo became the first reported human infection
There are two main strains of virus – west African and central African. Two of the infected patients in the UK travelled from Nigeria, so it is likely that they are suffering from the West African strain, which is generally mild.
Another case was a healthcare worker who picked up the virus from one of the patients. More recent cases do not have any known links with each other, or any history of travel. It appears they caught it in the UK from spread in the community. Meanwhile, epidemiological investigations are on-going.
Read More: 5 Tips To Stay Cool If You Don't Have An Air Conditioner
How Many Countries Have Been Affected So Far?
In recent weeks, cases have been detected in Britain, France, Germany, Belgium, Italy, Portugal, the Netherlands. Switzerland and Sweden as well as in the United States, Canada and Australia, raising fears the virus may be spreading. Spain reported 24 new cases on Friday, mainly in the Madrid region where the regional government closed a sauna linked to the majority of infections.
Israel also reported its first case on Saturday, signalling the virus' spread to the Middle East.
Symptoms Of Monkeypox  
Initial symptoms include fever, headaches, swellings, back pain, aching muscles. Once the fever breaks a rash can develop, often beginning on the face, then spreading to other parts of the body, most commonly the palms of the hands and soles of the feet.
The rash, which can be extremely itchy or painful, changes and goes through different stages before finally forming a scab, which later falls off. The lesions can cause scarring.
The infection usually clears up on its own and lasts between 14 and 21 days.
Do We Need To Be Concerned As South Asians?
According to Dr. Farooq Nawaz Sahil, a resident pulmonologist at Lahore's Services Hospital, two cases of Monkeypox have been detected in Lahore's Jinnah Hospital. The infected patients have been isolated and are currently being treated at the hospital's isolation ward.
(Disturbing images)
02 cases of MonkeyPox virus detected in Jinnah Hospital Lahore.
Another viral attack on globe.
Ya ALLAH kher.
It looks very disturbing.
Details of disease and other information:https://t.co/5EuktHwQhX#monkeypox #Lahore pic.twitter.com/zHByZ8OqL8

— Farooq Nawaz Sahil (@drsahil201) May 22, 2022
In a recent development NIH has directed the provinces to take precautionary measures required to deal with the Monkeypox outbreak in Pakistan. Health Department Government of Sindh has issued a high alert and reporting of suspected Monkeypox cases.
Read More: 5 Health Problems Caused By Smartphone Overuse
Now that the disease has been reported in Pakistan, it is customary to take necessary measures to avoid contracting the virus. According to statistics, vaccination against smallpox has been proven to be 85% effective in preventing Monkeypox . The health ministry has also recommended increasing the surveillance process to prevent the spread.
Stay tuned to Brandsynario for the latest news and updates.