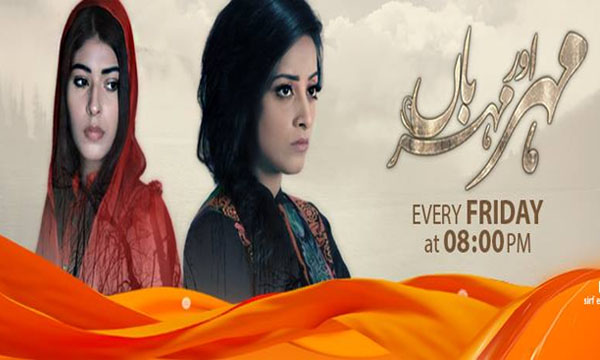 Written by Seema Munaf and directed by Zeeshan Ahmed, Urdu1 Drama Meher Aur Meherban premiered on Friday, 5th August on Urdu1 at 8pm. With the stellar cast of Waseem Abbas, Shafugta Ejaz, Affan Waheed, Sanam Chaudhry, Ali Abbas, and Sonia Mishaal in leading roles, Meher Aur Meherban has already got us hooked to our screens with its first episode.
The first episode of Meher Aur Meherban on Urdu1 opens with a teary-eyed Ayesha (Shagufta Ejaz) praying while one of her daughters Muzna (Sanam Chaudhry) is having a fiery argument with her stepfather played by Waseem Abbas over his incessant misdoings. Now we all know what he does – he gets his daughters married multiple times for a heavy amount of Haq-Meher only to force the daughters to leave their husbands later and remarry.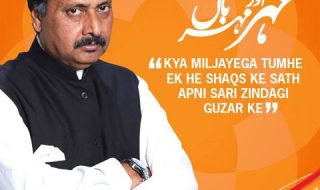 The character of Unaiza in Meher Aur Meherban is played by Sonia Mishaal is Sanam's elder sister who has been married twice before but is determined not to let her younger sister go through the same ordeal.
Unaiza's husband expresses his desire to become a father while she keeps dodging the idea and rudely negates him; deliberately picking fights with him and giving him reasons to argue.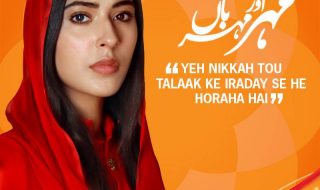 In the second sequence of events, Waseem Abbas dictates Ayesha to bar Muzna from going to outside their home as he is finding a match for her too. While Muzna, at her shopping spree, meets a guy Shahzeb (Affan Waheed) and they become friends.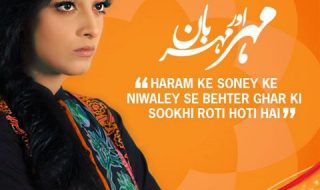 And Waseem Abbass, well he keeps making us clench our fists in rage with his ruthless demeanor and hateful diction. #VillainGoals
The first episode of Meher Aur Meherban was primarily an introduction of the characters and the narrative and to see how the story unfolds, we'd have to wait for Friday!
Watch the promo of the second episode here:
https://www.youtube.com/watch?v=RP4PjN_IxzI