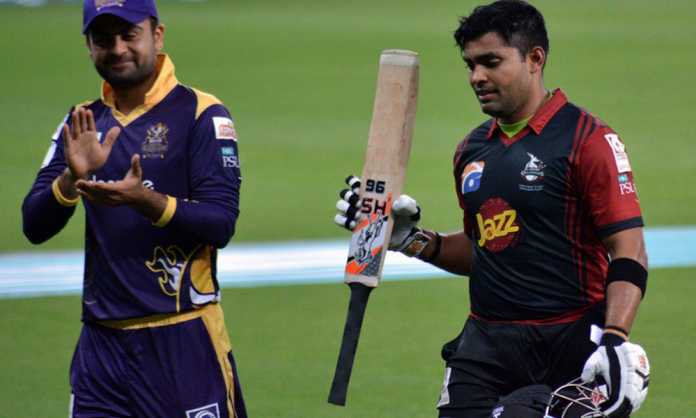 The Akmal brother has always found themselves in the limelight, and more or less it has always been for a shameful reason. Ahmed Shehzad has followed a similar pattern in recent times.
From dropped catches to early dismissals, Umar Akmal has been under fire for a lot of things and now he can now add another reason under his belt. While Shehzad has also come under the limelight for his performances.
However, both batsmen, in a recent press conference have said that they'd like to let their controversial past be bygones.
"Problems are a part of life. I want to play great cricket for Quetta Gladiators," Shehzad said. "My complete focus is on the PSL. I want to move ahead of all the controversies," Akmal added.
Recently, Umar Akmal allegedly misbehaved with a fitness trainer, allegedly exposing himself completely during a skin-fold fitness test at the National Cricket Academy (NCA).
Junior Akmal now finds himself facing the prospect of being kicked out of the next domestic tournament.
Umar Akmal Smashes Shahid Afridi's 'Most Ducks by Any Pakistani in T20' Record!
Whereas Senior Akmal himself miserably failed the fitness test himself by margins.
ESPNcricinfo reports that Umar, after allegedly exposing himself asked the trainer "Where is the fat?"
Furthermore, big brother supported little brother did it in mischief and said it was simply a "misunderstanding".
Meanwhile, Pakistan Cricket Board (PCB) confirmed to ESPNcricinfo that they are fully aware of the matter and looking at potential punishments in the context of bringing the game into disrepute. Umar could potentially be axed from the upcoming domestic one-day cup.
Moreover, it was found that both brothers have not signed any contracts with their provincial teams, nor with the PCB and yet they were playing domestic cricket without any contractual obligation.
We have now to see what punishment PCB has in store for Akmal. Over the months, many cricketers have been in hot waters for scandals and plenty controversies, they include Imad Wasim, Imam-ul-Haq and even Shaheen Afridi!
Stay tuned to Brandsynario.