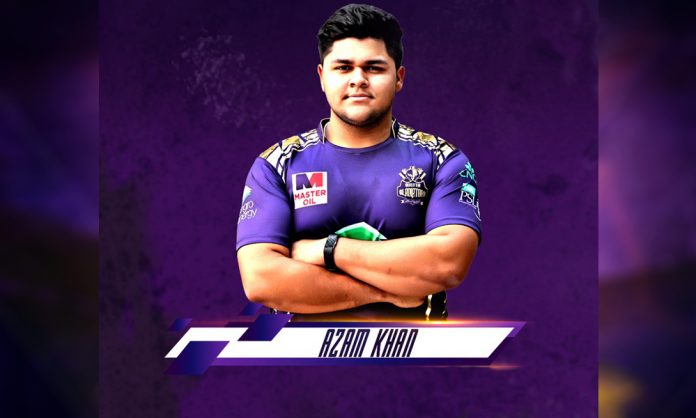 Last night Pakistan Super League (PSL) finally came home!
The opening ceremony took place in Karachi at the National Stadium, followed by a much-awaited match between Quetta Gladiators and Islamabad United.
While there were plenty of highs and lows from yesterday, one particular cricketer stood out – Azam Khan.
Azam Khan is a Pakistani cricketer who plays for Quetta Gladiators and Pakistan Television. For those who were unaware, he is the son of a former Pakistani cricketer, Moin Khan.
The powerhouse smashed three boundaries and stroked five shots to the fence, scoring 59 off 33 which was enough to make the Gladiators victorious!
Father Moi Khan must be really proud of his boy and surly knew his capabilities. "Azam Khan will be Quetta Gladiators' trump card in HBL PSL 5," Moin Khan – coach of the defending champions – was reported to have predicted about his son earlier this week.
After watching his mind-blowing performance, netizens were unable to keep calm and took it to Twitter to express their feelings.
#PSL5 Opening Ceremony Host Ahmed Godil Replies to Trolls After Being Brutally Roasted!
Twitter Reactions to Azam Khan's Performance
Congratulations @TeamQuetta for winning the first game and a very impressive knock by #AzamKhan !

— Azhar Mahmood (@AzharMahmood11) February 20, 2020
Brilliant!! He was always a special talent, so good to see him deliver.#AzamKhan #HBLPSLV pic.twitter.com/gAbNRMr5Vd

— Emmad Hameed (@Emmad81) February 20, 2020
Not to jinx but this (text in photo) was sent to me few days ago from someome who is following Azam Khan (Moin Khan son) development very closely. pic.twitter.com/PnBMb5UKyW

— Umar Farooq Kalson (@kalson) February 20, 2020
Proud moment for Moin Khan 💜 #AzamKhan #IUvQG #HBLPSL5pic.twitter.com/IaNk8zl4mQ

— ᴊᴀᴄᴋ ꜱᴩᴀʀʀᴏᴡ 🇮🇳🇮🇳 (@Jacksparrow9807) February 20, 2020
You gotta be awesome when your name is AZAM. #AzamKhan pic.twitter.com/lim3dNhSij

— Serial Chiller (@_serialchilller) February 20, 2020
shocked na? despite being under immense criticism yet Azam Khan has knocked the balls impressively with th confidence for which he deserves appreciation! technique timing power reflexes quick response are key points in th batting of Azam Khan! Answered critics very well!🏏#HBLPSL pic.twitter.com/h0MCZQ4XV3

— Arfa Feroz Zake (@ArfaSays_) February 20, 2020
Karachi crowd has gone from chanting "PARCHI & ALOOO" at Azam Khan to cheering every shot he plays within an hour

— Osama. (@ashaqeens) February 20, 2020
Maiden quick fire 50 for Azam Khan! What an innings by him! Trolled all of us back.#PSL5 pic.twitter.com/zczg3b9rvF

— Ahsan. 🇵🇰 (@imPakistaniLAD) February 20, 2020
The greatest Azams 😁#Azamkhan#PSL2020 pic.twitter.com/Pg9j4FNXz4

— Aksam Rafiq (@aksamrafiq44) February 20, 2020
Today's hero #AzamKhan … what a comeback @TeamQuetta 👌 first game , first win. https://t.co/lNvl04VEn1

— GamePlanPK (@GamePlanPK) February 20, 2020
Azam has shown his trolls and those who went against him that weight has nothing to do with your passion for the game.
If you have a fire that ignites within, then you can conquer every peak that comes your way.
Bravo Azam! We are very proud of you!
Stay tuned to Brandsynario for more news and updates.
PSL 2020: Quetta Gladiators Will Miss Boy-Wonder Naseem Shah!