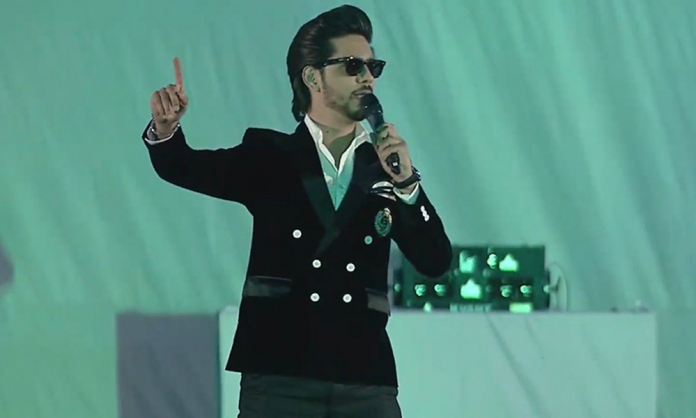 Pakistan Super League's opening ceremony has always been something we all have looked forward to.
From international singers to local crooners and a massive display of fireworks, the ceremony has all that and more to offer.
However, PSL 5's opening ceremony was different than the previous ones, it was hosted by Ahmed Godil.
Since then, social media has been divided! While many have brutally roasted him over every possible platform in every possible way, some have taken his side.
Reportedly, he was hired for Rs. 5 million where he is reported to have asked for Rs. 1 crore.
Here are some of the most viral social media reactions towards the PSL 5 opening ceremony host Ahmed Godil.
Whoever did this is an absolute genius 🤣🤣🤣 pic.twitter.com/Ne94IR2JIn

— omar r quraishi (@omar_quraishi) February 21, 2020
Iss bhai ke career ki opening aur closing date same hogi… #sorryji #OpeningCeremony #HBLPSLV #PSL2020 #PSL5ComesPakistan pic.twitter.com/smcfuDY0CY

— Syeda Bushra Aamir (@BushraAamir) February 20, 2020
10 minutes into PSL and we already have our first meme material.#PSL5ComesPakistan pic.twitter.com/WSLv8gC6CX

— Dilawar Sattar Rind (@DILAWARRIND7) February 20, 2020
Pakistani Awaam:
Today is After
Opening Seeing
Ceremony of PSL Host #PSLComesHome #PSL5ComesPakistan pic.twitter.com/pJb2mRixgH

— Syeda Trimzi (@TrimiziiiSyeda) February 20, 2020
Kab se Intezar tha PSL ki opening ceremony ka but Uss Namoone Host nee toh..👇👇#PSL2020 pic.twitter.com/c6kB4U2dLx

— 𝕭𝖔𝖔𝖐𝖂𝖔𝖗𝖒📚📖 (@rijasid) February 20, 2020
Listening to this psl season host like https://t.co/Rp6nD0tujz

— Waleed Nasir (@waleednasir00) February 20, 2020
me @ the psl opening ceremony ka host#PSLGrandPrix2020 pic.twitter.com/EPjJaeeJmw

— fml uwu (@makblahsalot) February 20, 2020
The Imran Khan you get off of Daraz pic.twitter.com/YLWShfam9M

— Arham (@ThisIsArham) February 20, 2020
Everybody at the host rn🙄#PSL2020 pic.twitter.com/UgWBiIzzIe

— Jav. (@javeria_16) February 20, 2020
can someone try turning the ceremony off and on again?

— Faizan. (@merabichrayaar) February 20, 2020
Twanty twanty main khushamdeed karte hain

— anastipu (@teepusahab) February 20, 2020
"aap meri awaaz tamam psl matches main sunnain gay" bro hum nay apka bigara kia hay

— cole's law. (@shahitukray) February 20, 2020
Me watching Opening Ceremony #PSL2020 pic.twitter.com/uFuPvWagHz

— 𝕊𝕖𝕕 ℕ𝕚𝕓𝕓𝕒 ✿ (@iBadSoul) February 20, 2020
ALL OF US AFTER FINALLY HEARING THE CROWD NOISE-#PSL5ComesPakistan #PSL2020 #PSLV pic.twitter.com/H11jpKcj9S

— 𝐁𝐞𝐛𝐞. (@Beenishmuffin) February 20, 2020
Trying to Decide which is worse. #PSLV Anthem or #PSL5 Host#PSLComesHome #PSL2020 pic.twitter.com/3xbIuw4wjp

— Usman Saleem Akhter (@UsmaanSaleem) February 20, 2020
Every Pakistan right now by watching this sasta Imran Khan😂#PSLVopeningcermony pic.twitter.com/z8589h1Sas

— haha (@rabailstunning1) February 20, 2020
Me watching PSL opening ceremony with worst hosting, extremely bad lip sync performances and awkward silence in the crowd.#PSL2020 pic.twitter.com/ucZWbMrRLf

— Rafay Ejaz (@PakSavage) February 20, 2020
PSL 5 Opening Ceremony Host Ahmed Godil Replies to Trolls
Ahmed took it to his official Facebook page to pen down a message for all his trolls. His message reads:
Two thumbs up for all the people who are trolling me and trying to mock me just because of pure jealousy and can't digest how someone can reach till here but this is because of immense hardwork and dedication.

Thank you for all the love, hate, respect, direspect and support!!
In the end : Mehnat kar , hasadd na kar!
What did you think about Ahmed's hosting skills? Share your thoughts with us in the comments below!
Stay tuned to Brandsynario for more news and updates.