Ghana Ali finds a way to get into headlines always somehow or maybe netizens just get a kick out of trolling her. The talented actress is expecting her first child and her pictures celebrate her new role fully. However, netizens have some objections with how she poses for all the pics on the gram. What's this about?
Ghana Ali's Announcement
A while ago, Ghana Ali dropped out of a current project of hers and made a whole announcement about it. She said she unavoidable circumstances had evolved and now she will have to quit this project. Moreover, she said her previously recorded scenes will also be cut from the said drama. Many already predicted that the actress must be expecting and so, they were right!

Read more: Ghana Ali's Fans Speculate She Might Be 'Expecting' After Her Recent Post
Ghana Ali announced her pregnancy recently on her Instagram. Here's her post:
View this post on Instagram
The Hand On The belly
Everyone knows about the 'hand on the belly' pose for expecting ladies. It's somehow become the norm or the custom whenever anyone starts to expect a child. Ghana Ali was no different and always posed thereafter with a hand on her belly that shows her growing baby bump. Case in point are these recent pictures as well in which she dons a loose matching separates set.
However, in the last picture, there's her favourite pose!
View this post on Instagram
Netizens Object To It
This constant tummy coddling has netizens irritated. Ghana Ali's latest pictures with her husband and friends have triggered social media trolls and they're after her over her pose. "What's with the hand on the stomach?" they keep asking. As always, there are also fat-shaming comments on her husband. Moreover, it appears some comments are made by none other than the cast of CID as people want to investigate Ghana Ali's pregnancy's start and progress.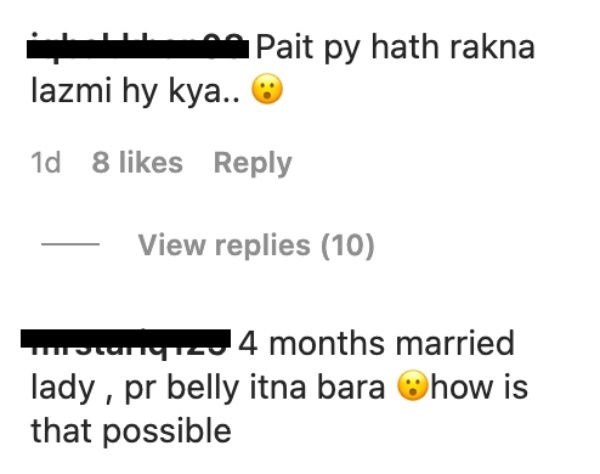 Have a look at the chaotic comments section: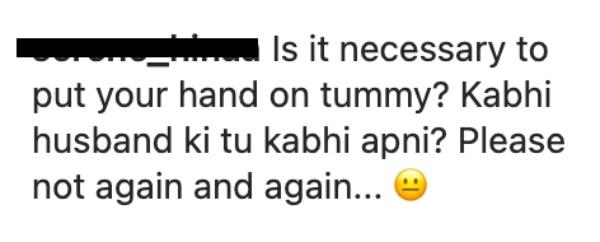 Do Celebrities Pose As People Please?
For netizens to troll a pregnant lady on how she poses – just because she is a celebrity – is unfair. Why should one now even pose according to what the public says? There's also an issue of the mindset here. If an international celebrity poses like that then there's seldom any issue. However, if our own celebrities start doing the same, the troll brigade is sure to rush to their comments section.
However, Ghana Ali is no easy person to troll. Sooner or later these comments will catch up to her and she'll slam the haters!
Read more: Ghana Ali Hits Back At Trolls For Their Nasty Comments On Her Pregnancy
Stay tuned to Brandsynario for the latest news and updates.