Ghana Ali made an announcement on her social media which has taken many of her fans by surprise. The actress announced some 'unforeseen circumstances' that have halted her work, mid-project. However, while many may be surprised by this, others feel that they have cracked the code. Which side is more convincing? Let's find out!

Ghana Ali's Announcement
Ghana Ali was acting in the drama called Benaam in which she believes she finally had a positive role. Positive roles are hard to come by today for women hence, Ghana Ali had really hit the jackpot. However, she has announced that due to 'unavoidable circumstances' she can not act further. Not only can she not act further, but she has also asked the team to cut her parts. Thus, her fans will not see much of her at all in the drama!
She thanked the team for being understanding about her 'urgent' situation. Moreover, she urged her fans to watch the drama nonetheless because it is simply amazing.

What Could It Be?
It seems more like a health emergency as Ghana Ali herself has called it an urgent situation. Moreover, she terms it as an 'unavoidable circumstance', what could it be besides a health emergency? However, if it was a health-related one we doubt she'd ask the team to cut her previously shot parts also.
Read more: Ghana Ali Labelled As HomeWrecker After Tying Knot With Umair Gulzar
On the other hand, fans have a theory. Fans genuinely and passionately believe that Ghana Ali is 'expecting'. It may be that she does not want to share this news yet. Hence, not only is she not acting further in the drama, she is also getting her parts cut because her bump may be showing. Here's them calling it out: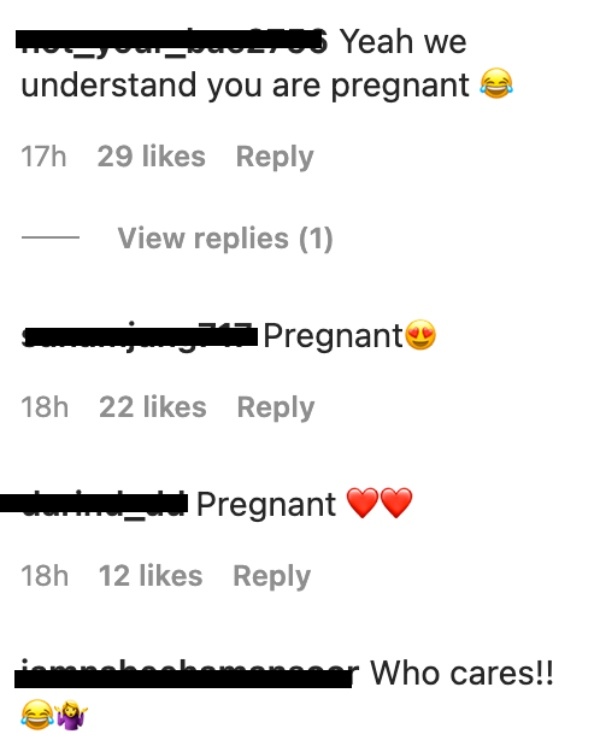 Ghana Ali and Husband
It's unclear whether Ghana Ali is expecting or not however, she and her husband have been in the news every other day. Ghana Ali's husband is consistently body-shamed by netizens and Ali always has one snarky reply up her sleeve to shut them up. However, by now it seems as if people do it deliberately because they have realised it annoys Ghana Ali. Why shouldn't it? It's uncalled for.
Read more: 4 Times Ghana Ali Responded To Trolls Like A Queen
When they got married, Ghana Ali was accused of 'baiting' a wealthy businessman. Now, when they are happily married and in love, they're again consistently targeted. Whatever the motive of trolls be, Ghana Ali has it in her to handle it!
Stay tuned to Brandsynario for the latest news and updates.