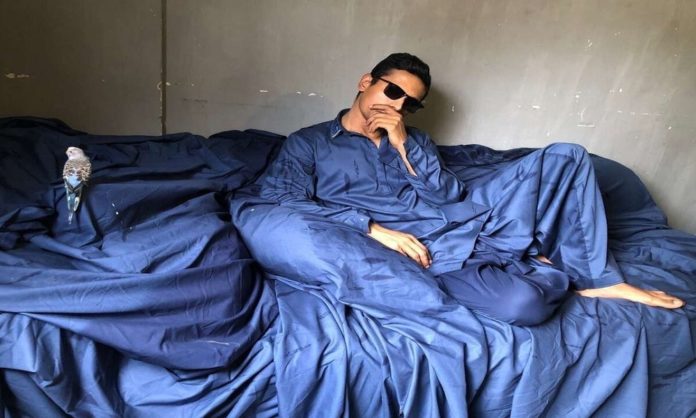 A designer's craft says a lot about themselves. While many stay true to their roots, others try to step out of mediocrity once in a while. Sometimes it pays off, while sometimes, not so much. Recently, a Pakistani designer Jazib Qamar has come out with the latest eid collection, which is artistic, to say the least.
Not every day do you get to experience monsoon. However, the artist has made sure to make you feel like you are in the monsoon state of mind with his vibrant collection. The design might seem ordinary; however, the idea behind it is the amalgamation of current weather conditions and Eid-ul-Adha.
Drenched
The collection named 'Drenched' features an electric blue Shalwar Kurta. With accents on the collar and shoulders, the design adds a little oomph to the entire outfit. However, wait till you see the overall print! It is as if you have stepped out in the rain – literally. The stains, which represent water, show the effect of being drenched in the rain.
Read More: Sana Safinaz Receives Backlash Over Its 'Strange' New Campaign
The sleeves feature tags on the interior with written Left and Right on the respective sleeves. Representing the right and wrong choices in life – left and right.
Here is a look at the campaign. 
With the current weather conditions and Eid-ul-Adha, the designs set the mood for the upcoming festivities.
Wearing the designer outfit might also make you feel like you are reminiscing about the monsoon long after it's gone, which is another excellent reason to get your hands on it. While creativity knows no boundaries, we can't wait to see what fashion designer has to offer in the future.
In Pakistan, many designers have tried their hands at extraordinary designs and cuts. A household name in an experimental fashion, Ali Xeeshan is the epitome of such designs and collections.
Read More: Pakistani Brands That Are Truly Making A Difference By Promoting Inclusivity
Stay tuned to Brandsynario for the latest news and updates.