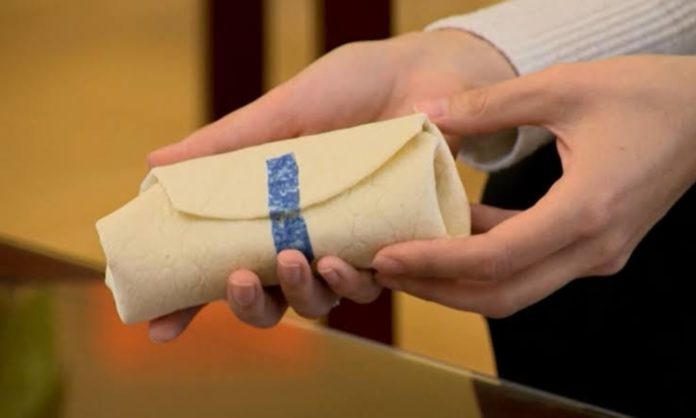 If you have been avoiding eating a burrito merely because of the mess it tends to create – you are in luck! A one-of-a-kind edible tape is developed by students at John Hopkins. The tastee tape that could hold wraps and burritos together for an impeccable experience.
The Edible Tape 
"Tastee Tape" was designed by an all-women group of Johns Hopkins University undergraduate engineering students as part of their annual Design Day projects showcase. According to the university, the tape is "an edible adhesive comprising a food-grade fibrous scaffold and an organic adhesive. It ensures the ingredients in your favorite wrap are kept tucked tightly inside during cooking and consumption."
Tortilla: taped
Burrito fillings: secured

Let's taco'bout Tastee Tape, an edible adhesive created by biomolecular and chemical engineering students which allows for a mess-free meal for wraps, gyros, and more. (2/6) pic.twitter.com/HB1o6VBHVB

— Johns Hopkins University (@JohnsHopkins) May 10, 2022
Tastee Tape is made of an edible adhesive comprising a food-grade fibrous scaffold, the team said, but they're keeping the details of their secret recipe under wraps as they apply for a patent.
The clear tape, which the students dyed blue for demonstrations, simply has to be separated from the wax paper. It can be then wet thoroughly before it is stuck to the corn tortilla, flour wrap, or gyro.
Read More: Sweet & Savory? Oreo's Latest Collaboration Has Got People Talking
The Idea Behind The Invention 
Guarino, Erin Walsh, Marie Eric, and Rachel Nie were seniors at Johns Hopkins University in Baltimore when they embarked on their mission to create an edible tape that could hold wraps and burritos together last year.
According to Guarino, the team spent months studying "normal tape" and its elements. A backbone that holds its structure together and an adhesive that makes it stick to surfaces — to try to find their "edible counterparts."
They had three main criteria for their tape; It needed to be clear and colorless, have no taste, and no noticeable texture. After testing various combinations, they hit on the magic recipe, which is also gluten-free and suitable for vegans.
"We tested about 50 different formulations" before finding the winning "Tastee Tape" recipe, Guarino says.
"We have learned so much about product design, prototyping, and patenting. All if us are really grateful that we had this opportunity before we graduated. It has taught us so many valuable skills," she said. Further adding that she and teammate Marie Eric would be staying on another year at JHU to complete a Masters', and in that time, will continue working on the product.
Read More: This Rooh Afza Cheesecake Has Become The Talk Of The Town-Would You Try It?
"Design Day is an exciting landmark in our students' journeys from studying engineering in the classroom and laboratory to becoming practicing engineers heading out to make a lasting and positive impact on our world," dean John Hopkins Ed Schlesinger said in a statement.
Stay tuned to Brandsynario for the latest news and updates.