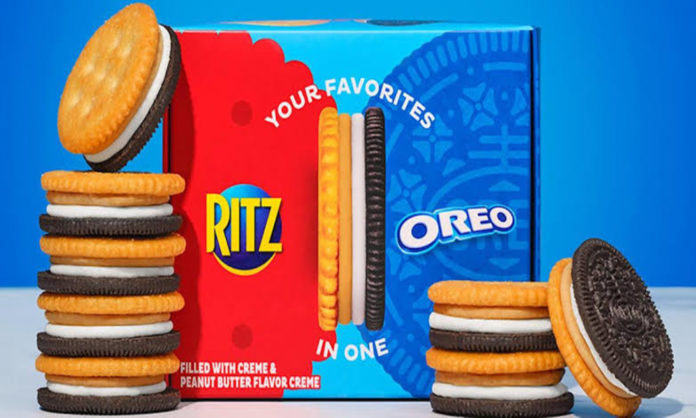 A blend of sweet and savory is here to devise you with the best snack in town. Two of the giant cookies and crackers on the market are joining forces to make a new sweet and savory concoction. And it is something which is not to be missed.
The Mondelez Mashup
Referred to as The Mondelez Mashup, the brand announced a collaboration between their two superhit products on the market. Meet the Ritz x Oreo, a franken-cookie that's one half buttery Ritz cracker and one half chocolatey Oreo. Double-stuffed with both peanut butter-flavored creme and the original Oreo creme, the Ritz x Oreo looks like a practical joke in cookie form. But we assure you, this is no joke.
50% sweet, 50% salty, 100% 🤤 1000 packs. Available 5/26 at 12pm ET. Be there or be salty. #RITZxOREO pic.twitter.com/c4hD7uj1dz

— OREO Cookie (@Oreo) May 24, 2022
While some people are skeptical about this sweet and salty pairing, Ritz x Oreo has the power of science on its side. A unique receptor on our tongue, called SGLT1, activates when you eat salt and sugar together, which might explain why we gravitate towards snacks like kettle corn, salted caramel, and Ritz x Oreo.
According to Alexis Yap, senior brand manager at Ritz, "This is a collab our fans won't want to miss!"
"Over the past few years, RITZ has been exploring innovative partnerships and experiences to spark excitement around our iconic, buttery cracker."
She further revealed: "We couldn't resist the opportunity to collaborate with our friends at Oreo on a snack that's a part salty cracker, part chocolate cookie, and entirely delicious."
Read More: This Rooh Afza Cheesecake Has Become The Talk Of The Town
The Launch Details
Starting Thursday, May 26 at noon, a thousand boxfuls of this ultra-limited edition release will be available online. When the sale goes live, foodies can snag their pack for free and only have to pay a shipping fee of $3.95.
Oreo's senior brand manager Sydney said of the partnership: "At Oreo, we are constantly exploring playful ways to excite our fans, from innovative limited-edition flavours to unexpected collaborations."
"This Ritz x Oreo product marks our first product collaboration with our friends at Ritz."
She also added: "We can't wait to hear what Oreo superfans think about this new take on the classic combination of chocolate and peanut butter!"
The Twitter Reacts 
The online response to the news is mixed, with many people questioning the combination. In contrast, others can't wait to get their hands on the product.
Take a look at some of the hilarious Twitter reactions below.
This will either be the best thing or the worst thing and I can't wait to find out which it is. https://t.co/aObrrJ3nmJ

— Billie Bloebaum (@BillieBook) May 25, 2022
We can't help but agree with this statement. What if it's a total disaster instead of what is being assumed?
ritz x oreo pic.twitter.com/JU6CqsZVon

— ©urlfren (@curlfren) May 24, 2022
👏👏👏 I applaud you @Brian54017972 And he said they were great 😈 Going to do my best to be ready for the drop tomorrow #OreoxRitz https://t.co/EyDUzti5Zg

— Henry Kessler (@HenryKessler4) May 26, 2022
Read More: The Best Mango Desserts You Should Try This Summer
Meanwhile, one user couldn't wait to get their hands on it, so they took the job of designing one on their own.
Very thrilled that this will be coming our way…soon!@Oreo #SaltyAndSweet #OreoXRitz pic.twitter.com/r8DMwvQcS8

— Marian Kwok (@marian_kwok) May 25, 2022
Stay tuned to Brandsynario for the latest news and updates.