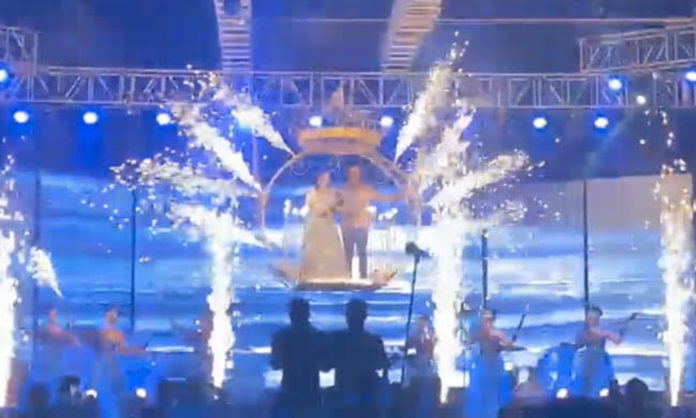 What do people do to commemorate their wedding days? If you think you have seen it all, think again. A recent video is going viral on social media where the couple fell off a swing during their wedding. All in an attempt to make a grand wedding entrance on their ceremony.
In actuality, the incident occurred in Raipur, Chhattisgarh's capital in India. The bride and groom are seen seated on a swing in an attempt to make a grand entrance in the viral video. The couple was going to enter on a swing shaped like a round ring when the swing's rope snapped, and they both fell below the stage's height of 12 feet. Meanwhile, the bride and groom, were fine with minor injuries.
Take a look at the video below.
Unfortunate accident at Raipur Wedding yesterday.
Thank God all are safe.
source : https://t.co/yal9Wzqt2f pic.twitter.com/ehgu4PTO8f

— Amandeep Singh 💙 (@amandeep14) December 12, 2021
Read More: 5 Unique Pakistani Shaadi Entries We Got To See In 2021
The Incident 
The bride and groom's family were very scared to see the accident at the same time. As soon as the swing rope broke, the wedding ceremony created a ruckus. The wedding was taking place at a hotel in Telibandha police station area of Raipur. An event company was given the responsibility of grand entry and wedding ceremony of the bride and groom. Fireworks were going on on stage on Saturday due to the wedding and people were dancing on the grand entry of the bride and groom.
The duo falling from a height caused panic and disturbance. Guests and family members run towards the stage to assist them. However, once the chaos settled, the ceremony resumes after half an hour.
Read More: Netizens Troll Maryam Nawaz For Kissing Daughter Inlaw's Hand
Twitter Reacts
People were relieved that the pair was safe on social media, but many couldn't resist pointing out how horrible things could have become if both cables had snapped.
Good to know that both bride and groom are safe…This idea of "falling in love" is totally breathtaking!

— Akash S Jain (@101Cryp2) December 13, 2021
hope no one was hurt…….but looked hillarious !

— Filmi Baniya (@filmibaniya) December 13, 2021
Needless to say that we felt bad for the couple. Meanwhile, this comment sure made us laugh out loud.
As kids they always wanted to be a clown in circus, trying to fulfill their dream 😂😂

— worldpeace (@satya_tanwar) December 13, 2021
Stay tuned to Brandsynario for the latest news and updates.