I never thought you would read an article with a title like this, huh? Me neither. But unfortunately, we live in times where anything is possible. With the world being under the threat of a World War 3 due to US Iran tensions last year to instantly going into lockdown in March 2020, while TikToks of people dancing to songs with #SavageChallenge and #ToosieSlide were going viral; It felt as if we were living in a Black Mirror Simulation.
The year even prompted Netflix to make a satirical movie titled "Death To 2020," which dealt with events in that cursed timeline.
The Weirdness Did Not End With 2020
Despite the year 2020 coming to an end, the first month of 2021 was not short of any surprises. With the civil-ware-type pictures emerging from the protests taking place at the Capitol in the United States that were allegedly predicted by the Simpsons, to the President of the United States, who is considered as one of the most important people of the world, getting banned from all of the social media; it feels as if it has been months since the year 2021 started.
Last week, a group of Redditors collectively decided to screw with Wall Street and turned the market against them, which prompted a lot of out-cry from billionaires who would turn a blind eye to their own tyrannical actions. The incident led to many memes and dollars for those who took part in the ordeal and while many celebrated on social media.
A picture of an Amazon Headquarters resurfaced on the internet, which prompted many people to refer to the building as a giant poop made of glass with undigested peanuts clinging onto it.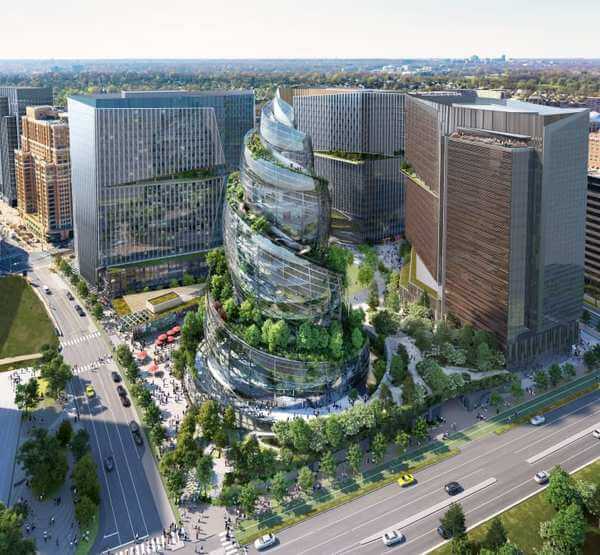 The giant building is reported to cost $2.5 billion, as per CNN. Still, Rani Molla, a senior journalist at VOX, shared how identical it looked to a poop, making her one of the first prominent journalists to give this reaction.
You're welcome. pic.twitter.com/iMe2jFNWKw

— Rani Molla (@ranimolla) February 2, 2021
The building is set to be constructed in Arlington County, Virginia, and as per Amazon, will be open for public visitors for at least 2 days a week. A huge majority of the public has referred to the building as a giant poop (if you missed the title). We are yet to see what the building would look like from the inside, even though we're personally more excited about how it'll smell from the inside.
Jeff Bezos Stepping Down As The CEO of Amazon
With Jeff Bezos stepping down as the CEO of Amazon and the company being referred to as a giant turd the next day, what is funnier is how the richest person of modern history would be laughing his way to the bank while we chuckle at the design of his company's Headquarters which costs $2.5 billion while his employees are fighting for what they are rightfully owed.
Amazon was fined $62 million for allegedly stealing delivery driver tips from workers.

For comparison: Jeff Bezos made *1000 times* more than that during the pandemic.

The level of greed is just incomprehensible.@democracynow pic.twitter.com/DUw979r3Ns

— Public Citizen (@Public_Citizen) February 3, 2021
Though time will tell what 2021 has in store for us, it does seem that the timeline we are currently breathing under is not running out of weirdness anytime soon.
Follow Brandsynario for more news & updates.