By now, you may have probably heard of the riots in the United States Of America, specifically in Washington DC, where a predominantly white crowd who were staunch supporters of President Trump broke into Capitol Hill. The Congressmen and women were threatened for their lives as the protestors, white-supremacists, wreaked havoc on one of the most important buildings of the world.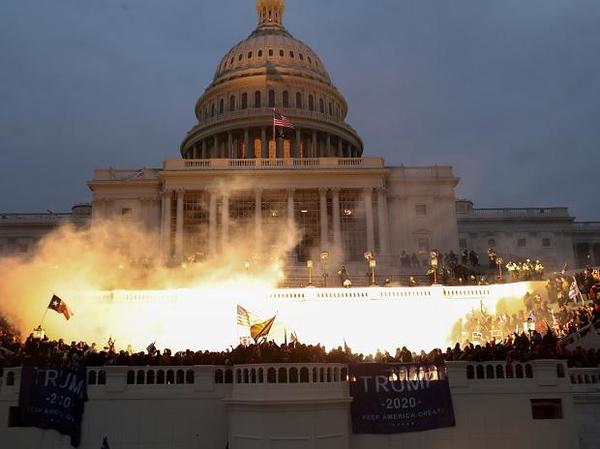 What Do The Simpsons Have To Do With All This?
Soon after, the news about the attacks made it to the media, and congressmen and women started to tweet about the events live as they were taking place. Many netizens took to Twitter and expressed their thoughts.
Like most significant events in the world where someone shares a random screenshot or a video clip from The Simpsons episode depicting a certain scenario with many similarities, many found one from this news too, which showed a raid on the Capitol Hill in Washington DC.
Take a look and decide for yourself:
https://www.youtube.com/watch?v=w8gt-EEpelY&feature=youtu.be
In the video, multiple people who were entirely white can be seen running towards the gate of Capitol Hill with weapons while one of them is carrying a bomb. Many linked this video to the events that took place yesterday, as white-terrorists raided a Government building of the United States with no hesitation and resistance from law enforcement.
Wait… there is more
This is not the only video or a screengrab from the Simpson that is making rounds on social media. Many pointed out other episodes, too, where Capitol Hill can be seen exploded along with a post-apocalyptic environment on January 21st, 2021. It just happens to be the day President-elect Joe Biden takes the position of the President of the United States from Donald Trump, who is yet to accept his defeat.
Los Simpson lo volvieron hacer. Trump, Golpe de estado, Capitolio, EEUU. #Trump #Capitol #CapitolAttack #WashingtonDC #EEUU #Biden #USA pic.twitter.com/9EtzObsMpl

— Hector (@HJMO1987) January 7, 2021
Simpson's predicted the Capitol Hill thing. pic.twitter.com/kejp7HpnWG

— my clouthouse (@mywheelhouseftw) January 6, 2021
This is not the first time imagery from the Simpsons has depicted something from real-events with so many similarities and probably won't be the last. In the past, many events, including 9/11, the Beirut blast, and many other events were somewhat shown in certain episodes which have fueled rumors, skepticism, and conspiracy theories on the internet.
Twitter Reacts To "White Terrorism" Inflicted Upon Washington DC
As a result of the events that took place on 7th January 2021, many people took it to Twitter and expressed their thoughts, highlighting how different the police's response would have been if the rioters were not white.
Thoughtful thread… #WashingtonDC https://t.co/H6uf04hJML

— Phil Wane (@philwane) January 7, 2021
Afghanistan, Somalia and Iraq are closely monitoring the situation in the United States and have expressed their concerns. If matters escalate they will send a joint peacekeeping force to Washington to restore order and protect 'democracy'. #WashingtonDC #CapitolHill pic.twitter.com/IitQAJazaY

— imene ( Rümeysa Nur ) (@tturk_01) January 7, 2021
Ima need y'all to say it with me

this was bc of WHITE SUPREMACY not white privilege we are past that point

& they are domestic TERRORISTS *not* protestors

— Juita Martinez (@JuitaMartinez) January 7, 2021
The political climate of the United States has extremely polarized for the past few years. Will it change once Donald Trump leaves office? Only time will tell.
Follow Brandsynario for more news and updates.