Simpsons have done it again. And by that, we mean that there's been another catastrophe which in retrospect appears to have been predicted by the famous series. We're sure you've heard this before if you are on social media, but this is downright creepy.
The Clip That Proves It
The clip shared by someone shows the same explosives that set off the Beirut Bomb. Moreover, the explosion's pictorial representation is uncannily similar too. Check it out!
#2020worstyear this berut blast prediction in cartoon series pic.twitter.com/D6iWtvE1bP

— Engr Malikumar (@Malikumarkb) August 6, 2020
What Are The People Saying?
No this wasn't a prediction. Stop overrating that show.

— Omkar Patill 🇮🇳 (@OmkarGadekar07) August 6, 2020
Ye log predict nai plan kartain hai..🤐

— Jalal 🇵🇰 (@jalaljan50) August 6, 2020
It seems that the #Simpsons predicted everything… !

— Rishita Kabi (अर्थशास्त्री) (@RishitaKabi1) August 6, 2020
These cartoons do not predict. These are already planned what they are going to design for future and same things are happening which are in their interests.

— Pervaiz khan magsi (@Pervaizkhanmags) August 6, 2020
Simpsons Always Ahead Of The Curve
It's a conspiracy theory if that's what you'd like to call it. But, it can not be denied really that most of the significant catastrophe we are experiencing in 2020 was more or less predicted in the show. Even 9/11 was said to have been predicted in the show. It also predicted the Ebola outbreak! 
Clips from the show are shown alongside such claims, and someone can't edit the display according to their claim overnight. So what's the truth?
The Beirut Tragedy
The tragedy that struct Beirut can not be explained in words. It has shocked people to their core. Until now, there have been upwards of 100 people who lost their lives. Additionally, approximately 4000 people are injured. Horrific stories of survival and relief efforts are being shared. It's making people reflect upon their blessings and be thankful.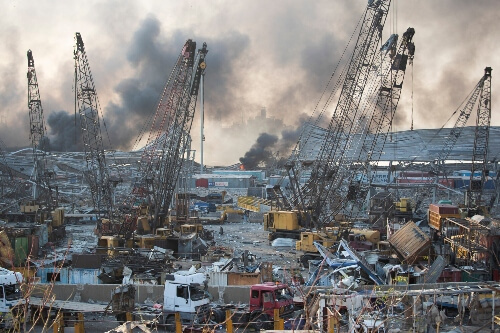 Beirut Stands Alone
Beirut is currently on a downward curve, and no other country is stepping forth to extend help. The country was already going through a significant economic crisis being worsened for two reasons. Firstly, the pandemic because of which lockdowns had to be put in place secondly because the currency of the country has depreciated so much that it no longer has value.
Lebanese are asking people to NOT donate to those websites asking for donations in the Lebanese currency. That is because that will end up reaping no benefit.
Stay tuned to Brandsynario for the latest news and updates.