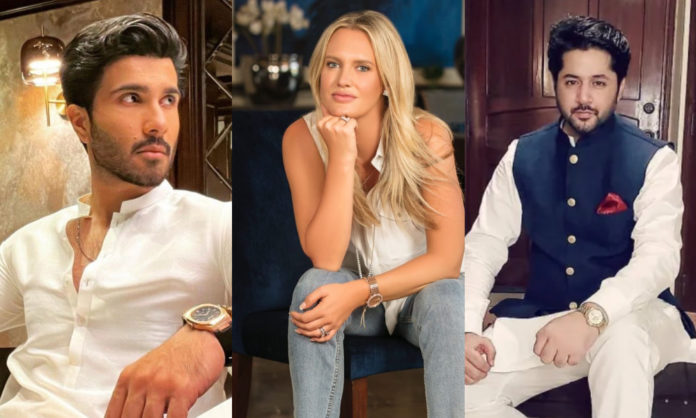 A relative feud between Shaniera Akram and Feroze Khan started over the weekend, while the debate started between the two. Imran Ashraf soon came into the mix and here's how it escalated so quickly.
Shaniera X Feroze
Shaniera Akram is known for being vocal about societal issues on social media. Over the weekend, a scenario surfaced on social media after Feroze Khan shared a picture with his kid in the driving seat. Needless to say that the post was enough to ignite a feud between the two. Shaniera Akram took to her social media account to raise awareness regarding the issue at hand and how dangerous it can get for both the kids and the family.
Soon after Shaniera shared her stance on driving, Feroze followed with another post on his Instagram referring to Akram's wife.
Feroze, who is already being criticized heavily in the public eye, called out Shaniera in a derogatory manner and shared some of his views regarding what Shaniera had suggested. The post which never made sense to Shaniera or the public in general showed a person and a kid fighting a bear.
Read More: Top 10 Personalities Pakistani Searched On Google In 2022
Imran Ashraf Mix In
Another post added fuel to fire which was shared by Imran Ashraf on social media. In the post, he was seen sitting in the driver's seat with his kid in his lap. Shaniera, on the other hand, took notice of the post and called out Feroze again since his insensitive comments were now all over social media and how other people (celebrities) are now following his footsteps.
She, then, also emphasized the fact that driving recklessly is not something to be taken lightly.
Imran Ashraf's Response To The Controversy 
In recent news, Imran Ashraf posted a video online. He took to social media to clear the air about the situation at hand and how he is being dragged into the controversy. Imran Ashraf posted a detailed video talking about how a casual day in his routine. He then mentioned how it has no relevance to what happened. Imran called out Shaniera in a respectful manner and asked her to refrain from dragging him into the ongoing controversy.
Read More: 10 Habits That Untrustworthy People Have In Common
Imran also discussed the situation going on within his family as he asked for support from fans and requested everyone to give them some space.
Other celebrities including Ayesha Omer also took notice of the social media debate and shared their own experience regarding the accident she had met a few years ago. Omer shared her thoughts and the importance of driving with a seat belt since many grave situations can be avoided if done so easily.
What are your views regarding the situation? Share your thoughts in the comments below.
Stay tuned to Brandsynario for the latest news and updates.