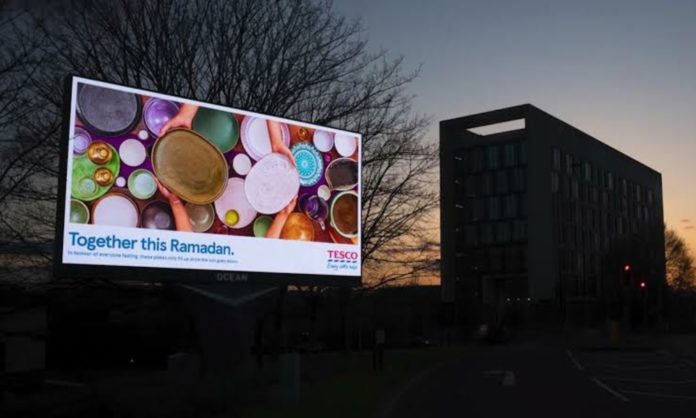 Tesco has released its first of a kind campaign which highlights 'Iftar,' the evening meal that signifies the end of the daily fast. Running during Ramadan in April, the campaign is created by Tesco's ad agency BBH. In collaboration with media agency MediaCom, specialist out-of-home agency Kinetic and strategic equity, diversity and inclusion consultancy the Unmistakable.
Together this Ramadan
The digital billboard features a collection of empty plates during the day, which fill up with food as the sun sets to signify Iftar. It is the meal eaten by Muslims at the end of each day's fast during Ramadan.
The changing image is accompanied by the slogan 'Together this Ramadan'.  Along with an explanatory line: 'in honour of everyone fasting, these plates only fill up as the sun goes down.
The campaign will be running on billboards in areas with high Muslim populations. These include Brent in London and Birmingham, as well as Bradford.
The campaign will remain on the digital screens for up to three hours as the sunsets. In the meantime, no other ads will be run on the billboard.
Read More: 'Pixel' Flavored Coca-Cola Has Left People Scratching Their Heads
The billboards face eastwards, with the sun setting behind and the creative fading in as the sun goes down, to accentuate the break of fast coinciding with sunset.
The outdoor activations will follow the social media posts. Along with a drive sharing recipes and in-store executions around aisles selling relevant products to enjoy Iftar throughout Ramadan.
Tesco's First Ramadan Campaign 
This is the first time Tesco has marked Ramadan with a significant advertising push.
Read More: 8 Brands That Pulled April Fool's Day Pranks Brilliantly
"Our creative ambition was simple, to create work that is representative and gave a voice to our Muslim creative industry," says Helen Rhodes, ECD at BBH London.
"Close collaboration with new creative partners, industry-leading inclusion experts at The Unmistakable. Meanwhile, the Race and Ethnicity Network at Tesco and our friends at Mediacom and DOOH, underpinned by a willingness to listen and learn, made this possible and drove the creation and development of this campaign from the get-go."
Stay tuned to Brandsynario for the latest news and updates.