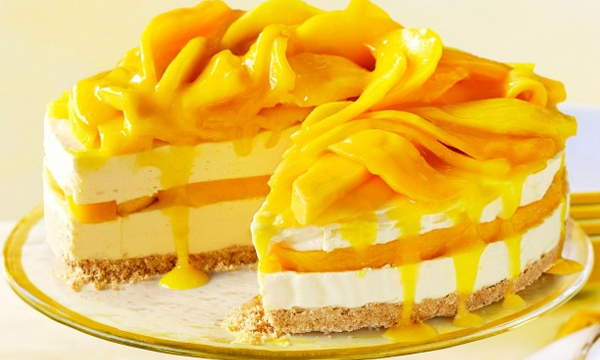 One of the greatest joys of summer without a doubt is mango desserts! It is time to binge eat the king of all fruits, but what if you're feeling extra creative? Now is the time to think outside the box and have some fun with this delicious fruit!
Try these delicious recipes from the list:
Mango Mousse
Yes, yes, yes! My two favorite things combined into one. Just imagine the soft fine texture that tastes like sweet mangoes. Served chilled with mango chunks, it is the perfect way to wrap up an evening of festivities.
This delicious sweet treat is easy to whip. Here are all the ingredients you need:
Vanilla Custard Powder
Cold Milk
Sugar
Mangoes; in the form of mango pulp and chunks
Whipped Cream
That's all you need.
Preparation time: 45 minutes. (15 minutes preparation time + 30 minutes chilling time)
Mango Delight!
What's not delightful about mango desserts? Do not let the name fool you; as fancy as it seems, it is quite easy to make.
Things you need:
Whipping Cream
Vanilla Essence
Powdered Sugar
Mango pulp and chunks
Preparation time: 15 minutes.
The true essence of this dessert is the layering of vanilla-flavored cream (bottom) and mango puree (on top); thus, make sure you serve it in a glass bowl, so it just doesn't taste good it looks appetizing also.
Mango Kheer!
Yes, it sounds unconventional, but hey, maybe you can have an exciting dessert to finish off with after hosting a grand dinner. The wholesome goodness of kheer with mangoes enriched sweetness; I can't wait to help this one!
Things you need:
Oil
Vermicelli
Milk
Sugar
Cardamom Powder
Mango Pulp
Preparation time: 60 minutes (30 minutes cooking + 30 minutes chilling)
Mango Cheese Cake
Yummy! Cheesecake is always a delight to have, and mango is just the thing to make the cheesecake more exciting.
Just like the rest of the recipes mentioned above, this cheesecake is easy to make and worth it.
Things you need:
Digestive biscuits. (This is not a must; I have made this dessert with both Marie and Tiger biscuits)
Butter
Yogurt
Cheese
Condensed Milk
Powdered Sugar
Vanilla Extract
Mango pulp
China Grass (Alternate to Gelatin)
Lime Juice
Preparation time: 2 hours.
Mango Vanilla Yogurt
As somebody who loves flavored yogurt and likes hassle-free tasks; this is one recipe I am incredibly excited to try out.
Besides, if your kid is giving you a hard time this summer, not eating as much as he or she should, maybe this might be the very recipe that answers your prayers.
Things you need:
Mangoes in the form of pulp
Granulated sugar
Vanilla essence
Yogurt
Preparation time: 15 minutes.
Mango Cream
This in itself might not seem like the perfect dessert to you, but paired with vanilla sponge cake, fruit cake, or even digestive biscuits, this could be the weekend treat that you are looking for.
I love experimenting with food when I'm cooking, I can think about at least ten combinations of mango cream and another item that could prove to be the perfect dessert. Maybe mango cream fruit chaat? It could be a different twist to the traditional chaat that we have.
Things you need:
Mango
Honey
Whipped Cream
Grounded Sugar
Mango Float
I've heard a lot about it, but unfortunately, I've never had the chance to make it. It is the perfect dish to take as a gift to someone else's dinner party. Just like most of the mango dishes, it doesn't only taste good but is also visually appealing.
Things you need:
Thinly sliced mangoes
Whipped Cream
Condensed Milk
Salt
Vanilla Extract
Digestive Biscuits (Again, just like in the cheesecake, you can alternate with Tiger or Glucose Biscuits. Marie biscuits with their circular shape might not serve as the best material for the base.)
Preparation time: 20 minutes.
Mango Ice Cream
How could we entertain the idea of mango desserts and not bring forth the recipe for mango ice cream? Ice creams are one of the most sought after sweets; this has a lot to do with the fact that it can be used as the perfect dessert on several occasions. Mango ice cream is the ideal way to merge the two best dessert items into one fantastic dessert.
The following recipe uses only three ingredients! And what's more, this recipe uses no eggs or ice cream machine.
Things you need:
Mango
Cream
Condensed Milk
Just follow the simple instructions in the below-shown video and treat yourself to some incredibly delicious mango ice cream!
Mango Smoothie
We all love mango milkshakes; chilled mango milkshake is perfect for a beautiful summer afternoon. Not only does it taste so good, but it also tends to energize the body for a better part of one's day. A mango smoothie is more leisurely to sip at, with a combination of items. I like to believe that a mango smoothie is a mini snack in its entirety.
Things you need:
Use low-fat yogurt and low-fat milk if your weight-conscious and scared at putting on a few pounds—fun fact: there are 99 calories in 165 g of diced mangoes.
Panna Cotta
This is a rather an untraditional dessert, and I only know of a few restaurants in Pakistan who might as well serve this. Since we are all in quarantine, I think this summer, you should try something different; go outside your comfort zone and try making this at home.
Things you need:
Mango Juice/Nectar
Unflavored gelatin
Mango Pulp
Milk
Powdered sugar
Salt
Vanilla Extract
Heavy Cream
I would suggest you follow the presentation method shown. Also, it seems like an excellent way to entertain your guests.
So here you go, folks, some of the best mango easy to make recipes I could find for you to try this summer!
Which mango desserts did you like from the list? Let us know in the comment section below.
For more news and updates, stay tuned to Brandsynario.