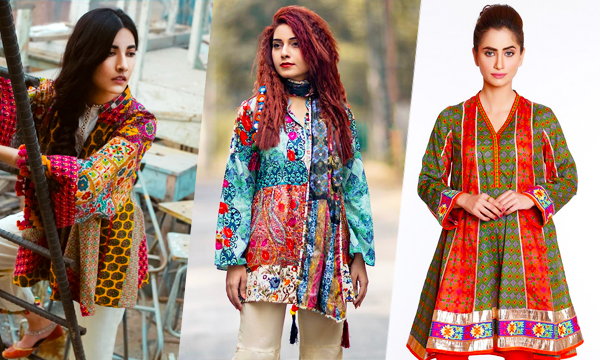 Does anyone else feel that floral prints and contrasting panel designs in Pakistani fashion have been done to death? We certainly do. Too much of even a good thing can take a turn for the worse and this is now happening. Therefore when we came across a change in the usual, it was like a breath of fresh air. We noticed some of our favorite brands taking a break from the norm and going ethnic. The new and upcoming winter collections all feature ethnic and traditional patterns and designs which make you feel like a work of art.
If you somehow missed which brands we are talking about, here is a list that we compiled just for you.
Rung Ja
The brand is known for their ethnic prints and cuts so it's hardly surprising. Check out the funky mix of colors and patterns you can buy from Rung Ja.
Lahori Ink
When in doubt, go ethnic! That is apparent with the winter collection by Lahori Ink. Plus they are currently having a sale so hurry!
Ethnic by Outfitters
Well it's right in the name. The latest collection by Ethnic Outfitters gives us serious tribal vibes. The good kind.
Ego
Ego usually comes out with eclectic unique prints that are different from the rest. Their winter collection continues to do that.
Generation
This season's collection by Generation is making us go insane! The collection, from jackets to shirts to pants is full of ethnic prints colors and designs. We can't wait to go shopping.
Gulabo
For this collection, Gulabo used designs inspired by Persian Art! We are loving the colors.
We are planning a shopping spree! Which brands are you excited to visit? Let us know in the comments below.