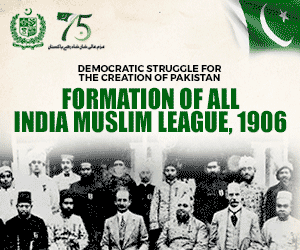 Ertugrul. That's a name we have all heard nowadays until our ears gave up. The Turkish series based on Islamic history and succession of empires have taken Pakistan by storm. When Pakistanis are not discussing Ertugrul or commenting on the actors' profiles, they're incorporating the drama in their businesses.
The Obsession Knows No Bounds
A few days ago, news broke out that a private cooperative housing society had erected a life-sized statue of Erugrul. The president, Shahzad Cheema, said he loved the idea and decided to go ahead with it. Moreover, Javed Afridi, Chairman of Peshawar Zalmi, tweeted something about Ertugrul that put people in a frenzy.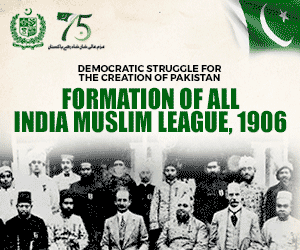 WHAT IF #ErtugrulGhazi JOIN PESHAWAR ZALMI AS A BRAND AMBASADOR ❓

— Javed Afridi (@JAfridi10) June 30, 2020
Besides these large-scale instances, other social media platforms are riddled with advertisements involving Ertugrul. Ertugrul's face is on papar packets, on the banner of a doodh shop, electric shop, barbecue vendor and more.
Ertugrul barbeque point on banks of Dal Lake Srinagar in Indian Occupied Kashmir.#ErtugrulGhazi #Ertugul #Kashmir pic.twitter.com/ppOdYLMLS6

— 𝑭𝒂𝒊𝒛𝒂𝒏 𝒁 𝑩𝒉𝒂𝒕 (@FZBtweets) June 11, 2020
Ertugrul is taking over in Pakistan 😂 pic.twitter.com/rljyj1SCdy

— ✌🏼 (@DreemsVisionary) June 28, 2020
Me before Me after
Watching Watching
Ertugrul Ertugrul pic.twitter.com/M3xBav9IRa

— 🍁𝖟𝖊𝖊𝖘𝖍𝖆𝖓🍁 (@_xishann) June 30, 2020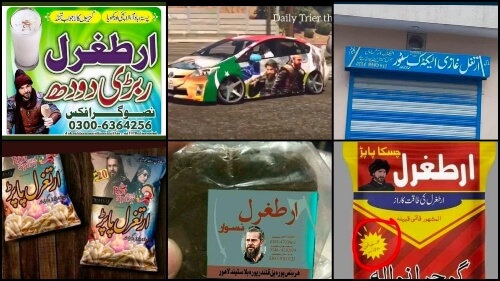 People not only use his face to honor him in the best way they know but also to attract customers. Like people being obsessed enough to put his face on their products, there are those obsessed enough to purchase those products specially. 
All of a sudden clothing brands are also producing items with the tribe mark or their faces.
#ErtugrulGhazi
IYI T shirt https://t.co/mOzGdmR6Sq

— Samra Saghir 🇵🇰 (@SaghirSamra) July 1, 2020

That may be normal, but the overwhelming response such brands are getting is not! People want to get their hands on Ertugrul in any which way they can. We bet if the circumstances were normal, Turkey would be the top vacation destination in these summers.
Ertugrul Fans Do Not Stay Silent
When Pakistani veteran actors like Reema Khan or Shaan expressed reservations about the series they were not entertained. Hundreds of responses started pouring in, defending the series and mocking the actors.
So our Dear Shaan …..wants us to watch this … instead of #Ertugrul

Ok … 👍#ErtugrulUrduPTV pic.twitter.com/XtIRumDFoR

— 𝕊 𝕆 ℍ 𝔸 𝕀 𝕃 ➐ (@Cap_Sohail) May 10, 2020

Shaan was especially trolled for his signature performances in comparison to the epic series.
Why Everyone Is Obsessed
By now, everyone has a fair understanding of what the series is about. But have we pondered over why we are obsessed with it? Ertugrul is not in our history books. His name was rarely known to people before the series blew up in Pakistan. Ertugrul brings with it the long-awaited positive representation of the Muslim empire. 
However, his efforts in the name of faith were exemplary, and that is why people love him whole-heartedly. Besides that, the series itself is so immaculately produced that people are blown away. From the elaborate sets, costumed and dialogues, this is a standard of production we have rarely seen before. What's not to be obsessed?
Have you seen Ertugrul yet? Let us know what you think about it in the comments below!
Stay tuned to Brandsynario for the latest news and updates.