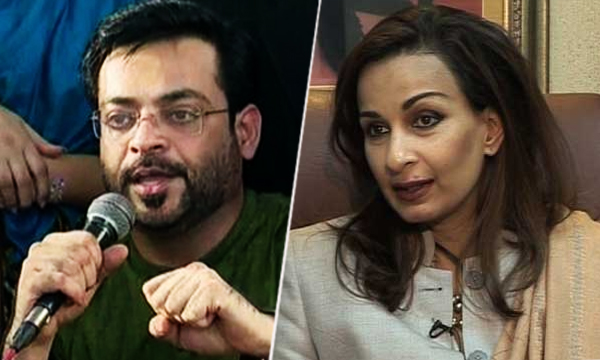 Its the dawn of Naya Pakistan but Aamir Liaquat continues to land himself in controversies.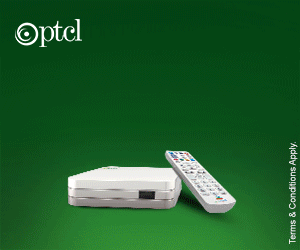 Basking in the glory of his win in elections, the televangelist just committed a major blunder on Twitter. And like always, the internet is not ready to forgive him anytime soon.
Imran Khan Sends Oath Taking Ceremony Invite To Indian Celebrities
Just yesterday, Aamir Liaquat tweet a picture of Sherry Rehman with MMA's Owais Norani with the most inappropriate caption:
"Hum Tum APC Mein Bund Ho.. Aur Chabhi Kho Jaye"
Following the backlash, the PTI politician was forced to delete it. However, screenshots of his posts are now going viral.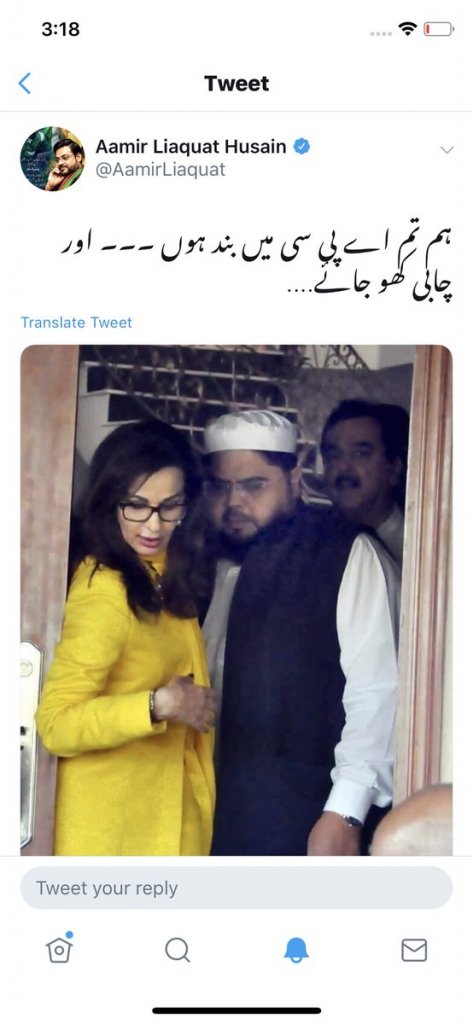 Social media was quick to react on this derogatory quip by Aamir Liaquat!
You hv deleted yr tweet within minutes bt internet doesn't forget bigots like you @aamirLiaquat you can't easily get away with it. @PTIofficial @ImranKhanPTI @ArifAlvi @ShireenMazari1 @Asad_Umar you 👆🏾all of you, think twice before he sits in the parliament under PTI's umbrella pic.twitter.com/TD97d6E9KQ

— Nighat Dad (@nighatdad) August 1, 2018
A DISGRACE. @PTIofficial @ImranKhanPTI @ImranIsmailPTI Why on earth you have given PTI ticket to this man? Anyone could have won for you since people voted for change, for Imran Khan. You'll regret your decision dearly.

— Yahya (@MightyYahya) August 2, 2018
Despite the fact he took the tweet down, the internet continued to shame him!
Words shameless, misogynist, and scum are what define PTI's dirty and rotten mindsets like Aamir Liaquat. Though, this idiot has deleted the tweet, he cannot change his dirty mind.

This is how they are gonna make so-called Naya Pakistan.

PTIards! pic.twitter.com/DnoXQ1g4et

— Kapil Dev (@KDSindhi) August 1, 2018
@AamirLiaquat Shame on you. write a written apology to Sherry Rahman. reflects your personality more than what your were trying to achieve. I feel bad for millions of women voting for PTI because of people like you. there is no place for people like you in Naya Pakistan.

— Hina Rauf (@Hina_Rauf) August 2, 2018
Eventually, Sherry Rehman clapped back at him for his misogynistic views.
For all tastelesstweeters who post salaciously cropped photos or make inappropriate remarks about women in politics,I feel your pain when u are asked to delete.But,none of these dirty tricks deterred SMBenazirBhutto. She taught me to make my words count,not the state of my veil.

— SenatorSherryRehman (@sherryrehman) August 1, 2018
However, realizing his mistake, Aamir Liaquat was compelled to apologize to Sherry.
Twitter didn't delete my tweet, I deleted it myself cause I later realized it might look bad for you. I have respect for you because of the issues you raised in NA when I was there too. It is a misunderstanding, I was targeting MMA Owais Norani, not you.I apologise @sherryrehman

— Aamir Liaquat Husain (@AamirLiaquat) August 1, 2018
He clarified that his post was never targetted to PPP's politician and was, in fact, a jibe at Owais Norani.
Liaquat has been elected as a PTI MNA from Karachi and hence, holds immense responsibility for his words and actions.
Consequently, followers continued to school him even after his apologetic tweet.
Then attack MMA, not Sherry. You can do that without making a misogynistic & sexist remark.

Do consider that you now are an elected representative. Act like one.

If you won't behave, it will not help you.

— Enkidu (@Fallibilist1) August 1, 2018
Unka deen imaan unk sath or hamara hamaray sath @AamirLiaquat . You can not wash mud with mud

— Naveed Kashif (@NaveedkNIDO) August 1, 2018
is ka kia mtlb hai aik shaksh apko gali dy rha h to ap bhe usko Maa behn ki gali dogy?? Mohtarm kam iz kam khd he sooch liya kro ab tum koi anchor ni ho Assembly ky Member ho

— Junaid Iqbal Turk (@Junaidturk) August 1, 2018
Azfar Rehman Hits Back at Haters Over Kiki Challenge Gone Wrong!
What do you think about Aamir Liaquat's deleted tweet? Let us know in the comments below.