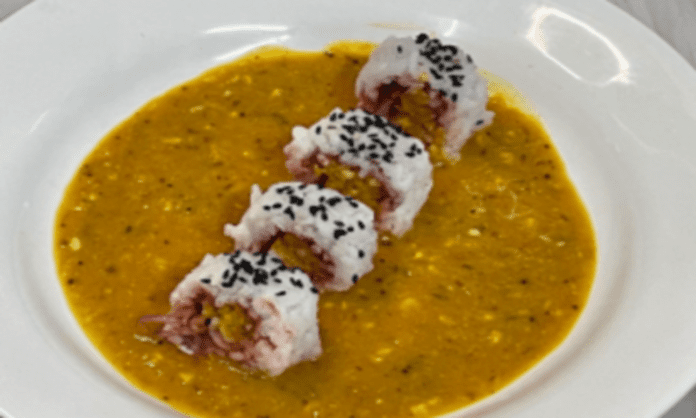 Daal paired with rice and sushi made out of rice are probably the best food combinations out there. But what happens if you pair your sushi with daal? Certainly not something which you can think of devouring let alone enjoy. However, the latest picture of Daal Chawal sushi posted by Sharmila Farooqui is raising eyebrows and Twitter is not amused.
Sharmila Farooqui's Questionable Taste In Food
Sharmila Farooqui is known to share snippets of her cooking in the kitchen now and then. Previously her video of cooking a red snapper fish from her kitchen went viral for hilarious reasons. Meanwhile, her recent food post is also getting a lot of attention from the users and the internet is not happy.
Farooqui posted a picture of daal chawal served with sushi. While we are not sure if she had just posted the picture or if she was eating it, the questionable mix of dishes made us wonder if it tasted the way it is supposed to taste.
Daal chaawal with sushi 🍣 pic.twitter.com/nMH8kznSog

— Sharmila Sahibah faruqui S.I🇵🇰 (@sharmilafaruqi) July 2, 2023

Read More: Gol Gappa Ice Cream – A Foodie's Dream Or Nightmare?
Internet Reacts 
While the Internet was certainly not happy, the social media users suggested the politician stay away from the kitchen reminding her of her previous cooking attempt. Meanwhile, others shared that this is embarrassing to see her combining both dishes.
Here are some of the reactions to the post.
For God sake. If there was a chef in ur lineage or if there will be any in 100 yers, he or she will be embarrassed if u ever combine daal with sushi again

— R Chughtai (@ChughtaiRauf) July 2, 2023
All for fusion cooking but not daal & sushi!

— Fouzia Younis CG 🇬🇧🇨🇦 (@YounisFouzia) July 2, 2023
Seriously not a good idea 👎 both are very different in taste 🍣

— Dr Saba Osmaan (@SabaOsmaanqazi) July 2, 2023
What are your thoughts on the daal chawal sushi posted by Sharmila Farooqui? Share your thoughts in the comments below.
Read More: Layers Bakeshop Controversy: IFA Seals Islamabad Branch
Stay tuned to Brandsynario for the latest news and updates.