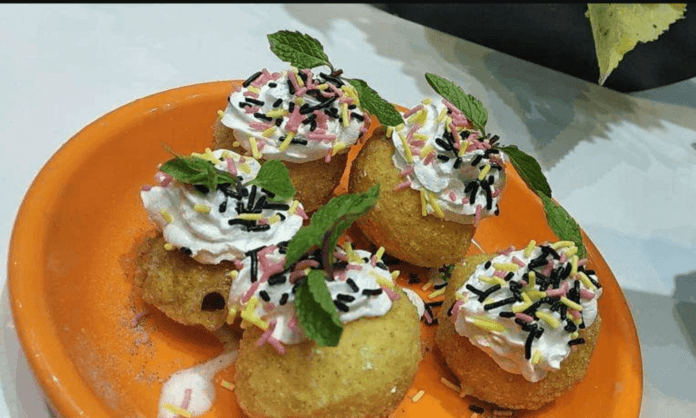 Gol gappay is everyone's favorite street food and if you are not a gol gappa or pani puri fan, we think you've never had one. After shopping in busy markets, gol gappay is the first thing on every person's mind. But the standard sweet and sour gol gappayGol-Gappay is being taken over by ice cream and we have mixed emotions after looking at these.
Ice Cream Gol Gappa- Hit Or Miss?
While ice cream is a dessert often enjoyed alone, foodies often try it with several other desserts. While the combination of ice cream with other desserts is often delicious, it doesn't pair as well with savory treats. However, a vendor in India is serving Ice cream gol gappas and by the looks of it – it sure is a miss.
Ice cream gol gappa combined the crispy texture of gol gappa with the creamy and cold taste of ice cream. To make this unique treat, the traditional puris are filled with a scoop of ice cream instead of the usual water and chutney mixture. The result is a combination of sweet and savory flavors, as well as a contrast in temperatures.
Read More: Pakistani Guy Shares How He Challenged Pizza Hut Back In The Days
While gol gappa ice cream is a no-go but the way the snack is prepared matters a lot. In this particular video, the vendor is topping the ice cream with a mixture of savory snacks. However, in our opinion, the ice cream would've tasted much better with a few choco and brownie bits on top. Meanwhile, the crunchy texture of gol gappa can also be enhanced with some chocolate drizzled on top. While we have shared our take on the ice cream gol gappa, let us know how you will enjoy them in the comments below.
Read More: Pakistanis Are Now Choosing Great Pulao Over Great Biryani
Stay tuned to Brandsynario for the latest news and updates.