Everyday usage is not the only place where we see the progression of technology. Where smartphones and automobiles are being developed on one end, another niche is being developed on another. Instead of there being older technology in defense systems, countries are employing the latest ones. In light of this, Pakistan has just unveiled a whole new drone category to the world. It has been named the Shahpar-II drone and it has quite a lot of capabilities.
If we look at the type of drone that it is, it comes under 'MALE'. This refers to as a Medium Altitude Long Endurance drone. We all know that the primary objective of a drone is recon. That refers to surveillance. These drones can survive at higher altitudes and can capture images in the highest of definition. That said, when it comes to it, the drone can become a tool for havoc and attack too. So, let us dive into the details of the unveiling.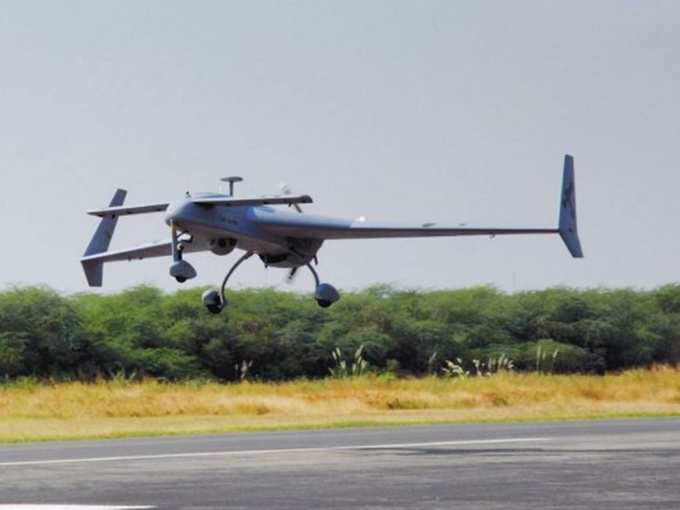 Shahpar-II Unveiling
The Shahpar-II drone was revealed at the Defense Expo taking place in Egypt. It is being held from 29th November till 2nd December 2021. As mentioned in the details, the drone has a range of nearly 1100 Km, with a real-time data link range of 300 Km. One of the most interesting parts of the specifications is that the drone has capabilities that stretch beyond the line of sight. It can work even when it cannot see directly in front of it.
Read More: New Tesla Smartphone Might Just Give The iPhone Competition
Now, drones usually have two functions; Recon and Engagement. When in recon, the Shahpar-II can fly as high as 20,000 feet for as long as 14 hours. When it comes to engagement, the height reduces to 18,000 feet and the endurance time is halved. Of course, where there is engagement, there are going to be missiles. The Shahpar-II is armed with ASMs (Air-to-Surface Missile) called BURQ. The drone can install missiles to a weight of up to 60 Kg.
Defense Development
That said, the BURQ missile has a weight of 45 Kg, which can engage quite a lot of objects, in a radius of 8 Km, such as,
Light and Armoured Vehicles
Enemy Personnel
Bunkers
Buildings
The drone is composed of a lightweight material that allows it to fly smoothly through the clouds, without delay. Both surveillance and engagement payloads can be integrated within the Shahpar-II. Pakistan has now entered the 'MALE' UCAV (Unmanned Combat Aerial Vehicle) domain with this launch and they intend to ship units to countries in the future.
#GIDS #Shahpar II surveillance drone unveiled at #PakistanDayParade enjoys a significant upgrade from its initial variant. Endurance doubled to 14 hours. Datalink range increased to 300 km from 250 km.#Pakistan 🇵🇰🇵🇰 pic.twitter.com/UwOXMV8LAw

— Developing Pakistan (@developingpak) March 25, 2021
Everything aside, the unveiling of the drone reminds us of the time when Lockheed Martin decided to test out a hover kill vehicle in 2008, but then scraped the project.
Read More: Apple Exploring True And Reverse Wireless Charging Technology
If you want to see what they came up with back then, check this out,
Imagine what this could have become now!
Stay tuned for more from Brandsynario!