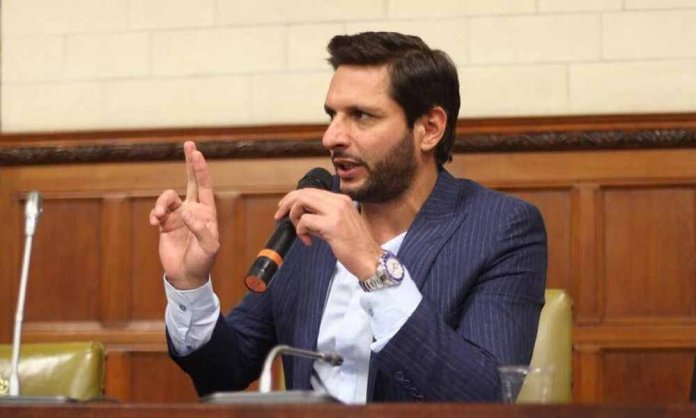 Shahid Afridi's controversial Kashmir statement has stirred a hornet's nest, sparking a massive uproar in Indo-Pak media.
While addressing students at the British Parliament, the cricketer stated:
"Don't give Kashmir to Pakistan or India either. Let them be independent. Humanity is big thing. Human are being killed there (Kashmir). It hurts to see humans are being killed whatever religion they may belong"
Shahid Afridi Wins Hearts Across the Border For Respecting Indian Flag!
The video went viral, igniting a crackling controversy on social media and landing Afridi in troubled waters.
The full video of the Kashmir Issue being addressed by Shahid Afridi at yesterday's Parliament session being manipulated by the Indian Media #ShahidAfridi pic.twitter.com/CeH2bCiVLG

— UCL Pakistan Society (@uclupaksoc) November 14, 2018
Indian media was quick to create to react to his statement. So much so, the cricketer was labeled as a traitor to Pakistan and Imran Khan.
#shahidafridi just check, how #indian media creating controversies for thier own benefit.
My question is
Why do we give them such an opportunities.@SAfridiOfficial @ImranKhanPTI @FarhanKVirk pic.twitter.com/BoPMvGF7Ye

— saqib (@SaqibKhatri) November 14, 2018
#AfridiExposesPak | He (Shahid Afridi) proved again that he is an eccentric personality, he may not have the knowledge of Kashmir: Qamar Cheema- Strategic Affairs & Defence Analyst (Pakistan) pic.twitter.com/v37pSbYGBe

— Republic (@republic) November 14, 2018
In an attempt to clear up the mess, Shahid Afridi took to Twitter to clarify that his statements are being blown out of proportion by the Indian media.
My comments are being misconstrued by Indian media! I'm passionate about my country and greatly value the struggles of Kashmiris. Humanity must prevail and they should get their rights.

— Shahid Afridi (@SAfridiOfficial) November 14, 2018
My clip is incomplete & out of context as what I said before that is missing.Kashmir is unresolved dispute & under brutal Indian occupation. It must be resolved as per UN resolution. Myself along with every Pakistani support Kashmiri freedom struggle. Kashmir belongs to Pakistan.

— Shahid Afridi (@SAfridiOfficial) November 14, 2018
However, the damage was done. His views hurt the sentiments of his countrymen as well and provoked India to cash on the statement.
Pakistani media anchors, journalists, and famous personalities also broke silence on the matter, mostly supporting his statement.
Independent kashmir is a good why to get rid of indian Terrorism in kashmir.

Well said Afridi #ShahidAfridi

— Hamid MirⓂ️ (@HamidMirCEO) November 14, 2018
Baat tau Afridi bhai nay sahee ki hai pic.twitter.com/rtjtcfVCjv

— omar r quraishi (@omar_quraishi) November 15, 2018
"Pakistan doesn't want Kashmir.. Pakistan can't even manage its four provinces…" Expect all hell to break loose on Shahid Afridi's comment. pic.twitter.com/I3MZiUyVlu

— Naila Inayat (@nailainayat) November 14, 2018
I agree with Shahid Afridi, Kashmir belongs to Kashmiris only, let them decide who they want to be with or without.

— Syed Ali Raza Abidi (@abidifactor) November 14, 2018
Afridi's wife, Nadia Shahid took to Twitter as well and shared a powerful quote by Allama Iqbal that how politics divides nations.
— Nadia Shahid (@nsaafridi) November 14, 2018
Meanwhile, Azad Kashmir's Prime Minister Raja Farooq Haider slammed Afridi and told the press:
"It seems that Afridi wants to play in the Indian Premier League and is issuing such statements owing to that."
This is not the first time Afridi kickstarted a storm by commenting on the sensitive issue. Back in April, the sports star condemned the bloodshed in Kashmir and urged UN to take note of the matter.
Appalling and worrisome situation ongoing in the Indian Occupied Kashmir.Innocents being shot down by oppressive regime to clamp voice of self determination & independence. Wonder where is the @UN & other int bodies & why aren't they making efforts to stop this bloodshed?

— Shahid Afridi (@SAfridiOfficial) April 3, 2018
Afridi's contemporaries Virat Kohli, Gautam Gambhir, and Suresh Raina adopted a negative stance against his statement.
What do you think of Afridi's statement? Let us know in the comments below.