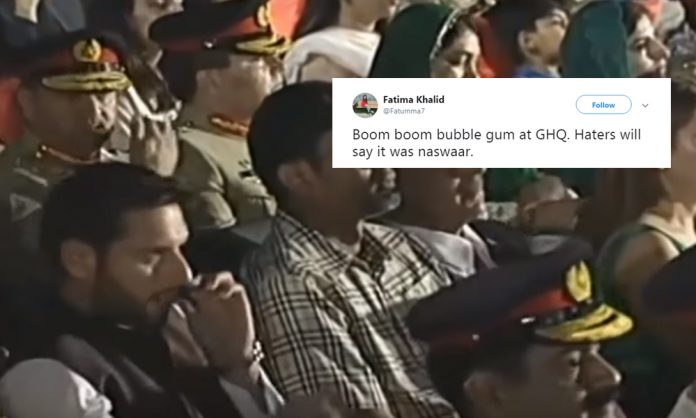 When you are a super famous person, whatever you do becomes the headline of the day. Let it be something funny or extremely embarrassing, the constant eye of the camera on you hardly misses anything!
The same thing happened with Shahid Afridi, who yesterday attended the main ceremony held yesterday at GHQ in Rawalpindi in the commemoration of the 53rd Defence Day!
One thing that Lala is famous for, other than his sixes, is his blunt attitude and frankness that make him just one of a kind and we all adore him for that!
However, the camera caught Boom Boom consuming naswar in a super sneaky way, during the ceremony and then, acted like nothing ever happened!
But since he's Shahid Afridi, the video of him having naswar has gone viral on the internet already and people are absolutely loving it!
Watch the video below!
#ShahidAfridi can't resist Naswaar 😂#DefenceDay funniest moment of the event!!! 😂 pic.twitter.com/vu0GL9SaWN

— SYEDA TUBA ANWAR (@TubaAtweets) September 6, 2018
Stealing the show away with his bluntness, #ShahidAfridi is trending on Twitter and people are coming up with some crazy yet hilarious reactions!
It's Defence Day and #ShahidAfridi Trending at No one, Iqbal tere shaheen nikmay nalaiq nikhatoo hain. 😍🤣 pic.twitter.com/VfWaf33hxv

— عدن عباسی 🇵🇰 (@Adnanabbasi0786) September 6, 2018
Well, that's how he rolls!
Shahid Afridi seriously? Right behind PM and COAS…like seriously? We had to talk about their speeches but your naswar took the show away. #ShahidAfridi #GHQ

— khadijah Ahmad Malik (@khadijahM42) September 6, 2018
Haters gonna hate!
#ShahidAfridi eating Boom Boom Bubble gum at GHQ. Haters will say it's Naswar.

— Myra Zafar (@MyraZafar) September 6, 2018
Naam hi kaafi hai!

After this incident , I am sure someone will launch "Afridi Naswar"#ShahidAfridi

— Shopaholic (@schumailakhan) September 6, 2018
ایسا کیا گناہ کیا جو ہیڈ ہوا #ShahidAfridi pic.twitter.com/T08jjdFl8M

— زاڼه یوسفزئ (@sadaf_jehan) September 6, 2018
Meanwhile all the pathans are feeling proud of shahid afridi taking naswar on live tv 😂 it's in our genes #shahidafridi

— Maaz Khan (@Maaz_Khan11) September 6, 2018
A win-win meme!
— Omair Aziz (@im_omair) September 6, 2018
As if Lala has ever cared about the cameras!
umm #Lala cameras thy itny saray 😬 #DefenceDay #GHQ #6thseptember #ShahidAfridi pic.twitter.com/VgxeSbkukS

— Wajeeha Khawaja (@wajeeha_khawaja) September 6, 2018
That's a classic shot that will surely go down in history… Afridi you beauty!
And where is ramiz raja's commentary when you need it the most 😁😁😁 #ShahidAfridi you beautyyyy 😁😁😁

— HB SHIZZLE… (@SMHB0007) September 6, 2018
Let the man eat in peace!
Caught on camera once when he chewed the cricket ball and now naswar —- lala doesn't give a damn about the cameras 🙂 #ShahidAfridi

— Eye of tiger (@Aqal_k_dushman) September 6, 2018
Credit goes to naswar!
Man of the match today?

— PSL Memes (@PSLMemesWalay) September 6, 2018
Well, that's Lala for you!
#ShahidAfridi made his International debut in 1996. Its 2018 now.22 years almost! All those years he was center of attraction for local and international media. And yet it tool them almost 22 years to caught him having Naswar. Maan'na paray ga lala ko.
Sahi khel gaye.#DefenceDay

— Ali J. Laghari (@AleeJahanzeb) September 6, 2018
The topic of the day!
Shabbir dekhay na dekhay.. Puray Pakistan ne dekhaaaa … #ShahidAfridi

— Kanwal A. Haroon (@KanVwal) September 6, 2018
Hinal Altaf's Leaked Clip With Faisal Rehman Ignites Social Media Frenzy
Stay tuned to Brandsynario for more updates and news!