Shae Gill has risen to fame unlike any other artist before through her banger single, 'Pasoori'. The singer is being criticized now for sharing a prayer for people from other religious communities and she has slammed back. What is the artist saying and why is this now happening? Read all about it here.
Read more: Why Did Hassan Ahmed Apologize To Aiman Khan & Muneeb Butt?
What Happened?
Artist Shae Gill made an Instagram story about praying for Siddhu Moosewala due to his tragic death. The artist had written about praying for the departed soul and that may he rest in peace. This backfired for the artist incredibly. Pakistanis started dm'ing her saying, "you should not pray for non-Muslims."  He said you should not be making prayers for non-Muslims as a Muslim, suggesting that it is wrong.
How Did Shae Gill Respond?
Shae Gill took a screenshot of this and said immediately that she is getting a lot of messages like this. This is unfortunate that extending a branch of care towards people who meet tragic ends is considered this way. People have been spamming her for all of this and this is when Shae Gill decided to share her faith. She added, that she is not a Muslim. Why is everybody assumed to be one?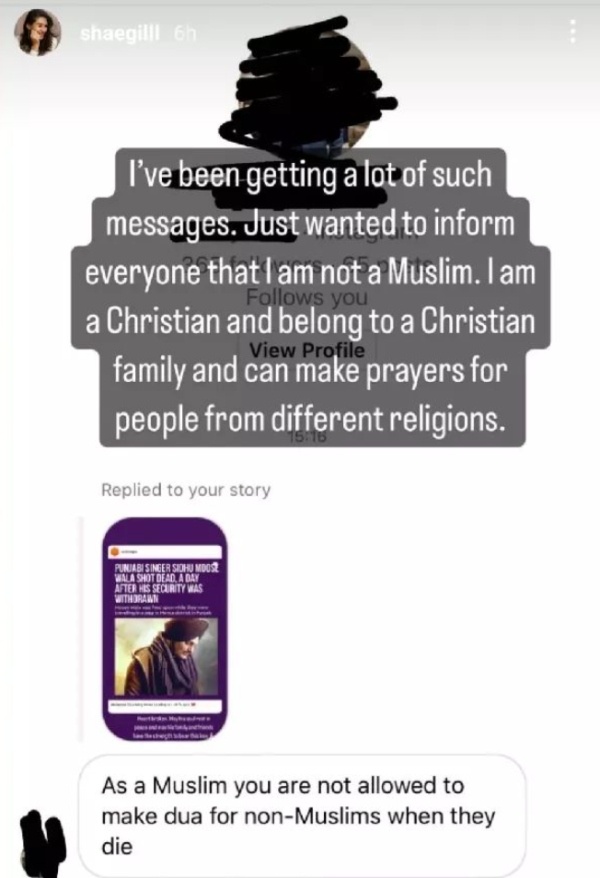 Shae Gill shared that she is a Christian and in her faith, she is more than allowed and encouraged to pray for people from other religions. Have a look at what she said:
What Are People Saying?
People, however, are in disagreement about what the person had said. People are saying Islam is not so complicated. Islam teaches us humanity and encourages us to love, care and protect who we see around us. If someone has met such a tragic end, we should pray for them, dead or alive. It is all about humanity and even faith encourages you to be a good human.

Though this news hasn't spread yet as much, we have a feeling that Shae Gill just sharing her religion will definitely have its impact. People may start giving her backlash or may stop giving her it because she is outside the bounds of their expectations now.
Read more: 13 Popular Pakistani Dramas Based On True Events
Stay tuned to Brandsynario for the latest news and updates.