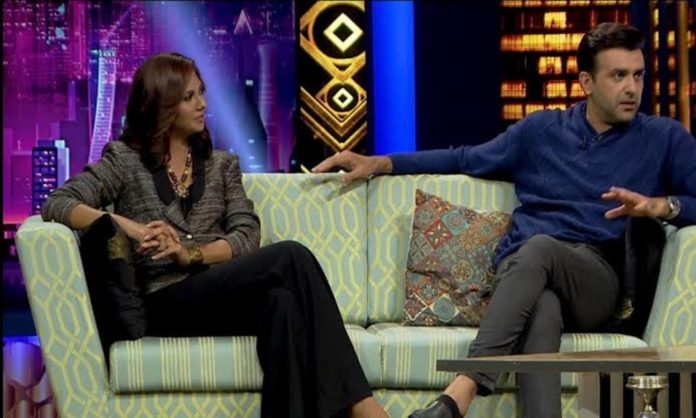 The twins, Aiman and Minal, ought to have a massive fan following among the biggest Pakistani celebrities. Meanwhile, Aiman's husband, Muneeb Butt, is also following in his wife's footsteps with more and more followers every day. At the same time, the growth and reach of their stardom to their followers have been questioned time and again. In a recent event, the matter was raised again at 'The Couple's Show', which resulted in Hassan Ahmed coming up with an apology video.
Hassan Ahmed Talks About Aiman & Muneeb
Recently, Hassan Ahmed and his wife Sunita Marshall appeared at the couple show hosted by Aagha Ali and Hina Altaf. On the show, the celebrity duo talked about their family, career and life in general. Meanwhile, in a series of questions, Hassan Ahmed made a remark about Aiman and Muneeb's followers on social media, which didn't seem to sit well with the netizens.
Take a look at the viral clip below.
In a series of questions asked by the Host, Aagha asked the actor, "Which celebrity on Instagram does he thinks have a questionable fan following?"
The actor responded, "I think Aiman and Muneeb have an inorganic fan following."
While none of that sounded in bad taste, the video clip soon went viral on social media, causing quite a stir among Aiman and Muneeb fans'.
Read More: 10 Most Underrated Actors of the Pakistani Drama Industry
Hassan Ahmed Apologize
Soon after the video went viral, Hassan Ahmed took to his Instagram account to apologise to the fans and cleared the air about what he shouldn't have said on the show.
Here is what he had to say,
"Asalam-u-Alaikum! So I wanted to talk about the clip that recently went viral, in which I said something about Aiman and Muneeb. I have absolutely no way to defend myself, nor do I want to defend myself. I shouldn't have said any of it, and I take all of that back, and I wish both Aiman and Muneeb the very best in their lives."
Meanwhile, Aiman Khan being a sweetheart, took to the comments section of the post to respond to Hassan Ahmed's apology, and it seems like there is no bad blood between the both of them.
Take a look at her comment below.

While Aiman Khan and Muneeb Butt have come a very long way in their careers, fan following among their social media fans and followers has always been debatable since the very beginning. Meanwhile, we would like to hear your thoughts on the matter. Let us know in the comments below.
Read More: Hira & Mani Get Trolled Over Their Awkward Photoshoot
Stay tuned to Brandsynario for the latest news and updates.