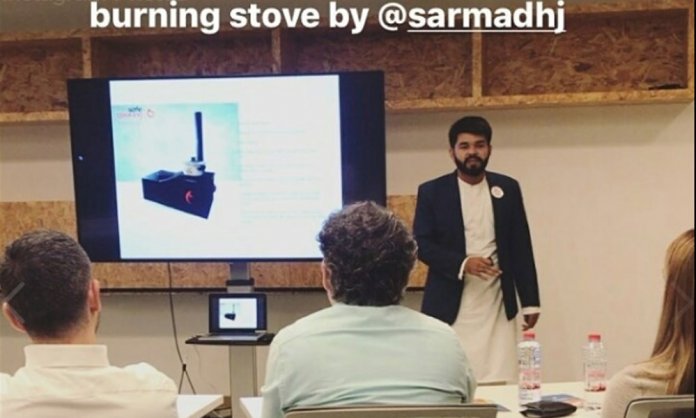 On Sunday evening, Pakistani entrepreneur, Sarmad Hassan Jaffry took to facebook to share his tremendous achievement of being the first ever Pakistani to be selected for Global Grad Enterprenuership Bootcamp.
Global grad show gives first-hand access to the next generation of innovators who are designing solutions for a better world. From 1,000+ applications, 150 projects from universities in 45+ countries are chosen to be part of Global Grad Show each year.
It is curated under the following values:
INNOVATION:
Innovation is a value that transcends technology and exists independent of wealth: Global Grad Show projects are high tech and low tech, luxurious and low cost, mechanical and manual and virtual.
IMPACT:
Global Grad Show celebrates innovation for social and environmental good. It is curated to encourage and help a new generation working to design a more equitable, sustainable and prosperous world.
American Woman Lies on Floor in Protest After Denial of Entry in Islamabad [Watch Video]
EQUALITY:
There is no hierarchy between innovators, schools or countries at the exhibition. all share space equally, with the projects mixed together and arranged according to theme.
EXCHANGE:
Global Grad Show was created to open the field of creativity and innovation to participants from all places. Every exhibit is represented by one of its creators and visitors are encouraged to ask them about their work.
Here's what Sarmad said while announcing his achievement:
Getting selected for Global Grad show and being the first Pakistani who is selected for Global Grad Enterprenuership Bootcamp was a proud moment for me because I got the chance to represent my Pakistan as a product designer on an international platform for the very first time.

As an industrial design graduate,I always wanted to do something big for my country and its people and through this opportunity I feel I m on the right path to achieve my goals and opening the doors for future designers to bring their ideas on bigger platforms. This is my dream come true situation when I am presenting my idea as an enterprenuer in front of top leading investors .
What are your thoughts? Let us know in the comments.
Scholarships for International Students at University of Toronto, 2020-2021 Now Open!
Stay tuned to Bandsynario for more news and updates.