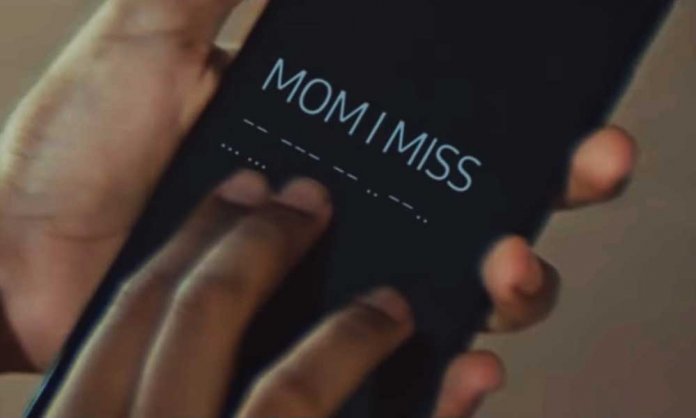 "Impossible is just a big word thrown around by small men who find it easier to live in the world they've been given than to explore the power they have to change it."
NOTHING is IMPOSSIBLE! If you want to bring a positive change to the world and Samsung truly proves that.
Samsung Good Vibes app is a two-way communication tool that enables the deafblind – those with visual and hearing disabilities, to send/receive messages through their smartphones.
A deafblind person can now send a message from the app by tapping on the screen using Morse Code—where all letters of the English alphabet are combinations of dots and dashes.
Similarly, incoming messages can be understood through vibrations.
However, the technology is not limited to a certain market. Those with normal sight and hearing can send a message, by typing or speaking since it has a standard chat/voice interface that delivers the message to the deafblind person as Morse Code vibrations.
Samsung trained the deafblind from all over India to use the Samsung Good Vibes app and inspire the world. Through a partnership with NGO Sense India, the brand aims to spread 'Good Vibes' all over the country.
We make a better world with our meaningful innovation. @SamsungIndia takes a step towards making a more inclusive society with a new app #SamsungGoodVibes
Read more:https://t.co/4QX2i2FCtL

— SamsungNewsroomIN (@SamsungNewsIN) September 17, 2019
Samsung Remains King as Huawei & Apple Follow Closely: Strategy Analytics
Now, Samsung is promoting the app via an emotional film campaign, 'Caring for the Impossible'. Created by Cheil, the film narrates the story of a young deafblind girl who uses the Good Vibes app to communicate with her family.
Watch the emotional video below:
https://youtu.be/9djutxpXaQE
Samsung has truly made expressing easier for the deafblind. The Good Vibes App is developed in partnership with Sense International India- one of the few NGOs in India dedicated to helping the deafblind and sensitizing people about the disability.
Social Media Reacts to Samsung Good Vibes
Have a look at the Twitter reactions:
It will inspire programmer to create these kind of help to society. Thanks #SamsungGoodVibes and #Samsung for the initiative.
Actually the advertisement was really emotional, it didn't look like any commercials, it's like the story around you. https://t.co/gOWMeLIwUT

— Aditya Narayan (@yahi_bacha_tha) September 9, 2019
@SamsungIndia from always skipping ads on YouTube to crying seeing an ad, you guys deserve massive respect for creating this amazing application. WORDS can actually be felt❤ Thanks for making technology that's for EACH ONE & ahead of all! #samsungGoodVibes https://t.co/XCCcgBAiG5

— Indian (@indianbybirth20) September 10, 2019
Evoking emotions is the ultimate goal of all #communication. This @SamsungMobile ad is outstanding. Got tears in my eyes.#SamsungGoodVibeshttps://t.co/Ne1tDiqPWZ

— Mitu Samar (@MituSamar) September 14, 2019
Hat's off to you @SamsungIndia @SamsungMobile for introducing 'Good Vibes'. It will indeed bring the good vibes to family of deaf&blind. Thank you. #samsunggoodvibes #innovation #goodvibes

— Shubham Mathur (@shbhmmathur94) September 13, 2019
I have always been an Apple user, BUT kudos to Samsung for coming out with this initiative. Need of the hour and more productive than "three cameras" and "longer battery life" #SamsungGoodVibes @SamsungIndia @SamsungMobile https://t.co/UklYbD19II

— Rishina (@rishina2011) September 12, 2019
Would you want this app to be available in Pakistan? Comment and share your feedback.
Stay tuned to Brandsynario for more news and updates.
Barbie's Dream Gap Project Continues to Empower the Next Generation of Girls!