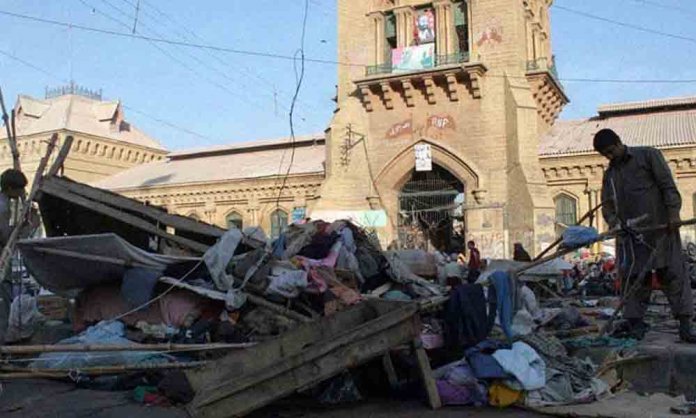 A massive anti-encroachment drive has kickstarted in Karachi and seems like the city's Saddar area is amongst the first to witness an extensive operation.
Launched by the Karachi Metropolitan Corporation (KMC) and city administration, the anti-encroachment move will remove all illegally constructed shops and stalls from footpaths and pavements.
Dawn News reports that KMC, on directives of the Supreme Court, has removed more than 100 concrete shops, hundreds of pushcarts and stalls in Saddar and surrounding area within two days.
#Karachi: #Saddar Electronics Market, Regal area after 2nd day of Anti Encroachment drive. Several shops was demolished, removed several street vendors. #KHIAlerts pic.twitter.com/EycqkSVy3B

— SherY – (@SherySyed_) November 7, 2018
The operation is being held on Daudpota Road, Zaibunnisa Street, Mansfield Street, Passport Office, New Preedy Street, Empress Market and near Regal Chowk and Naveed Clinic.
Empress Market Gets a Makeover
The second phase of the operation involved removing encroachments in and around Empress Market.
The iconic landmark is apparently being restored to its original shape and from the looks of it, the building looks restored to its golden days.
The market has really undergone a big change and now looks like a British place after yesterday's operation against encroachment.
Massive Traffic Jam in Karachi
Over the past couple of days, the city is witnessing fierce traffic jams due to the anti-encroachment drive.
Traffic is compromised around Saima Pari Mall till Madani Mall & from Hyderi market till Peshawari Ice Cream Shop.
Worst Traffic Congestion Condition in Front of Saima Pari Mall Till Madani Mall & around whole haydri market till Peshawari Ice Cream Shop. illegal charged parking mafia also very much active at this market. kindly KMC/DMC officials do need full soon.

— اجنبی شخص (@MQ198427) November 7, 2018
Karachi Traffic Police has issued a press release warning the citizens about the adverse traffic situation in the city.
Traffic Awareness and Social Media Unit
DIG Traffic Karachi. pic.twitter.com/hM84Yp53UF

— KarachiTrafficPolice (@K_TrafficPolice) November 6, 2018
There is also an ongoing sit-in by Oil Tankers Association near Jackson Police Station, causing road blockage.
#Karachi: Oil Tankers Associations protest against #KPT, drivers stages dharna near Jackson Police Station and blocked the road heading towards #Maripur. #KHIAlerts pic.twitter.com/QQPrEvlOSu

— SherY – (@SherySyed_) November 7, 2018
This is a developing post.
Leading Pakistani Banks Suspend International Debit Card Transactions
Stay tuned to Brandsynario for more updates.