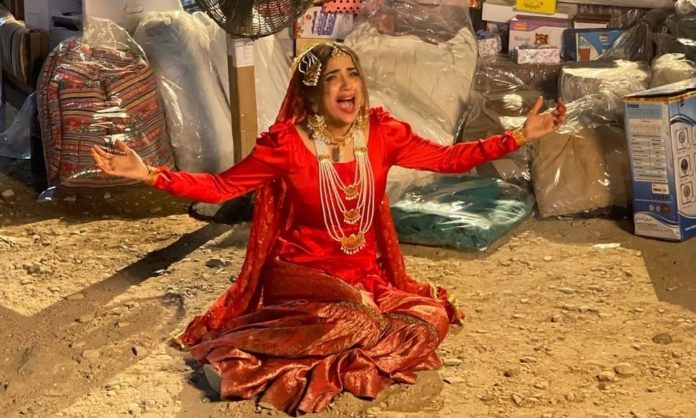 Saboor Aly has become one of the finest actresses in the television industry in a short span of time. Her revolutionary characters, including Babli Badmash in 'Parizaad', managed to gain the attention and love of the netizens.
The actress has addressed time and again that it is not easy to mold yourself in the element of your character. Meanwhile, the dedication she shows to her characters is like no other as she shares a first-hand experience with a dangerous photoshoot.
Saboor Aly In Nehar
'Nehar' is a drama which showcases the life of a woman who is put in physical and mental abuse to bring with them luxury goods, i.e. 'Dowry'. Revolving around the themes of exploitation and manipulation, Nehar is nothing short of a masterpiece trying to raise awareness in the masses.
Saboor Aly's Photoshoot Goes Wrong
As soon as the poster for the Nehar was released, the images caught the netizen's eyes right away. However, the actress has now shared some behind-the-scenes clips from the photoshoot, and her dedication to her role is uncanny. The behind the scene shows a metal frame on fire right in front of the actress. While it falls right in front of Saboor, she had to take a step back to protect herself from the fire.
Take a look at it below.
Read More: Here's Why Nida Yasir Refused To Take A Picture With Her Fans
"Most people think we only get decked up and look pretty. But the reality is a bit different in our line of work, and we work really hard. Scenes like this happen every now and then. Being an actor requires a lot of hardwork and dangerous stunts as well. It's not just glamour." Shared the actress on her social media.
The Cast Of The Drama
Accompanying Saboor, the stellar cast includes Areeba Habib, Usama Tahir, and Shafat Ali. Anamtah Qureshi, Farhan Ali Agha, Saima Qureshi, and Munazzah Arif.
While only nine episodes of the drama have aired until now, the story is yet to unfold. Whether the drama will stray from its storyline or directly deliver the message is yet to be revealed. However, with gripping details, it is to be assumed that the drama will end up delivering more than what is expected.
Read More: Shae Gill Gives A Shut Up Call To A Troll For Questioning Her Religious Beliefs
Stay tuned to Brandsynario for the latest news and updates.