By now, you have probably heard the official Pakistan Super League's anthem for its sixth edition. The song featured Naseebo Lal, Aima Baig and Young Stunners and was accompanied by a vibrant music video and a catchy beat.
Even though it has barely been 24 hours since the song released, the song has already managed to gain a lot of attention from the Pakistani fans and followers of PSL who were anticipating its release.
A Possible Anthem By Rihanna For Peshawar Zalmi?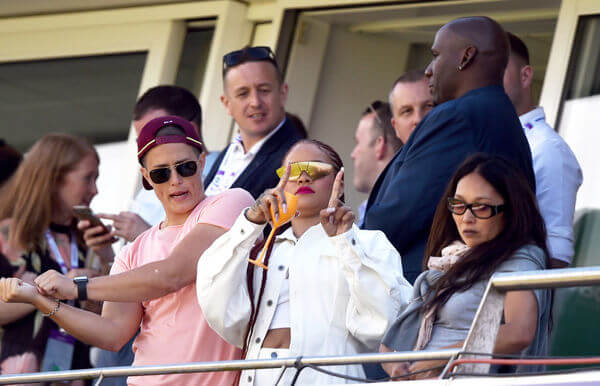 The anticipation for the official song was breaking all charts after the artists for this year's anthem were officially announced. Many were speculating about what the song would sound like and whether or not the music, lyrics and the video accompanying it would get the cricket fans to celebrate the arrival of cricket at our national stadiums.
Javed Afridi who is the Chairman of Peshawar Zalmi along with being the CEO of Haier and Ruba, hinted at a possible anthem sung by the American superstar Rihanna who is one of the most popular singers in the world.
RIHANNA FOR ZALMI ANTHEM ❓

— Javed Afridi (@JAfridi10) February 3, 2021
Is The Official Peshawar Zalmi Song Actually Under Works?
The tweet immediately caught everyone's attention and even though we doubt that anything of such magnitude is under works, if it happens it would take the world by storm considering the American artist has not released an album in over five years.
When asked by a fan, the singer's reaction shows she might not be interested in making music for a while.

Rihanna has branched out her expertise and her makeup brand Fenty is getting all of her undivided attention. The singer has rarely released any music and we highly doubt she would change her decision for Peshawar Zalmi's official anthem.
Then what about Javed Afridi's Tweet?
Even though we are yet to hear anything on this specific tweet from Javed Afridi himself or Rihanna, the tweet was probably poking fun at Indian hyper-nationalists who were turning a blind-eye to the Indian farmers' protests and were angry after Rihanna tweeted about it.
why aren't we talking about this?! #FarmersProtest https://t.co/obmIlXhK9S

— Rihanna (@rihanna) February 2, 2021
The tweet in support of the Indian farmers by Rihanna prompted many Modi-supporters to call Rihanna an ISI agent, sponsored by Pakistan.
My appeal to all SSR Warriors.. We shouldn't be STOP our SSR & Disah Murder Justice Revolution Movement at any cost and any circumstances. We all United

Rihanna with Pakistani minister "Zulfiqar Bokhari"

Proof that she was paid for that tweet by ISI

302 Must In SSR Murder Case https://t.co/fP7H3W5SJP pic.twitter.com/Vdnb8oQrzZ

— Rashmi Ranjan Sahoo (@RRS_InnerVoice) February 3, 2021
The tweet hinting the anthem for Peshawar Zalmi to be sung by Rihanna was probably a reaction to such claims but we do hope that we see international artists performing Pakistan Super League's official anthems.
Follow Brandsynario for more news & updates