In times when you need to travel often and a bus just does not match your route, you have to rely on ride-hailing apps. Now, using 'some' of these apps takes a huge toll on your wallet. An employee with a PKR 50,000 monthly salary will never be able to afford such a lifestyle. However, the ride-hailing app, InDriver, newly launched in Pakistan has a huge surprise. It is indeed amazing the citizens with its new features they had not seen till date.
You can quote the fare with InDriver!
Now, it is not like you can quote a PKR 200 price for a distance from Port Grand to Steel Mill. Let's not exploit the drivers too here. The app calculates the rates for the ride by taking out an average. It looks at other apps and the fare they might charge as well as the expected time factoring in the traffic. On that basis, it gives you an average fare. However, you can still quote a lesser price; just don't go below a minimum rate fed into the app.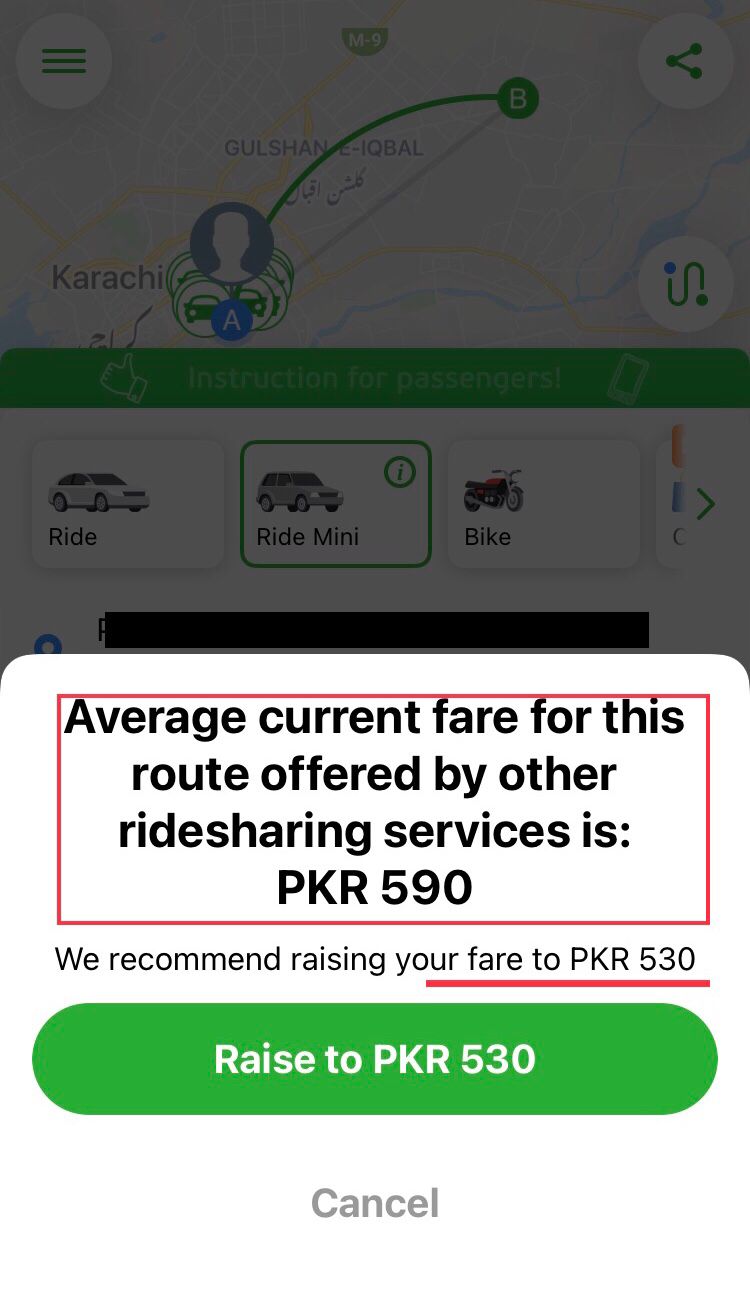 Read More: Impact Of COVID-19 On Ride-Hailing Services In Pakistan
The prices are lower
The best part is that the prices are lower too. Of course, you will say that since we are quoting the fare, the price has to be less. But no, that is not what we mean. Yes, it is somewhat linked to the above-mentioned point but as you can see, when the user quotes the fare, they have to stay within a range; that range is lower. A ride that would usually quote you PKR 500 and during the ride hike up to PKR 800, will now stay as PKR 500 or PKR 450 (whatever you quoted to InDriver).
Recently tried @inDriver in Karachi. Estimate fare was 370 on Careem vs 260 on InDriver

— A Azfar (Azfaar) (@siddiqi88) July 31, 2021
The Downside
It's not like it is a God-sent though. People have found issues with it as well. But then again, most of the time, it is because of the people. For instance, some of the female users reported that they found the captains shady. Unfortunately, that is how some people are and you will find them regardless of the app.
I don't normally do this but I booked a ride with this guy at @inDriver, he got late and then apparently his child lock was stuck, doors weren't opening, he opened the door then but I told him I can't trust his car, what if the child lock malfunctions again and I can't get out?

— Nadia (@novocainerush) October 7, 2021
After this incident, one gets to know another feature of the app though. Replying to the complainant, InDriver took to Twitter that they have a feature on the app that directly connects you to police when you feel the need.
All of our drivers undergo mandatory document check upon registration. The history and geography of calls & orders are recorded and easily tracked. The application has a panic button for a quick call to the police, as well as a feature that allows you to share the live location.

— inDriver (@inDriver) October 8, 2021
Moreover, another downside is that the app calculates fare in real-time. Hence, if other apps have a peak surcharge on them. It would factor in as well.
Read More: Women Owned Ride-Hailing Services In Pakistan; A Need Of Time
Tell us then, are you downloading the app?
Stay tuned to Brandsynario for the latest news and updates!