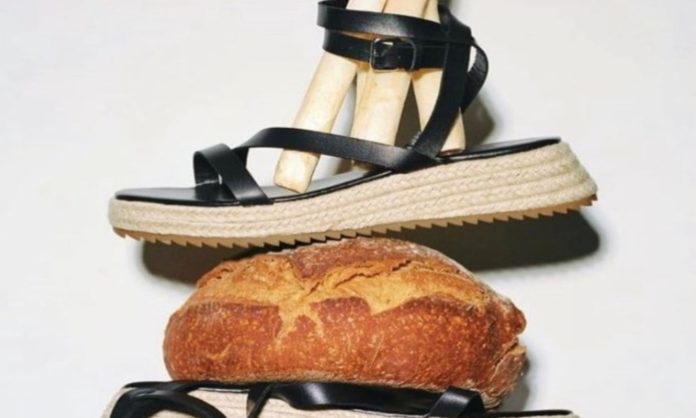 Spanish retail giant Zara is under fire once again. This time for using food as shoe props, and the internet is furious. The derogatory pictures were posted on the brand's Turkish and German websites and have received significant backlash from the public.
Who thought your heels might come with a side of ice cream? Sounds weird, right?
Zara Disrespects Food In Latest Campaign 
While using food as props have been in the world of marketing for years, one must assume it is on the table just as a decorative piece or being eaten by the models. Meanwhile, Zara took the food props to the next level by stuffing shoes with different food items. The doughnuts sitting on the platform sandals or the sourdough bread used to make a stack for the shoes to stand might look cool in pictures for the advertisers. However, it is infuriating given the rising inflation and the lack of access to necessities worldwide.
Take a look at the campaign below. 
Read More: Sunsilk Rolls Out An Immersive Metaverse Experience
Twitter Reacts To The Campaign 
Since the pictures went viral, the public has been requesting the brand to take down the pictures from the website. Meanwhile, others have urged the brands to stop using food in the name of fashion.
Disrespecting food in the name of advertisment. Is this a concept even ? SHAME ! #Zara pic.twitter.com/0u6GSOubSn

— Are Zee ! (@bhattispeaks) June 12, 2022
The tone-deaf attempt of Zara to connect its leather pieces with food has backfired. In a world where synthetic leather is being emphasised for apparent reasons, brands must be mindful of such acts, especially when people are starving from east to west.
#Zara's @ZARA's advertisement for the bread under the shoes got a lot of reaction, especially in Turkey as #zarahaddinibil tag.This image is unacceptable both for the ethical values and for religious apect. Will you remove the post and apologize? pic.twitter.com/J7ZpRcTP6v pic.twitter.com/gxB19NOLgq

— sgkam (@sgkamnet) June 12, 2022
The use of food is not just acceptable from a specific standpoint. It is exceptionally unethical given that it holds religious values in different sects.
I wish to unsee this. #Zara drawing ire by trampling on bread in visual for sandals?!?! Disrespecting Anatolia's millenia-old reverence of bread (wheat domesticated here). If bread is found on the floor, we kiss it, touch it on forehead, replace it on high. People go hungry here! https://t.co/kb7E3qt744

— EkimAydin (@EkimAytac) June 12, 2022
Many users also urged fashion enthusiasts to boycott the brand and stop giving in in the name of capitalism.
Dear Muslim sisters and brothers,
a muslim knows that you can't step on food, because food is a luxury!
Zara advertises by putting bread under shoes. Please let us set a sign together that something like this is unacceptable. #zara #skandal #zarahaddinibil #muslim #islam #ummah pic.twitter.com/PTmAEF8nt9

— uhm no (@promicrash) June 13, 2022
#ZARA That's not #fashion that's disgusting.
And no, I will never understand why people put food under the feet and take pictures. 'Cause there are still too many people starving!#Twitter #MondayMood #zarahaddinibil #noad #boycott pic.twitter.com/b8r0H3rMCs

— Betül Brunold (@BetulBrunold) June 13, 2022
The need for creativity sometimes leads to a disaster, and the high-street brand has proven this time and again. From selling overpriced clothes overlooking cultural appropriation to giving political statements, Zara has left all hell loose in the name of fashion.
Read More: McDonald's Smoke Detector Automatically Orders Your Meal – Here's How
Stay tuned to Brandsynario for the latest news and updates.