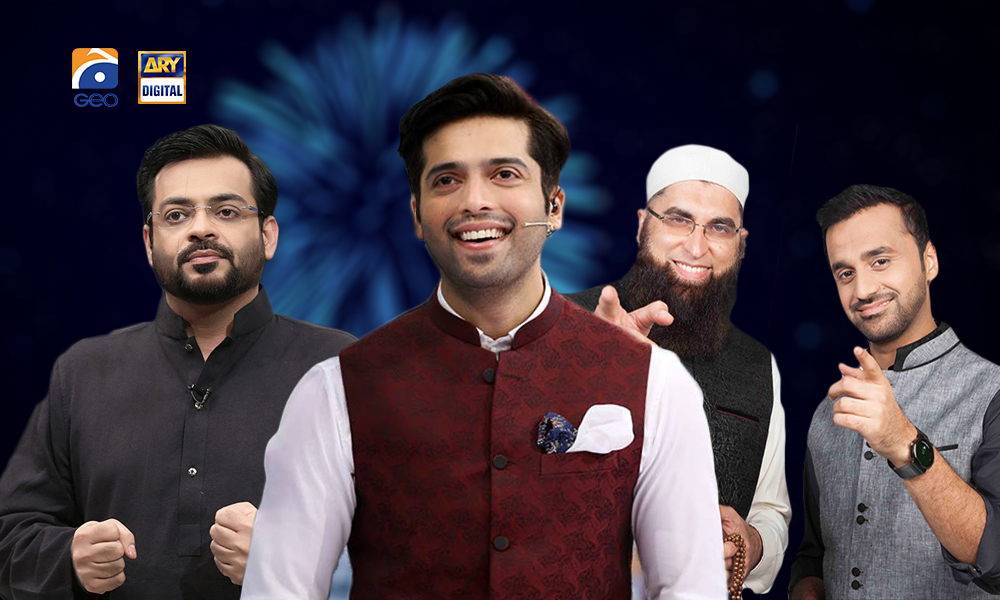 During the holy month of Ramazan, we are subject to a competitive back and forth amongst T.V. channels as they work very hard to compete amongst eachother and get better ratings. The extravagance and weirdness associated with Ramazan transmissions and drama shows on our T.V sets continues in full swing!
Two weeks of Ramazan have passed now and the bid for better ratings is still a war that is being raged, while entertaining the masses in more ridiculous ways– at least when it comes to post iftaar gameshows.
Below you can take a look at the average ratings of each channel for the second week of Ramazan: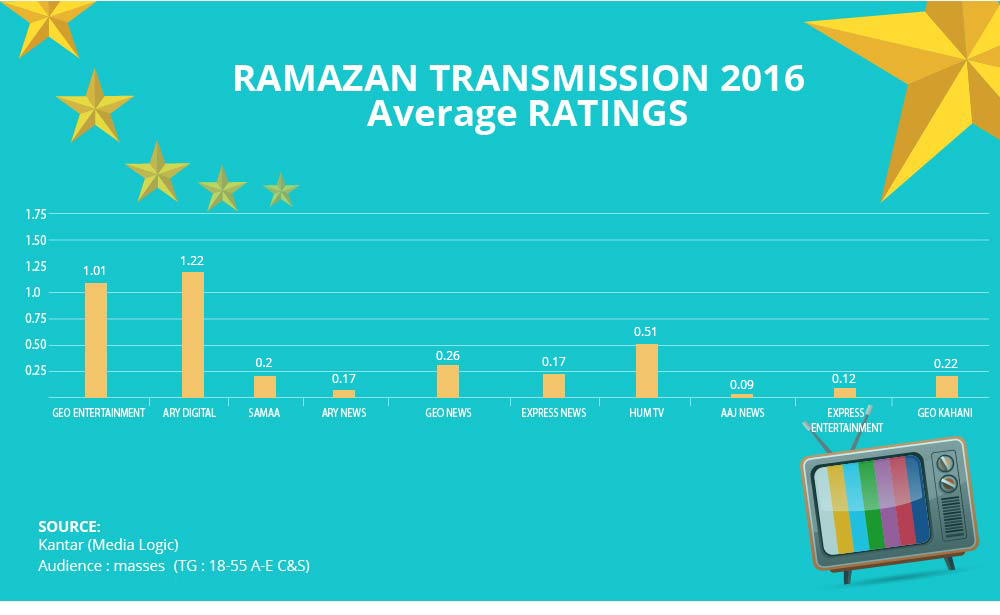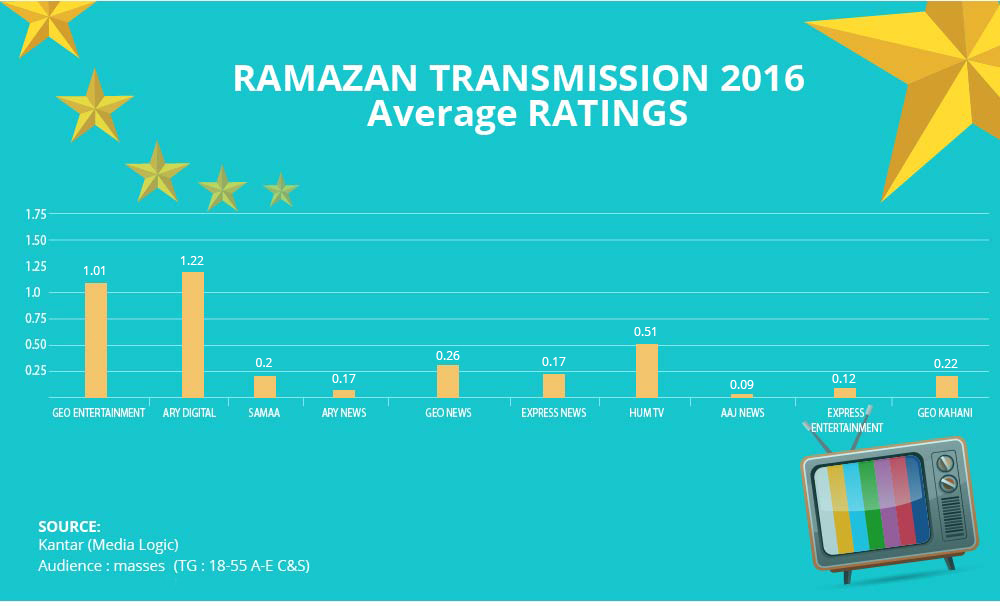 While Geo Entertainment and ARY Digital both remain at the top of the charts, as compared to the second week of Ramazan, ARY Digital now has a higher TRP of 1.22 as compared to the average TRP of 1.01 of Geo Entertainment. HUM TV is retaining its humble position right after the two top channels, with a viewership of 0.51.
In comparison to the first half of Ramazan, ARY Digital has replaced GEO Entertainment as the most watch channel. 
However, this week sees GEO News and Express News rise in the ranks, with average TRPs 0.26 and 0.17 respectively.
ARY Digital's successful viewership can of course be credited to the masses' fascination with Jeeto Pakistan, a post iftaar transmission and gameshow hosted by celebrity Fahad Mustafa. While mind-boggling and downright embarrassing on multiple occasions, it does make for good television.
The chart below can give you a look at the post iftaar ratings for the second week: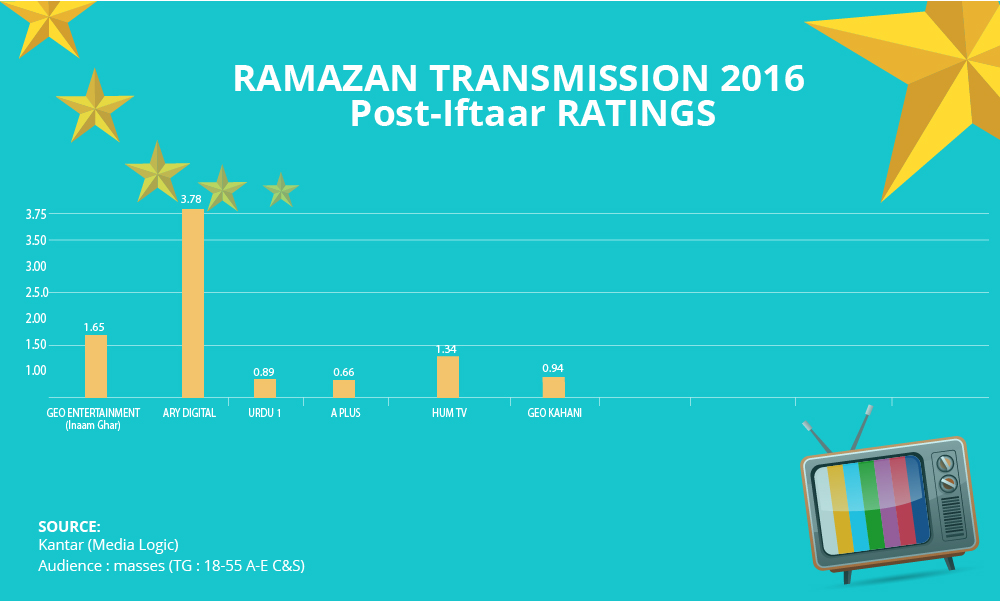 It is clear that people are tuning in to ARY Digital after iftaar to watch Fahad Mustafa work his magic as compared to Amir Liaquat on GEO.
With a TRP of 3.78, it is clear that Jeeto Pakistan is much more popular as compared to GEO Entertainment's Inaam Ghar, hosted by the notorious Aamir Liaquat.
This is obvious in the fact that GEO Entertainment is only pulling in a TRP of 1.65 post iftaar, which is much lower as compared to that of ARY Digital's (3.78).
HUM TV again is holding its own with a TRP of 1.34 after iftaar, and GEO Kahani following close behind with a viewership of 0.94.
HUM TV is currently airing Mann Mayal and Udaari, which seem to be the more popular ones, while Khuwab Saraye, Deewana, and Zara Yaad Kar also seem to be some of viewers' favourites.
According to the charts, URDU 1 and A PLUS are also raking in viewers post iftaar – at least ones that don't automatically tune in to see either Fahad Mustafa or Aamir Liaquat indulge in amusing antics.
As for ratings during Sehri and Iftaar, you can see the respective charts below: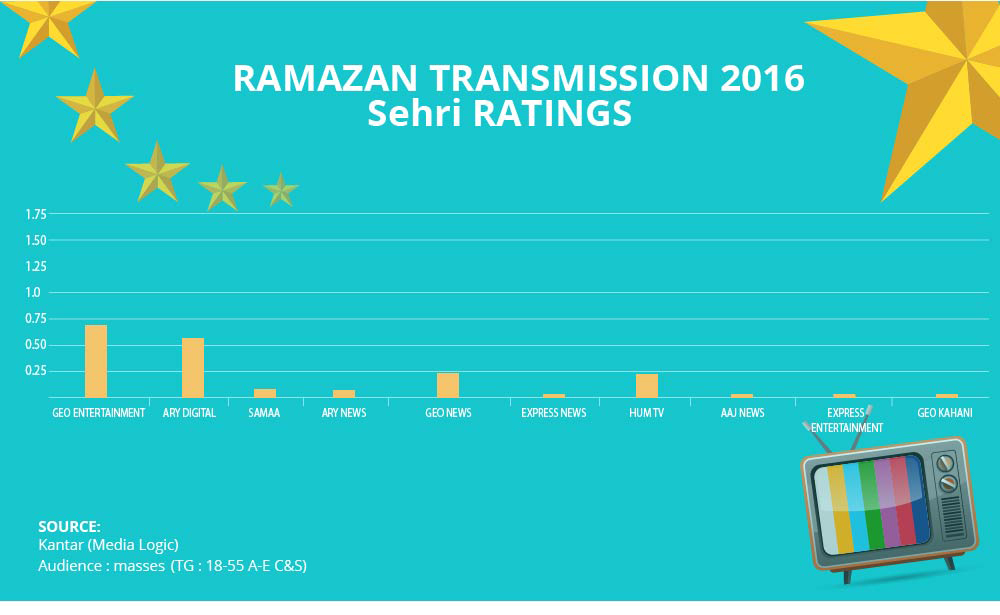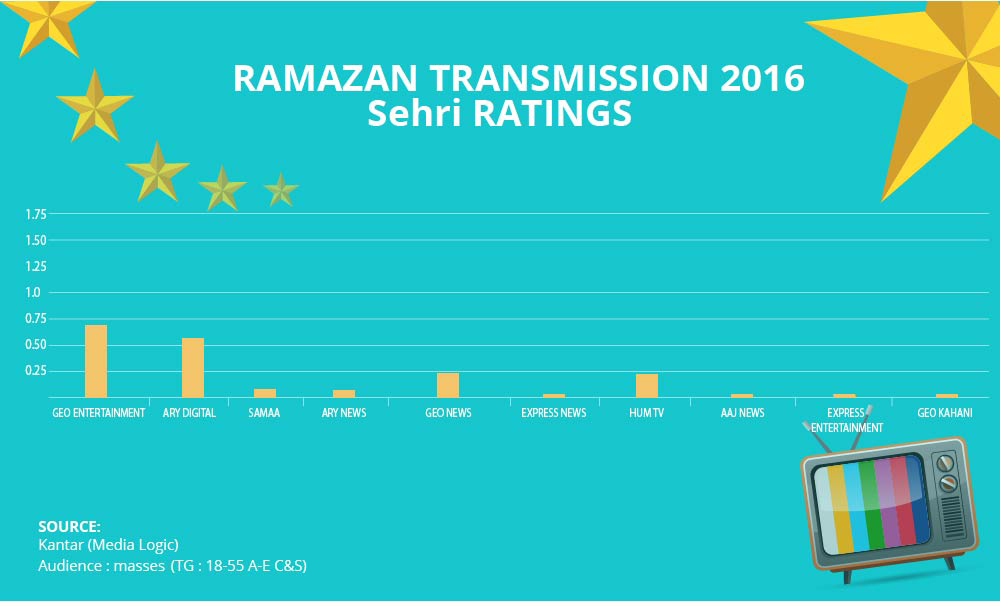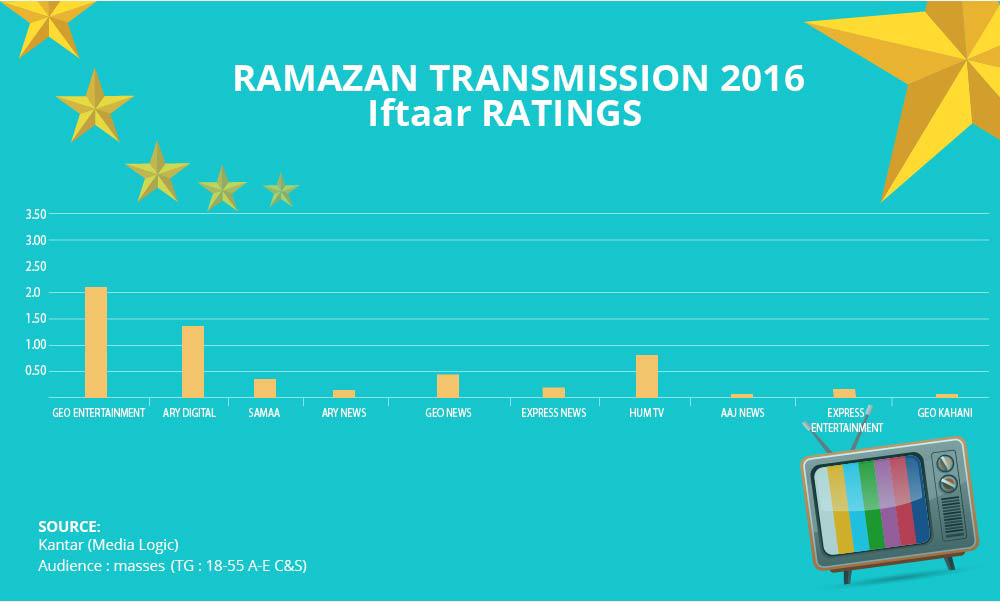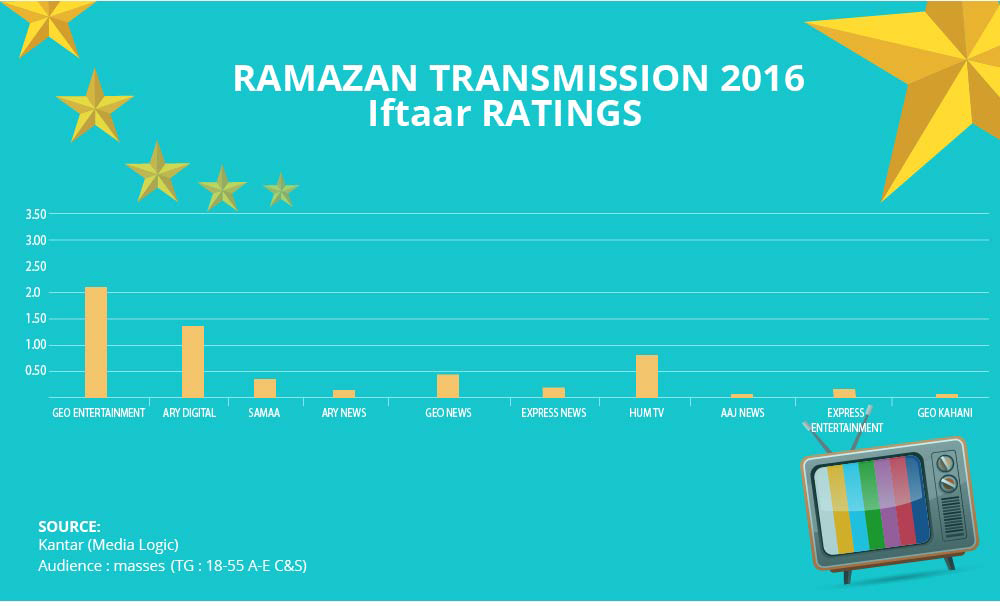 As being observed from the charts, while ARY Digital is reigning supreme in general, when it comes to the iftaar and sehri transmissions alone, GEO Entertainment is doing everything right! For its sehri transmission, Pak Ramazan hosted by Amir Liaquat, GEO Entertainment has a TRP of 0.74, closely followed by ARY Digital's TRP of 0.66. ARY Digital's Sehri and Iftaar transmissions Shan-e- Ramazan are hosted by Junaid Jamshed and Waseem Badami.
GEO Entertainment's rating for iftaar time are even higher as compared to its sehri tranmission, with a TRP of 2.05, while ARY Digital's iftaar transmission rakes in a viewership of 1.46.
For both iftaar and sehri, HUM TV follows in behind the two top channels, with GEO News and then Express News racking in the viewers as well.
While ARY Digital is staying ahead of the game for now, let's see how the rest of the month fares for the channel.
Ramazan 2016 Ratings: Geo Entertainment Tops the Ratings Chart
Stay tuned to Brandsynario for more updates.