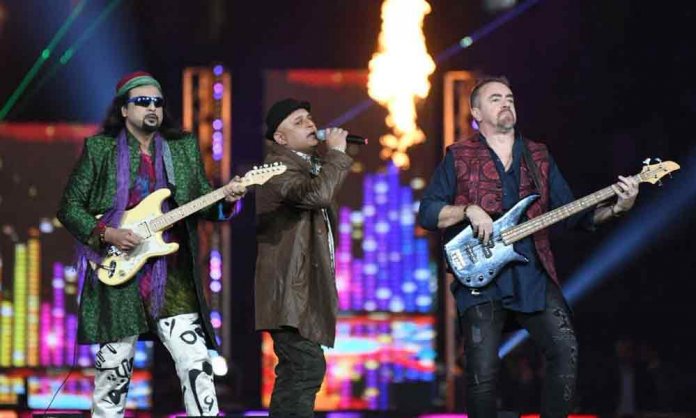 The opening ceremony of Pakistan Super League proved to be one of the most spectacular extravaganzas of the year where cricket met entertainment and left the audience awestruck.
Our favorite Pakistani celebrities like Fawad Khan, Shuja Haider, Aima Baig, Junoon, Boney M and others enthralled the audience with their performances and everybody enjoyed every bit of it.
Moreover, many Pakistani celebrities were present at the ceremony to support their teams and were all decked up beautifully.
Fawad Khan Performance on #PSL4 opening Ceremony 🔥🔥🔥😍😍😍🔥🔥🔥 pic.twitter.com/rQK8mbk31I

— Danie Shahid🇵🇰🇵🇰🇵🇰 (@daniyalshahid67) February 14, 2019
The Junoon band also got on the stage and blew the audiences away with their powerful performance.
The band is rightly known for breaking doors as they literary left the audience grooving to their beats.
for the umpteenth time, it'll bring goosebumps… this song..🔥#junoon#PSL4 #PSLOpeningCeremony pic.twitter.com/G1xOIFSxC5

— @mnA (@Mystfer) February 14, 2019
It was a treat for the spectator's groove on the patriotic songs! 
However, during the performance, the ace Pakistani singer Ali Azmat suffered a major wardrobe during his performance and now the Twitterverse just cannot stop talking about the incident.
Wardrobe malfunction Pakistani style 🤣🤣🤣 …. hey #Junoon your dignity was showing … lol #PSLOpeningCeremony pic.twitter.com/Y9lB6BZmYB

— Raheel the Steel (@ra_heals) February 14, 2019
Special shout out to that last button on ali azmat's shirt that tried to keep all its burdens inside but had to accept defeat in the face of his powerful tunni. The fallen warrior shall be remembered 😔✊

— ._. (@Wut_is_yo_face) February 14, 2019
It's Haya Day, Ali Azmat, please cover yourself! #PSLOpeningCeremony

— faiza khan (@faizakkhan) February 14, 2019
Sab kuch sahi tha then Ali Azmat decided to run 😂😅😜#PSL2019 #PSL4 #HBLPSL2019 #HBLPSL #PSLOpeningCeremony

— Saira Javaid Malik (@sairajavaid20) February 14, 2019
Baqi sab aik taraf but..
Ali Azmat k drum jesy pait ka behuda raqs aik taraf..
Come on man!!#Overacting #Junon#HBLPSL2019

— saira iftikhar (@_sairaiftikhar_) February 14, 2019
30 Mins ki Opening Ceremony mai Ali Azmat ka nanga pait hi nazar aya ubhi tak. 😭😂#HBLPSL2019

— Zubair Mughal (@zubairmoughal11) February 14, 2019
However, his lovers stood up for the legend and defended him like true fans!
Appreciation Tweet:
Jb tum log apni chez kii khud izzat ni karo gay to log tumhari izzat kesay karein gay.#AliAzmat

— Mansoor Sulehri (@mansoor01km) February 15, 2019
Ali Azmat is the only true rock star. #PSLOpeningCeremony

— عین (@Pr1ncess17) February 15, 2019
I see people mocking ali azmat on TL? Who gassed y'all losers lmaooo??? That man is a freaking legend. Izzat karna seekho apne fankaaron ki. Zehni tor par aaj bhi ghulam ho saray ke saray in goron ke tum sab ke sab.

— Mahrukh | ماہ رخ (@TheHoodieGirrl) February 14, 2019
some of y'all are so worst of your kind, come on man, stop with this BS of mocking ali azmat and 'ghareebon ka pitbull' thing, you lot have no respect, you people are for real lost -_-

— sadia (@_saadiaa) February 14, 2019
Ali Azmat & Junoon are Pakistan's national treasure. ❤️#PSLOpeningCeremony #PSL

— Waleed Mirza (@MWaleedMirza) February 14, 2019
Well, we think that the incident can happen to anyone and we are nobody to troll our celebrities!
What are your thoughts about the story? Let us know in the comments section below.
Originally published on Veryfilmi.com