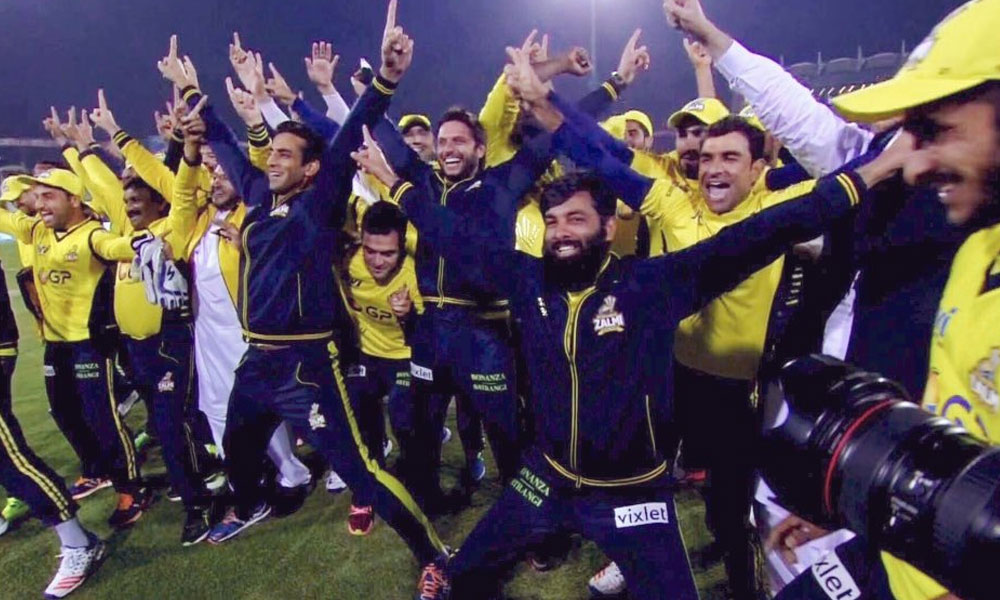 Peshawar Zalmi, the team to be remembered in the history of cricket in Pakistan and in PSL! For the first time in 2 years, PSL came home, in the country where it belonged from day 1, and every Pakistani truly embraced the league with open hearts.
Not only did Peshawar Zalmi, a crown favourite team win the cup, the team also made a statement that Pakistan won against terrorism, and all Pakistanis were right behind supporting their players!
Everyone could not help themselves from praising the international players who became a part of the memorable night.
Even players who could not be a part of the PSL 2017 Lahore Final expressed joy for cricket's return in the country.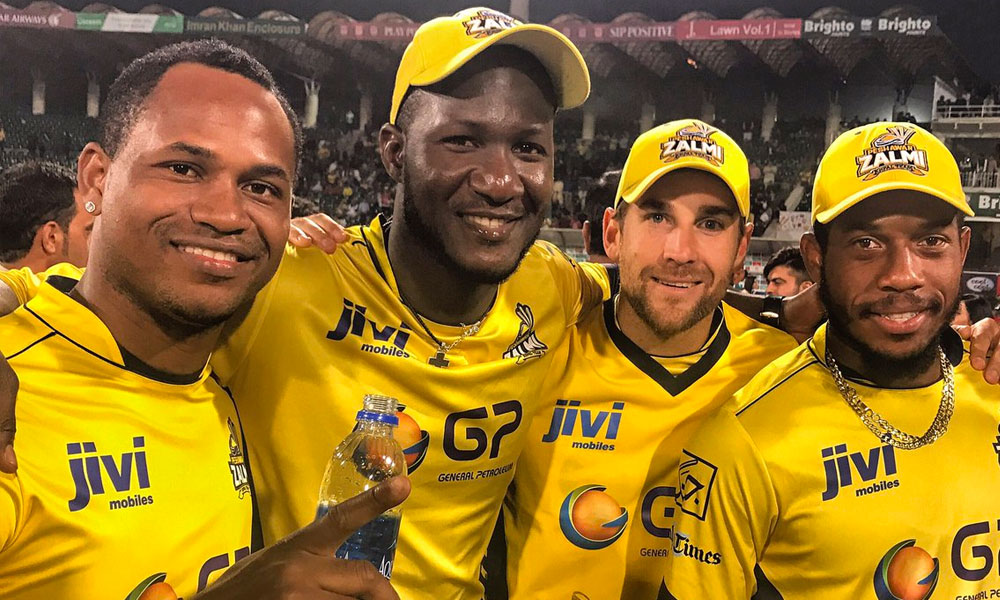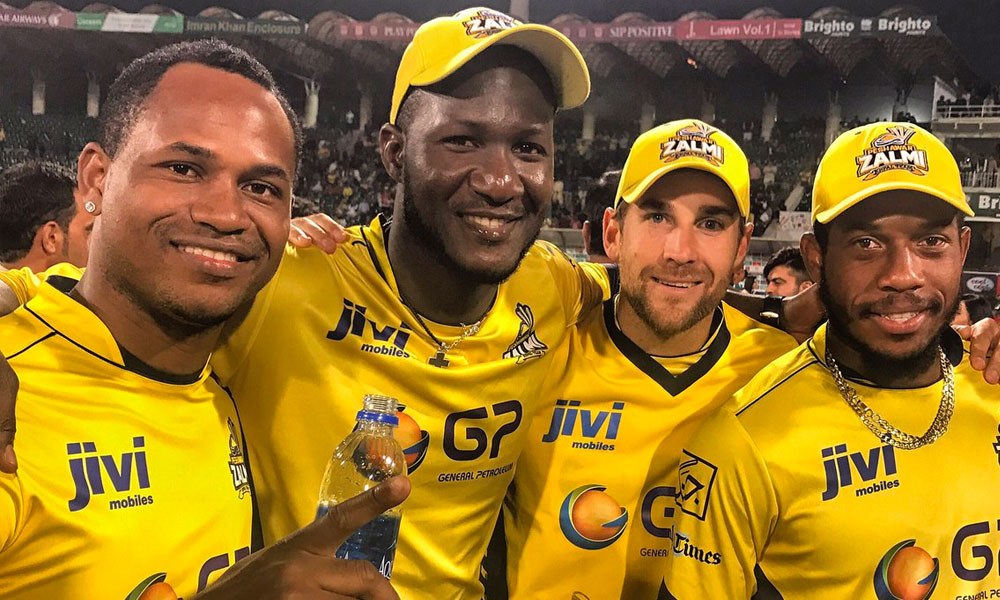 International Players React to PSL 2017 Lahore Final
I'll be back https://t.co/O7Cnf7zEpm

— Daren Sammy (@darensammy88) March 6, 2017
Good to see cricket starting to return to #pakistan #PslFinalLahore #PSL2017 pic.twitter.com/Md05ST0fHJ

— Shane Hayes (@physioshane) March 5, 2017
https://twitter.com/DennisCricket_/status/838476761872531456
Congrats @PeshawarZalmi on your first Title in @thePSLt20 .. enjoy the celebrations l! 🏆🏆🏆👏🏻👏🏻👏🏻
So happy for @SAfridiOfficial !

— Dean Jones (@ProfDeano) March 5, 2017
Closing Ceremony acha tha! Maza ayah! #PslFinalLahore

— Alan Wilkins (@alanwilkins22) March 5, 2017
#PSL2017 #PSLFinal..Soooo loved PSL II..fab tournament & blessed to have been part of 👏 Shame i can't be there this final next yr everyone 😎

— Danny Morrison (@SteelyDan66) March 5, 2017
Looking forward to the PSL final tonight with these legends🏏 win or lose, cricket and the people of Pakistan are the winners #PSLFinalLahore pic.twitter.com/xJjntJAEyy

— dawid malan (@dmalan29) March 5, 2017
PSL CHAMPIONS 2017 🏆🥇 what a few weeks its been with these guys. One in all in. 🏏 #PSLFinalLahore #peshawarzalmi #champions #overseas pic.twitter.com/hMOSK85dWG

— dawid malan (@dmalan29) March 5, 2017
Very Exciting day in Lahore,This what the people want🙌Inshallah it's a huge success @thePSLt20 @mfaisal_mirza #PslFinalLahore

— Cameron Delport (@Cam12Delport) March 5, 2017
Social Media Reactions to PSL 2017 Final
Jubilation in the @PeshawarZalmi camp, the proud owners of the #HBLPSL 2017 trophy! A team that played like a champion indeed. pic.twitter.com/HZX6ivOscQ

— PakistanSuperLeague (@thePSLt20) March 5, 2017
Champions 🏆🎉🎉🎉 pic.twitter.com/W0VsZ2oTzW

— Mohammad Hafeez (@MHafeez22) March 5, 2017
You can easily tell how much @ProfDeano loves Pakistan. It's just awesome. Thanks Deano 👍🏼#AUS💚PAK #PSLFinalLahore

— Shaniera Akram (@iamShaniera) March 5, 2017
In advance #PeshawarZalmi congratulations…you played like champions hard luck #QuettaGladiators #PakistanZindabad #CricketComesHome

— Faysal Quraishi (@faysalquraishi) March 5, 2017
Mubarak Ho @PeshawarZalmi @SAfridiOfficial @thePSLt20 @TheRealPCB @JAfridi10 #Great #Win #Proud #Day for #Pakistan #Cricket #PZvsQG

— Rahat Fateh Ali Khan (@RFAKWorld) March 5, 2017
And ZALMI wins #PeshawarZalmi #PslFinalLahore #HBLPSL ☺️yay prediction right

— Mathira (@IamMathira) March 5, 2017
Congrats @SAfridiOfficial and the entire team of @PeshawarZalmi! You guys deserved it. Until next year! #PSLZindabad #PakistanZindabad pic.twitter.com/M73DucBLCL

— Humayun Saeed (@iamhumayunsaeed) March 5, 2017
Congrats to #PeshawarZalmi on their big win. Well played #Quetta 🙂 #PslFinalLahore

— Armeena Khan (@ArmeenaRK) March 5, 2017
Congratulation to Peshawar Zalmi 👍#PSLFinalLahore

— Fahad Mustafa (@fahadmustafa26) March 5, 2017
Well Played #PeshawarZalmi Hard Luck #QuettaGladiators Salute to @darrensammy88 & foreign players #CricketComesHome #PakistanWins pic.twitter.com/prGupkoIW2

— Asma Shirazi (@asmashirazi) March 5, 2017
Someone once described the #PSL to me as the "life blood" of Pakistani cricket. Congrats to #Pakistan for bringing it home. #PslFinalLahore

— Michael Kugelman (@MichaelKugelman) March 5, 2017
I've been an analyst of #Pakistan for 10 years. I can't recall witnessing such pure euphoria & patriotism. A great scene! #PSLFinalLahore

— Michael Kugelman (@MichaelKugelman) March 5, 2017
The real Heroes of PSL Final
Shabash Police #PslFinalLahore #RisingPakistan 🇵🇰 pic.twitter.com/q5QEkeGh3l

— Ihtisham Khaliq (@iK_Waseer) March 6, 2017
Congrats to #PeshawarZalmi on being victorious champs of #HBLPSL2017. pic.twitter.com/9QMxr8PxJe

— Sami Chaudry (@ChaudrySami) March 6, 2017
Congratulations on the big win 2 #PeshawarZalmi & 2 #Pakistan May 2day's success b da beginning of 2morrow's achievements #CricketComesHome pic.twitter.com/AG2sh05PYd

— Sowiba Naeem (@N_Sowiba) March 6, 2017
Congratulations #PeshawarZalmi
🌹🌹🌹🌹🌹🌹🌹
👏👏👏👏👏👏👏
😍😍😍😍😍😍😍 pic.twitter.com/Spb1ly04yh

— زعلان ♥ ♥ ♥ ♥ ♥ ♥ (@RasheedJamal12) March 6, 2017
This is dedication to your #PslFinalLahore .. This is #Sami the #captain of #PeshawarZalmi also in #Lahore #Pakistan pic.twitter.com/IccBu0qnWQ

— Shahji T Bukhari (@ShahjiToseef) March 6, 2017
PSL 2017 Lahore Final Recap
Here's a flashback of the Lahore Final!
Stay tuned to Brandsynario for more news and updates.