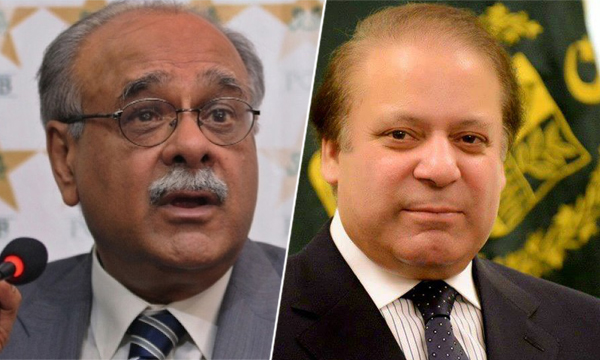 Prime Minister Nawaz Sharif has taken a much-needed step to control the damage done to Pakistan Cricket and has disbanded the Pakistan Cricket Board (PCB) today. PM Sharif officially announced it at a high-level meeting convened at the Prime Minister House in Islamabad.
The poor run of Pakistan's cricket team in Asia Cup and World T20 along with Head Coach, Waqar Younis's report urged PM Nawaz to dissolve the cricket governing board.
Moreover, the stern reaction from public after the petty team politics and grouping in the team, board had left no choice for PM Nawaz other than re-structuring the cricket board.
According to the sources, PCB Chairman Shaharyar Khan and Najam Sethi would also come under the axe of the current move as both had faced a major backlash from Pakistanis for destroying the most loved sport the country.
The way Waqar Younis blasted at the board officials and offers to resign, surely brought PM Nawaz into action.
On the other hand, Shahid Adridi has taken a u-turn on his retirement issue and has apologized to his fans for not meeting up to their expectations in a video message.
A credible journalist claimed yesterday in his show that Afridi will continue as T20 captain because he is the blue eyed boy of PM Sharif and was rewarded with T20 captaincy on behalf of the Prime Minister.
Let's see if PM Nawaz sacks Shahid Afridi as the T20 captain or listen to Waqar Younis who wished to meet the PM. Be what it may, this recent development was welcomed by Pakistani cricket fans in order to revive our glory for this game.
Dissolving PCB is the right move for the future of Pakistani cricket, but don't get over-excited cricket lovers;
Have a look at the date and laugh out loud on how you have been fooled, on April Fool's 2016 😀
Stay tuned to Brandsynario for more updates.