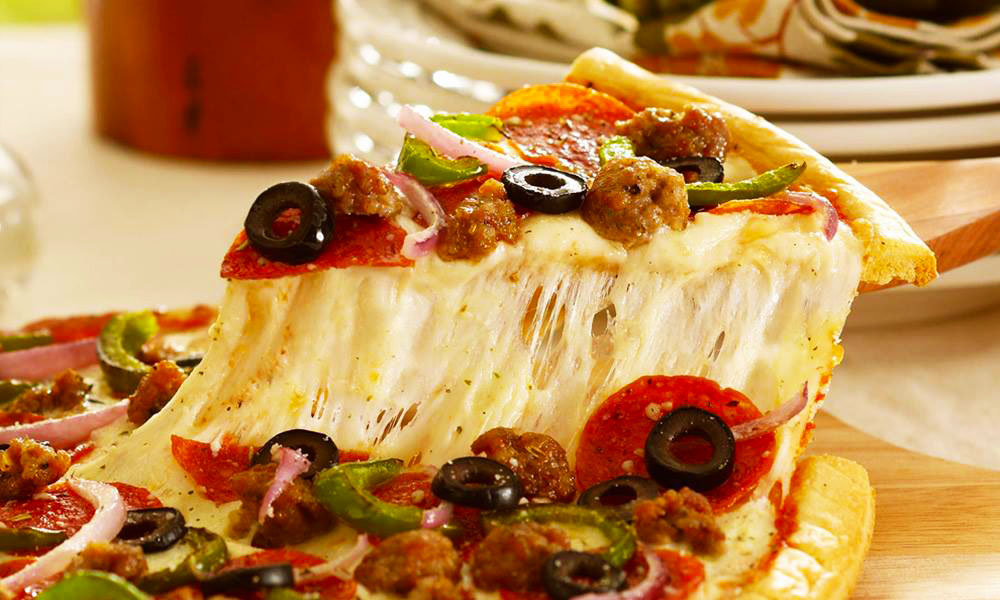 Have people been making comments about your slowly expanding waistline? Do you get judgemental looks every time you talk about indulging in your favorite food? You don't need that negativity in your life. Stop hanging out with those people and go enjoy whatever you feel like. At the end of the day, pizza doesn't ask stupid questions, pizza understand! If you are looking for a new place to try but are on a budget, you need to check the deals these pizza places in Karachi are offering right now.
Pizza Places in Karachi offering Deals and Discounts
Get ready to take your tastebuds on an adventure. This list will make you want to try all the pizza places in Karachi. Why? Because the deals they offer are just that good.
Broadway Pizza
If you are a Karachiite, you must have at some point in your life tried the gigantic pizza from Broadway Pizza. If you are short on cash and very hungry, just call Broadway! You can enjoy a 20 inch slice of their delicious pizza for just Rs. 399/- Plus you also get a drink, a side and sauce as well. There are more deals available. Take a look.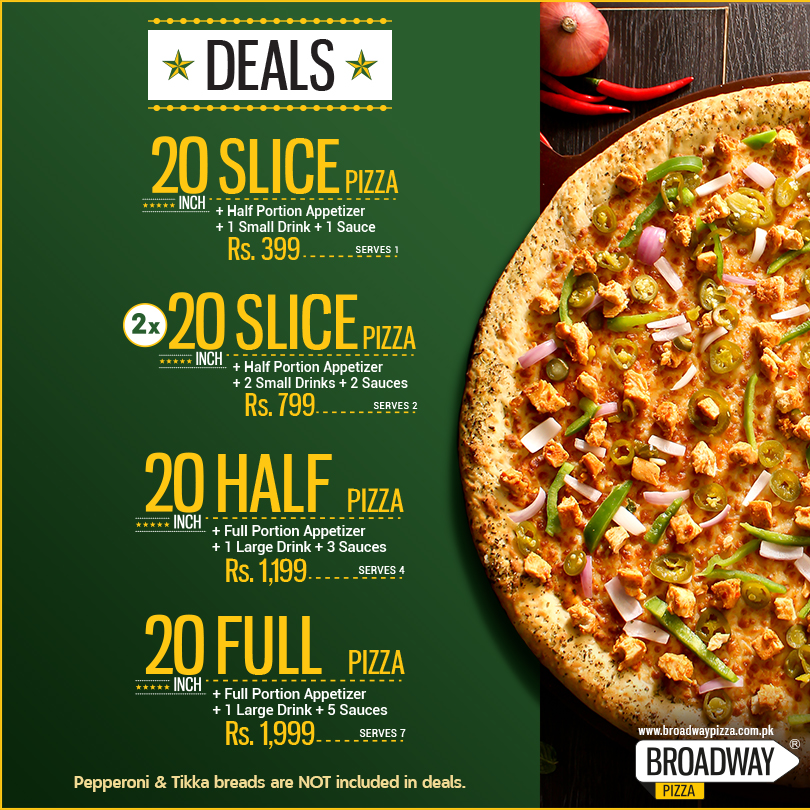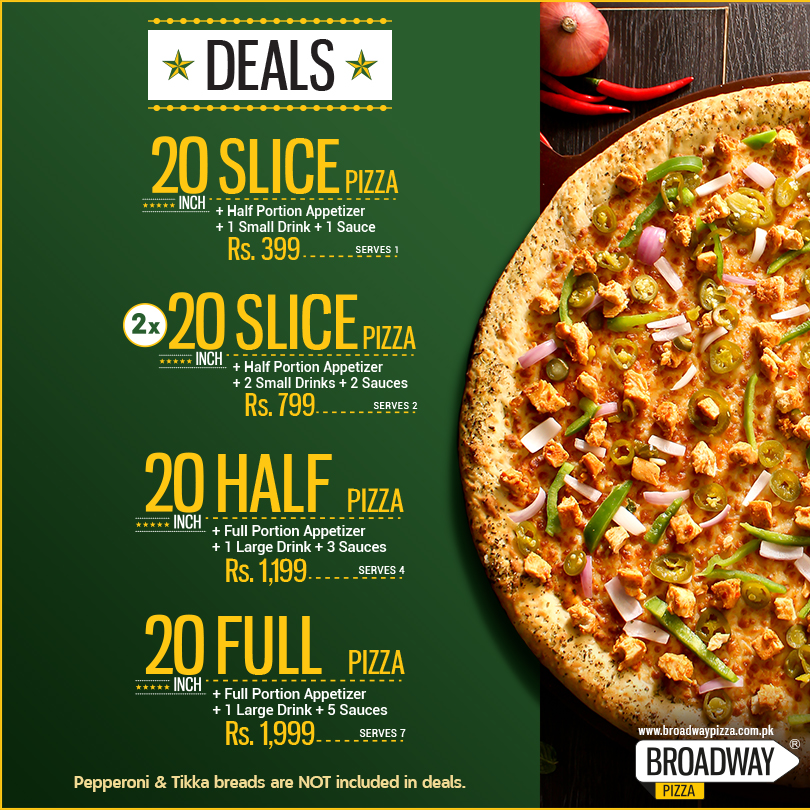 California Pizza
Looking for a quick lunch fix? Here is a deal you can enjoy alongside your friends, or just eat it yourself. We really don't judge.  The deal includes 1 regular pizza, salad, garlic bread pieces and drinks and costs Rs. 1,099/-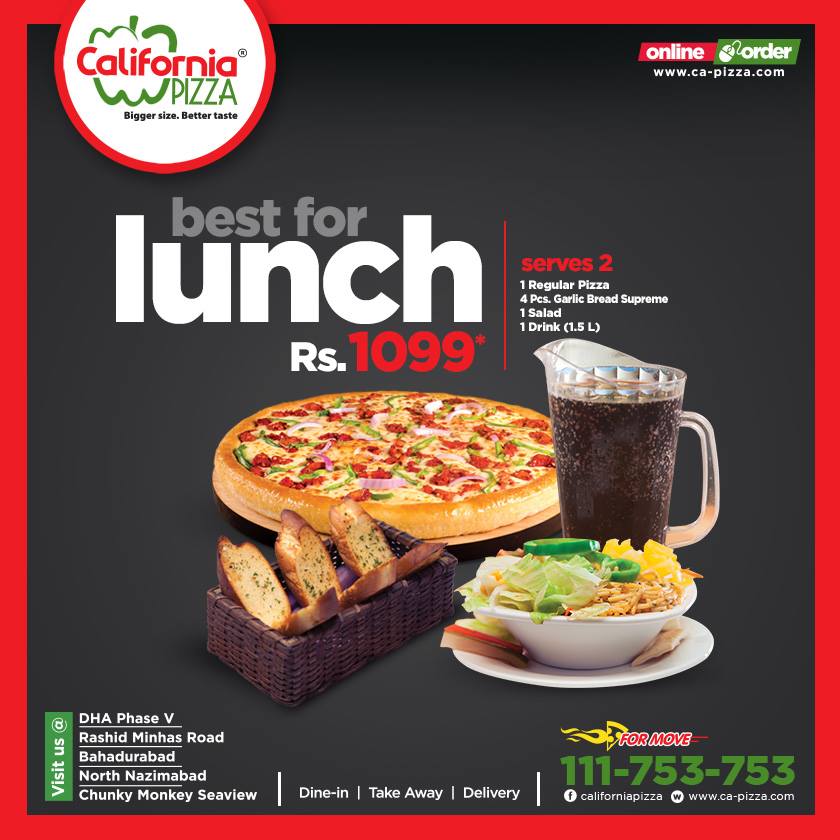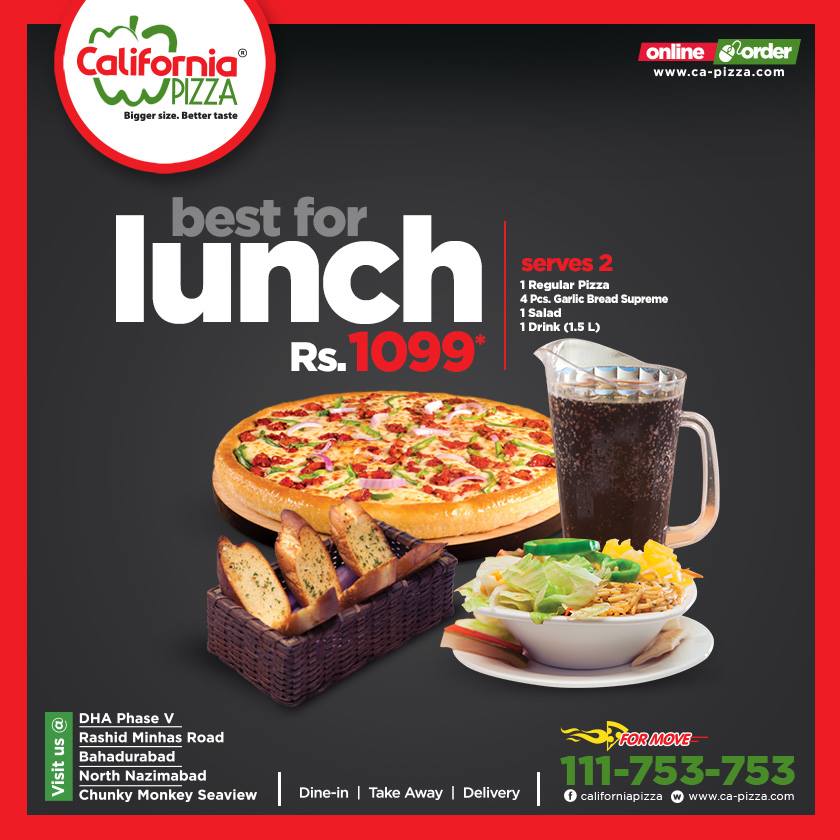 If the dinner at home is not to your liking, wait till midnight. California Pizza also has some great midnights deals you can choose from.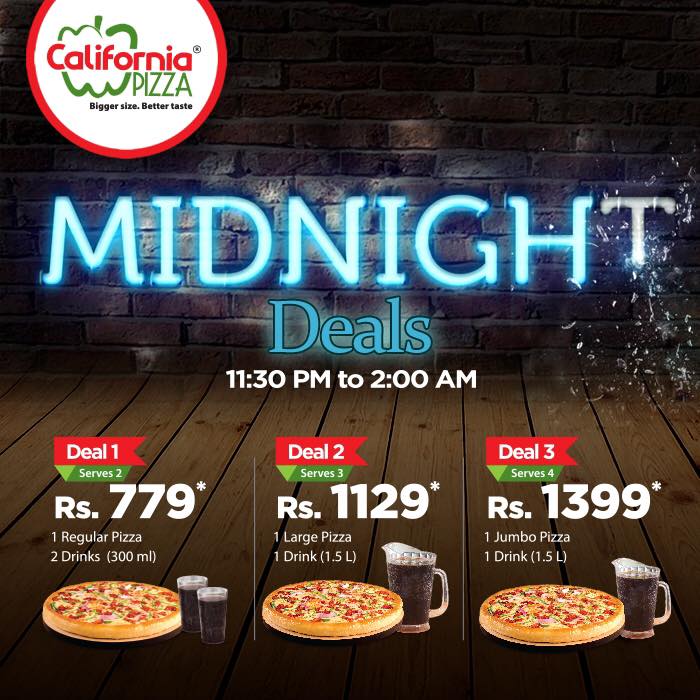 Domino's Pizza
Domino's Pizza has good days and bad. On the good days, it leaves you feeling extremely happy about your life. On bad days it makes you question your existence. Tempt fate this one time and try out this deal for Rs. 699/- in which you get 1 large hand tossed pizza and drink.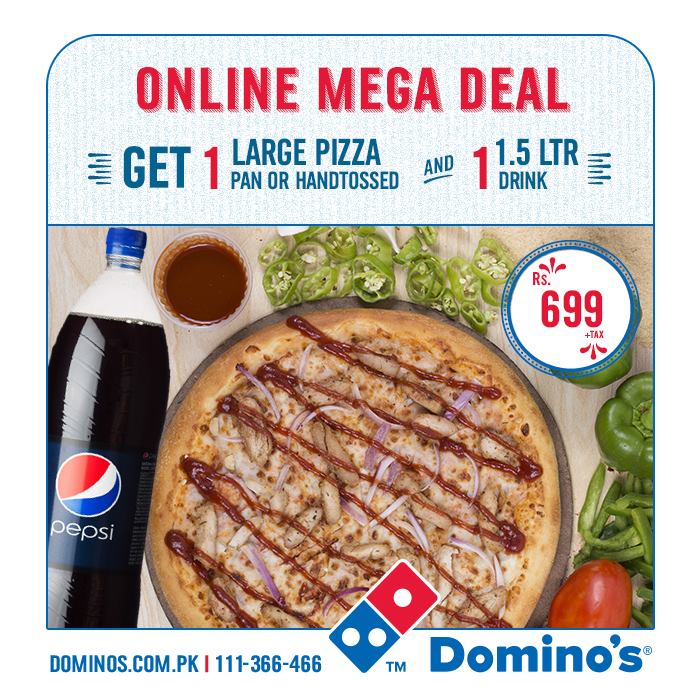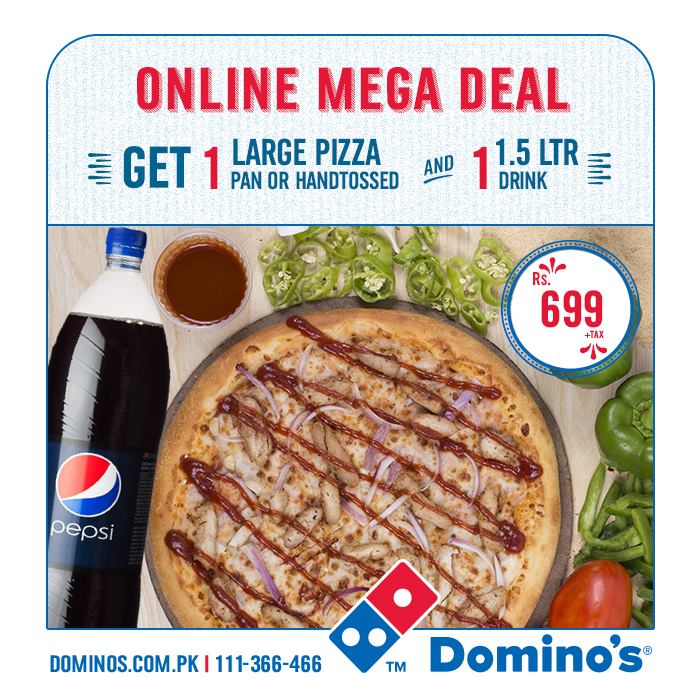 Pizza Hut
If you are one of those few who still like Pizza Hut, here's a deal for you. You get 2 regular pizzas for Rs. 520/- each. Don't be fooled that means one regular pizza is for Rs. 520/-.


Pizza One
You know how every ally in Karachi has a pizza cafe now, this is one of those places. Try it at your own risk. Pro tip, the pizzas probably won't come looking like this.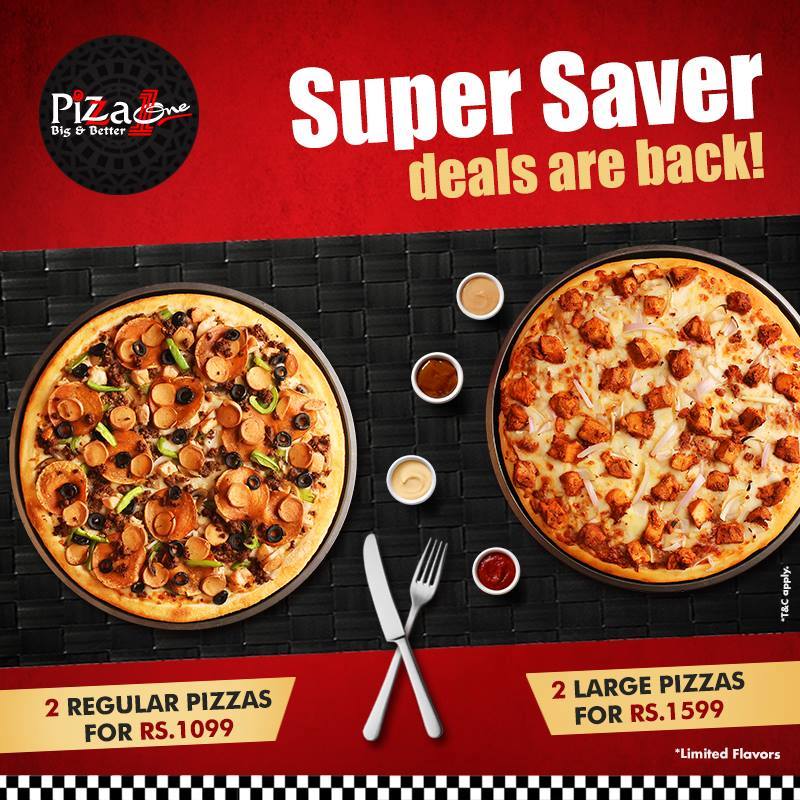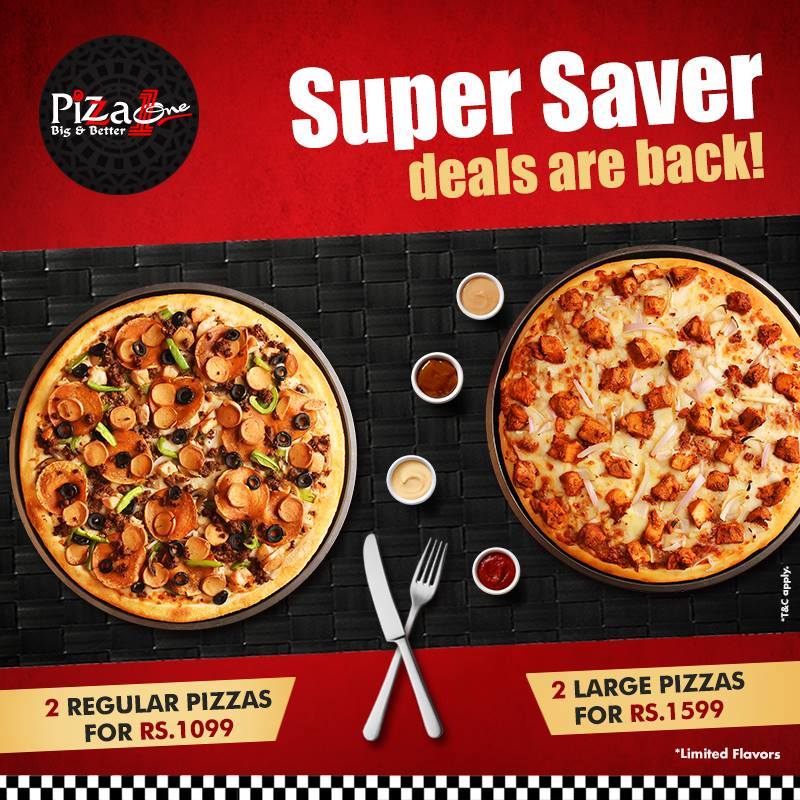 Pizza Max
Here is a pizza cafe offering something for everyone! Will the pizzas be worth it? Time will tell.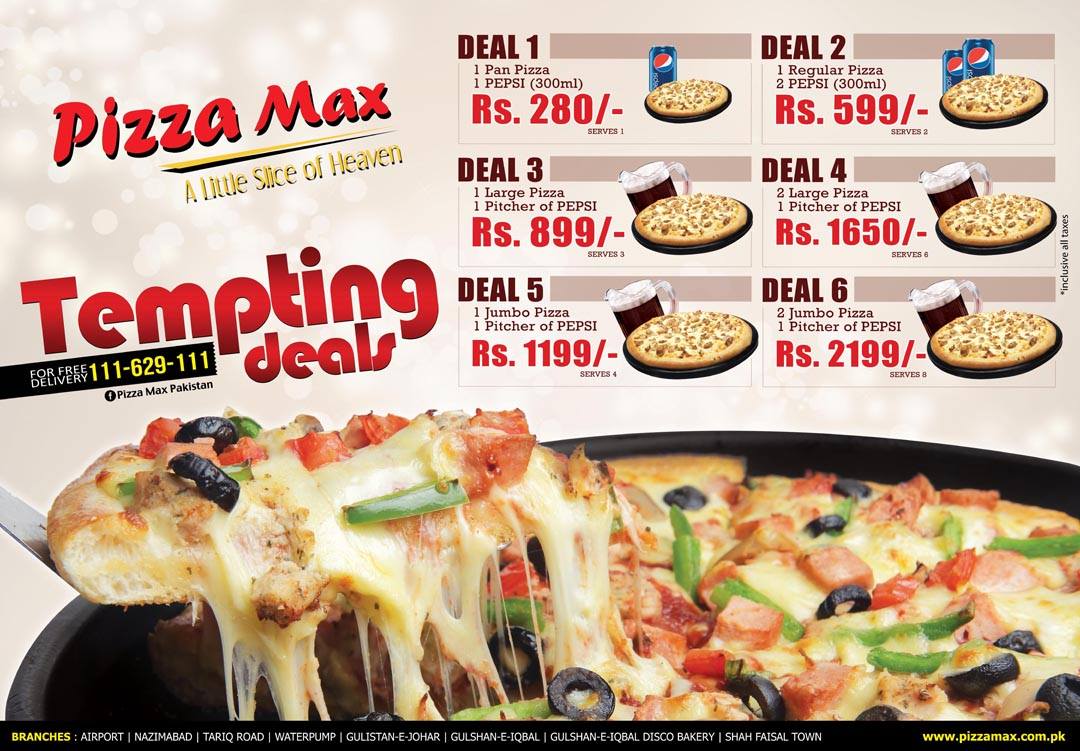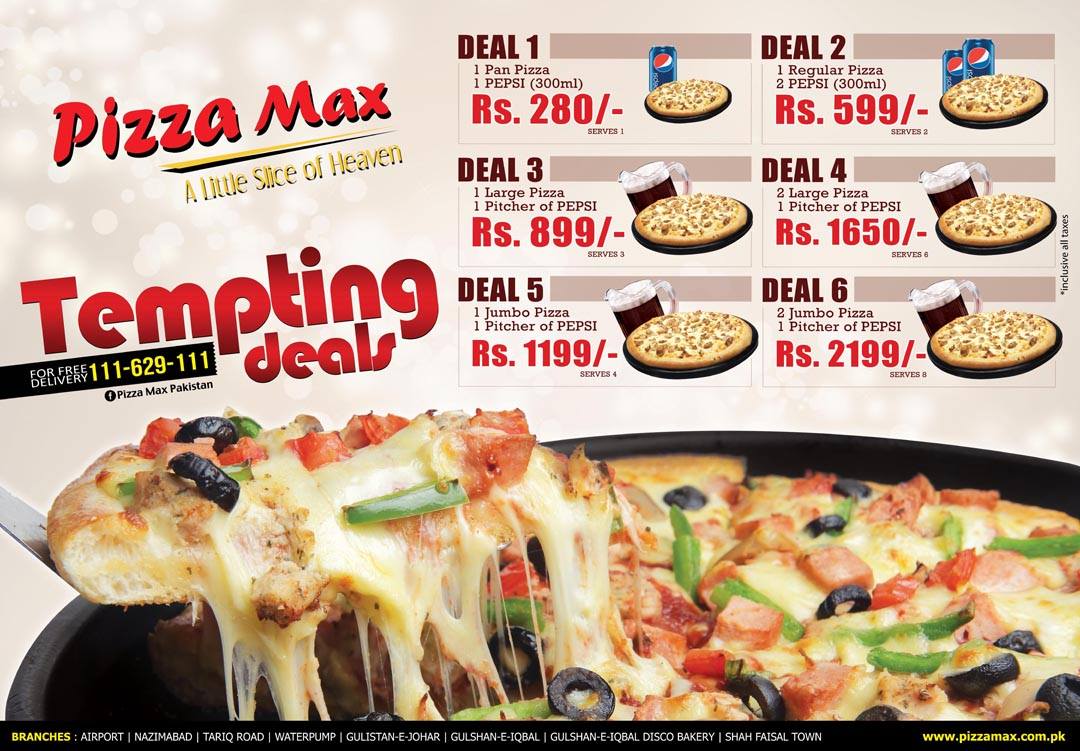 Pizza Bite
To be very honest, this place popped up on search and that is why on this list. We cannot guarantee the pizza will be good or not.


14th Street Pizza
14th Street Pizza is offering two different lunch deals that you can order depending on how hungry you really are. Once again this is all on fate. The pizzas have the tendency to delight and annoy you at times.


Which deal will you try first? Let us know in the comments below.