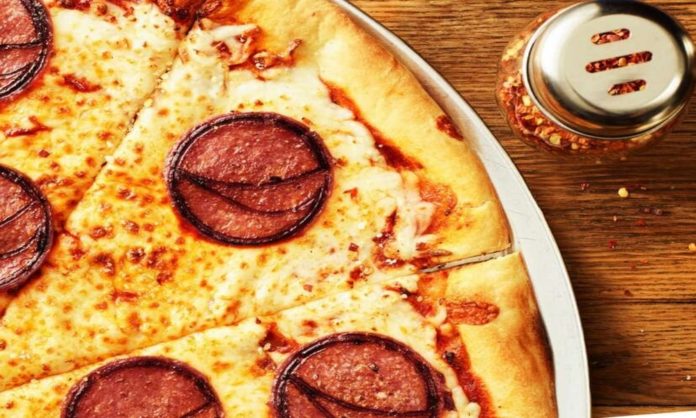 Pepsi is bringing something new to Detroit. The beverage company announced on Tuesday that it has partnered with the Culinary Institute of America Consulting to reimagine the iconic pizza topping and create the world's first "Pepsi-Roni Pizza."
What Is Pepsi-Roni Pizza?
The collaboration is in honour of National Pizza Party Day, May 20. And to celebrate, Pepsi is hosting a Pepsi-Roni pizza party in lower Manhattan which is allegedly pepperoni's birthplace. Between 11 a.m. and 3 p.m. Those wanting to snag a slice of the Pepsi-Roni pizza can stop by Made in New York Pizza's West Village location and try it for free. But the party is only going on while supplies last.
PIZZA LOVERS REJOICE!🍕🙌

Introducing…the PEPSI-RONI PIZZA – the world's first Pepsi-infused pepperoni!🤯

Our perfect pizza beverage has joined forces with America's favorite pizza topping – a sweet & spicy collab no one saw coming…#PepsironiPizza #BetterWithPepsi pic.twitter.com/PdomPOtS8p

— Pepsi (@pepsi) May 18, 2022
"We have always known that pizza tastes better with Pepsi, so we're thrilled to take this pairing to the next level with our #BetterWithPepsi campaign," said Todd Kaplan, Chief Marketing Officer at Pepsi.
Read More: A New Makeover? Heinz Ketchup To Introduce Paper Bottles To Help the Environment
How Does It Taste?
The pizza topping uses a recipe designed by Pepsi and CIA Consulting that includes a Pepsi Zero Sugar reduction instead of the water typically used in pepperoni preparation. The result is pepperoni with rich caramel notes and brown spices with the citrusy pop of Pepsi cola.
"The pepperoni was literally invented to enhance the taste of a pizza; since we know that pizza also tastes better with Pepsi, we can't wait to bring these tastes together to create the Pepsi-Roni Pizza. An unapologetically delicious creation that merges the best pizza topping with the best pizza beverage into one amazing taste experience. You truly have to try it for yourself." Says Todd Kaplan
The concept is quite simple. "Pepperoni brings a smoky spiciness, and the Pepsi adds a citrusy sweetness," said David Kamen, Director of Client Experience for CIA Consulting. "It's an intriguing combination we think pizza fans will be excited to try."
Here's How You Can Get Your Hands On Pizza-Roni
The first way is to take a photo of yourself with some Pepsi and pizza on May 20 and post it to Twitter, Instagram, or Facebook with #BetterWithPepsi. After that, text "PEPSIANDPIZZA" to 81234 and upload receipts that show you ordered a Pepsi and pizza. Pepsi will then send you up to $3 to reimburse you for the experience. It's a little less cool than eating a free slice of Pepsi-Roni, but it's still a little bit of free money.
Another way to get a version of the Pepsi-Roni experience is to order your pizza and Pepsi through DoorDash. Any customer who orders pizza and Pepsi with orders over $15 will get $5 off.
According to Pepsi, the Pepsi-Roni pizza party is heading to other cities, including Los Angeles, Detroit, Miami, and Chicago soon.
Read More: 6 Homemade Coffee Dessert Ideas You Need To Try Now!
Stay tuned to Brandsynario for the latest news and updates.