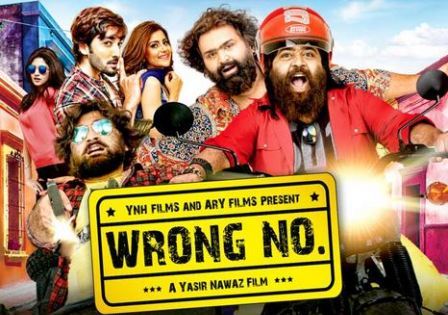 All-time hit Pakistani comedy film, Wrong No has now been released on DVD. The DVD is available at Laraib Music, a CD store located in Karachi. One of the producers of the film, Hassan Zia, while talking to The Express Tribune said that the DVD release of the film will help them generate more revenue and profit in line.
"The problem in Pakistan is that we have a limited number of screens so not everyone is able to go and see a film in the cinemas," he explained. "So we've released a DVD version which audiences can watch at their home, with 5.1 surround sound," he said.
On the other hand, Zia also mentioned that he and the production team are making an effort to release the movie digitally. "Yes, we are also working towards a digital release and I will soon be flying abroad to finalize the digital rights of the movie," he explained.
Moreover, the producers of the movie also managed to sell the rights of the movie to 5 major international airlines, Qatar Airways, Qatar Airways: Emirates, Etihad Airways, Turkish Airlines and Jet Airways — for Rs 1 million. "It is heartening to see that Turkish [Airlines] and Jet Airways from India would now be playing our film too."
Produced under the banner of YNH Films, Wrong No was released on the screens on Eid ul Fitr 2015. The movie earned up to 150 million PKR at the local box office, against the budget of Rs 44.2 million, including publicity and advertising costs.