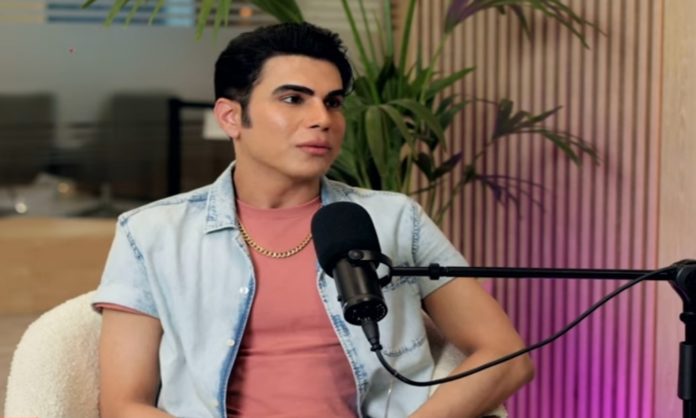 Pakistani Ken Doll Adnan Zafar has spilled the beans about his relationship status and needless to say fans are curious. The lifestyle influencer and fashion icon sat down for a YouTube podcast and we have all the sizzling details from his interview.
Adnan Zafar In 'Excuse Me with Ahmed Ali Butt'
Recently Adnan Zafar AKA Pakistani Ken Doll sat down for a detailed podcast on Ahmed Ali Butt's show. The influencer shared the deets about his life, his relationship with his mother, and his career.
During a series of questions, Butt asked the guest if he has any plans of getting married. To which he in a very witty way gave a response which speaks 'Ken'.
Starting his answer with a big laugh, Adnan shared that there is no chance of him getting married anytime soon.
Ahmed Ali Butt in response to his answer, quoted a rather cryptic statement that he is in a relationship but will not get married right now, and to his statement, Adnan responded with 'exactly'.
Read More: Was Mahira Khan's Wedding Any Different From Aiman Khan's?
Ken Doll Shares Views About His Personal Life
Ken Doll also shared the details about his personal life and things he likes to keep private in his life.
'Uptil now, if you search about me anywhere you will not know about my partner.' Further adding that he is in a relationship but nobody knows that.
'I keep my personal life extremely private. If you share about your relationship on social media and if you go through a breakup, the news breaks out everywhere on social media and you become a laughing stock.' He added.
While talking about his career as an influencer, Adnan mentioned that he has no interest in leaving his full-time job for full-time influencing.
'I have to maintain a certain decorum when it comes to my work as an influencer. In case I leave my full-time job I might not be able to maintain that level since I will have to look into partnerships which don't speak my language.' He added.
If you are interested in the detailed interview, hop on to the video and watch the complete podcast for your daily dose of fun.
Read More: Sajal Ali Reacts To Mohib Mirza's 'Mardana Kamzori' Video
Stay tuned to Brandsynario for the latest news and updates.