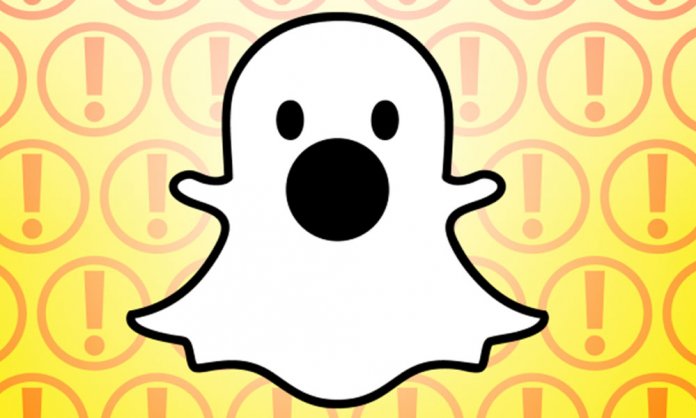 A Pakistani Hacker by the name Khaled Alshehri, with the handle i5xx on GitHub as allegedly leaked Snapchat's Source Code. The name can be a pen name or pseudonym and should not be considered as the real identity.
Belonging from Tando Bago, Pakistan, the profile leaked the social media application code. However, the repo has been removed by GitHub following a DMCA request from Snap Inc.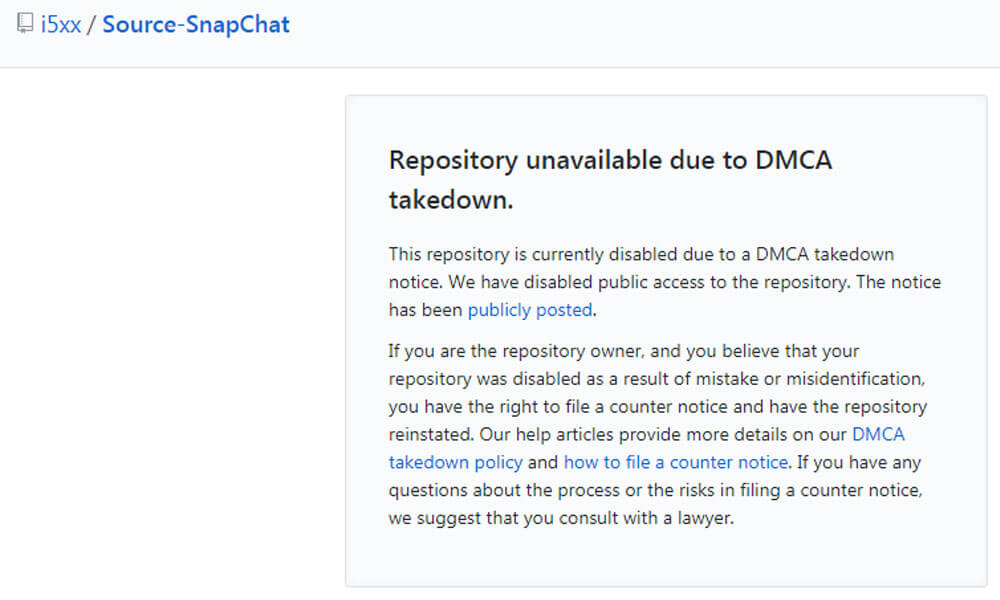 Momo Suicide Challenge on WhatsApp Spreads Panic Amongst Teens
Even though we are unable to see the removed content, here are a few clues to its contents.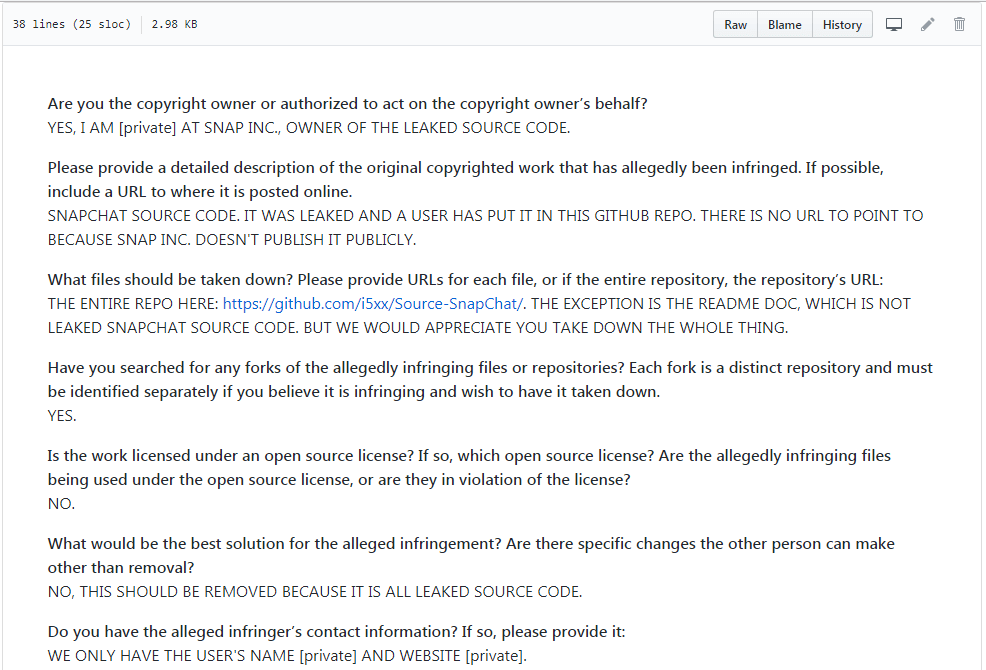 Are you the copyright owner or authorized to act on the copyright owner's behalf?
YES, I AM [private] AT SNAP INC., OWNER OF THE LEAKED SOURCE CODE.
Please provide a detailed description of the original copyrighted work that has allegedly been infringed. If possible, include a URL to where it is posted online.
SNAPCHAT SOURCE CODE. IT WAS LEAKED AND A USER HAS PUT IT IN THIS GITHUB REPO. THERE IS NO URL TO POINT TO BECAUSE SNAP INC. DOESN'T PUBLISH IT PUBLICLY.
What files should be taken down? Please provide URLs for each file, or if the entire repository, the repository's URL:
THE ENTIRE REPO HERE: https://github.com/i5xx/Source-SnapChat/. THE EXCEPTION IS THE README DOC, WHICH IS NOT LEAKED SNAPCHAT SOURCE CODE. BUT WE WOULD APPRECIATE YOU TAKE DOWN THE WHOLE THING.
Have you searched for any forks of the allegedly infringing files or repositories? Each fork is a distinct repository and must be identified separately if you believe it is infringing and wish to have it taken down.
YES.
Is the work licensed under an open source license? If so, which open source license? Are the allegedly infringing files being used under the open source license, or are they in violation of the license?
NO.
What would be the best solution for the alleged infringement? Are there specific changes the other person can make other than removal?
NO, THIS SHOULD BE REMOVED BECAUSE IT IS ALL LEAKED SOURCE CODE.
Click here to read the entire claim.
According to several posts on a Twitter account believed to belong to i5xx.
"The problem we tried to communicate with you but did not succeed In that we decided [sic] Deploy source code," wrote i5xx.
The account also threatened to re-upload the source code. "I will post it again until you reply :)," he said.
The problem we tried to communicate with you but did not succeed
In that we decided
Deploy source code
I will post it again until you reply 🙂 @snapchatsupport @Snapchat https://t.co/aB58eOjGLE

— خالد الشهري #الاسطورة (@i5aaaald) August 4, 2018
This is a developing story. Stay tuned to Brandsynario for more news and updates.