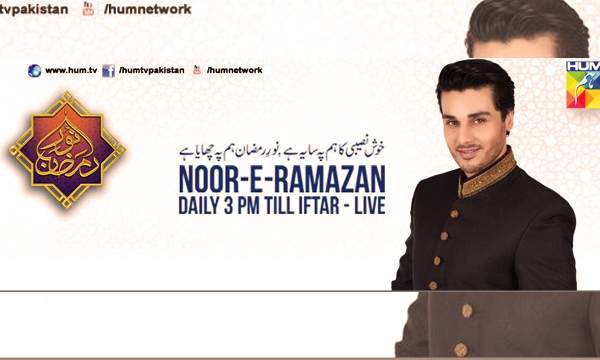 To celebrate the holy month of Ramazan with complete zeal and spiritual enthusiasm, every private Pakistani channel is to broadcast live Ramazan transmissions. Likewise, HUM TV is also coming up with a Ramazan live transmission Noor-e-Ramazan, to be hosted by Ahsan Khan.
Ahsan Khan's Noor-e-Ramazan transmission has been quite successful in the past as well.

Just like every other Ramazan transmission, Noor-e-Ramazan is also divided into two slots. The first slot (Sehri transmission) of the program will start from 2 am and continued till the Sehri timings whereas the second slot (Iftar Transmission) will begin at 3 pm and continued till the Iftar.
Meanwhile, the program has also opened the online registration forum for people who wish to participate in the live broadcast of the show. According to last year's registration, the participants were supposed to email or call on the respective contact details:
Email: ramzan@hum.tv
SMS or Call at: 0346-8280045
(Note: Please avoid all fake messages regarding registration of the program as the above-mentioned methods are the actual way to get registered on the program. The update of this year's registration method will be announced by HUM TV soon.)
According to the latest update, the online registration method will see the slightest change this year. Any confirmed news regarding the registration has not been finalized yet.
Meanwhile, the program includes a variety of segments including Baab-e-Quran, Sirat-e-Mustaqeem, Mehfil-e-Hamd o Naat. Farhan Ali, Siddique Ismail, and many others Naat khwan will also join the programme.
With so many popular Ramazan transmissions including the special transmission of Amir Liaquat and Junaid Jamshed, will Ahsan Khan's HUM TV Ramazan transmission win the race or not? Well, lets wait and see.
http://www.brandsynario.com/hamza-ali-abbasi-ayesha-khan-to-host-aaj-tvs-ramazan-transmission-2016/
Stay tuned to Brandsynario for more updates.