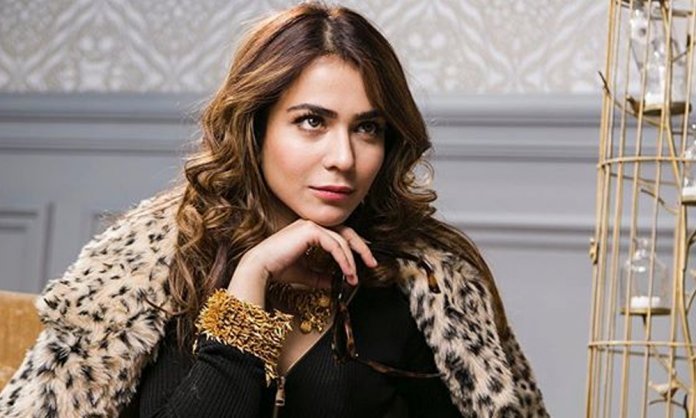 The bold and brazen superstar, Humaima Malick never fails to speak her mind. Over the years, she has remained a strong advocate of women empowerment and has actively fought against harassment and cyber-bullying.
Time and again, the starlet has herself been a victim of harassment and a recent incident that happened with Humaima in Lahore's Nishat Hotel seems to be no different.
Pakistani Singers Break Silence Over Atif Aslam's Independence Day Parade Controversy
Taking to Twitter, the beauty revealed how a stalker tracked her down and trespassed upon her privacy while she was staying in Lahore's leading five-star hotel.
Apparently, Humaima was mourning over the loss of a close family member while she was staying in Nishat. The intruder not only slipped his business card under her door but also badgered her with creepy Whatsapp messages.
Evidence of the harassment I had to endure at Nishat Hotel. Be aware if you lose a loved one and someone dies in your family while staying at Nishat – you cannot cry in your room otherwise people might drop business cards pic.twitter.com/tF5R0iynJW

— HUMAIMA MALICK (@HumaimaMalick) August 8, 2018
Posting screenshots of the conversation, Humaima exposed her harasser for sneaking up on her the minute she checked-in to the hotel.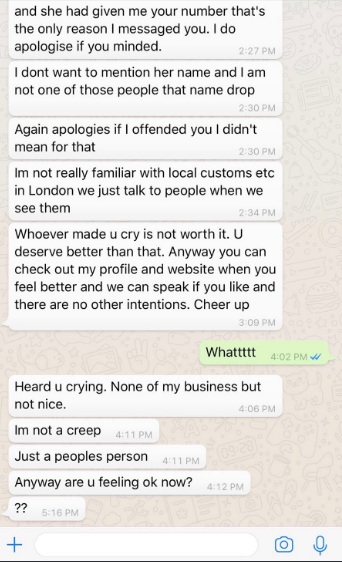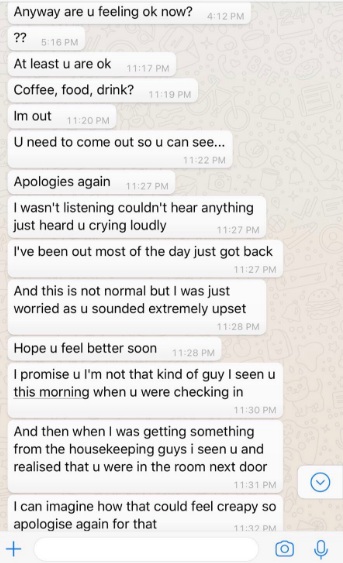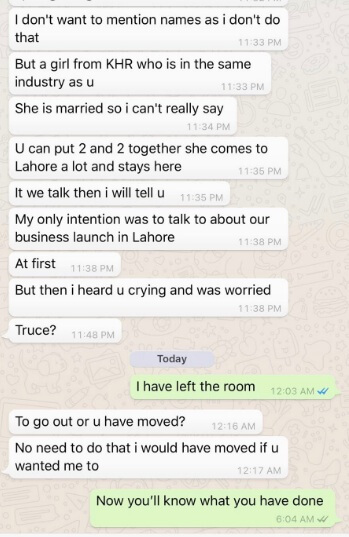 Obviously tormented with the whole episode, Humaima slammed Nishat Hotel for NOT taking the matter seriously.
I am sharing my experience because I think its high time when i should come forward and share my experience against harassment and how an educated class also chose to ignore it and take such important issues lightly @TheNishatHotel pic.twitter.com/OtRwJ5EQXD

— HUMAIMA MALICK (@HumaimaMalick) August 8, 2018
Naming and shaming the hotel management, the diva stated how her complaint was ignored by Mr. Taha and Mr. Ali Imran.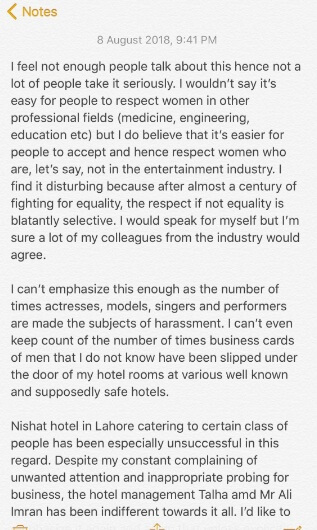 She also accused the management of sharing her personal information with another guest at the hotel.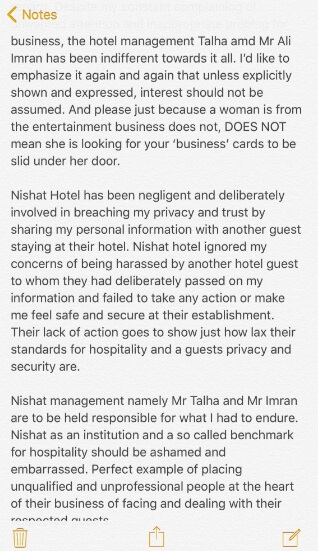 Humaima's protest is indeed a matter of grave concern. All leading five-star hotels have a high responsibility of safeguarding the privacy of their guest, ensuring that their stay goes smooth and comfortable.
Nishat Hotel is yet to respond on the matter.
Humaima Malick Getting Body-shamed for Her Recent Photo Shoot is Wrong on So Many Levels!
Stay tuned to Brandsynario for more updates.