Nike is such an incredibly popular shoe and fitness brand that there is an international day dedicated to the celebration of its iconic shoes. The day that is to be celebrated in just two days has brought something extraordinary in its anticipation. See the Nike ad that is going viral— for all the right reasons!

Read more: Mountain Dew Is Setting A New Benchmark Of Being Cool!
What's On 26th March?
On 26th March, all the sneakerheads get together to love and celebrate all their purchases and their favorite brands. Nike has prompted the world to create a day especially for it that commemorates the brand's productions. The Air Max Day is just two days away and obviously, it's a big deal.
Keeping this in mind, Nike has started making its mark in various ways. One of which is this brilliant ad displayed in Tokyo – Check it out!
新宿東口に巨大なエアマックスが登場 👀 🔴⚪️🔴
ナイキエアはシューズの域を超えた、進化し続けるアイディア💭
みんなにとって、ナイキエアとは?📢 コメント欄に教えて👇#AirMaxDay #エアマックス pic.twitter.com/vXTDkkfd52

— Nike Japan (@nikejapan) March 22, 2022
The Curved 3D Billboard
The 3D curved billboard at Tokyo's Shinjuku Station changed the way we see ads. It has earned the highest degree of innovation and is loved by entities in ad tech and media journalism. That is because it combined futuristic technology to create a space for an immersive experience for brands.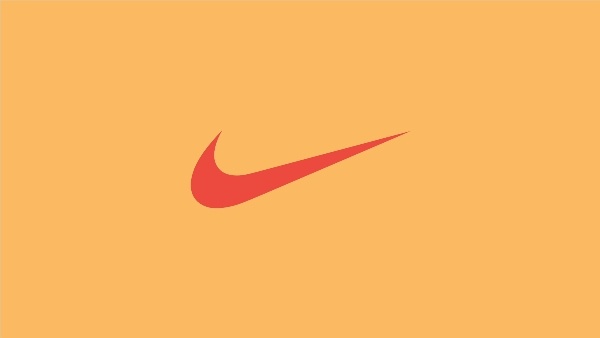 When you see this ad, you feel the excitement of bringing home a pair of Nikes. One can feel the rush of exhilaration when the Nikes keep changing and getting customized. Isn't that amazing? The company unveiled this 3D billboard in Tokyo to trace the shoe's evolution throughout the years. Out of the iconic orange Nike, the box pops an original Air Max, transforming into several versions. This also hints at what's to come later this week because Nike might be bringing something new!
More About The Campaign
People also can not help but appreciate Nike's Japanese brand manager, Shun Hosoi. He posted a video of the ad to LinkedIn the same day with the following post: "I'm thrilled to announce that we launched first-time-ever 3D OOH campaign to celebrate AirMax Day on 3.26. We are taking over the whole building of Cross Shinjuku from 3.21-3.27!!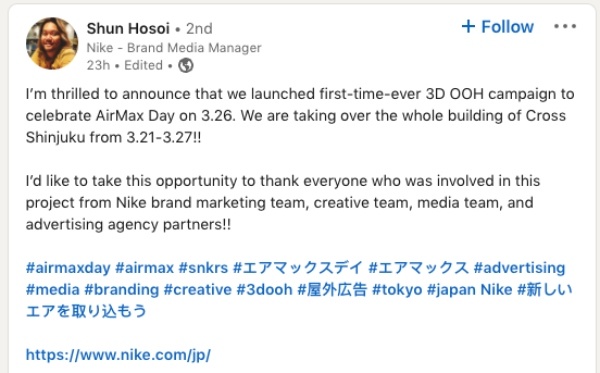 It takes a village to bring something like this to real life. He thanked everyone who was involved in the process. Departments like the Nike brand marketing team, creative team, media team, and advertising agency partners all must be appreciated for this mind-blowing ad.
Read more: This Ad Asks Men To Address Their Behavior In Hope Of…
Stay tuned to Brandsynario for the latest news and updates.