The Pakistani cricket team won many hearts in this T20 World Cup because of their stellar performance. However, we'll let you in on a little secret. They also won many hearts because of their looks! One of the players who has become a heartthrob is none other than Shadab Khan and now, netizens have found his female look alike!
Crushing on Shadab Khan
Shadab Khan is only 23 years old and he's already making Pakistan proud by serving its cricket team. In the semi-finals match alone, he took 4 wickets! How can people not crush on this guy then? He returned to cricket this season with a chiseled face and a beard that would tug at the heartstrings of any desi girl. Have a look at some of those crushing tweets and memes: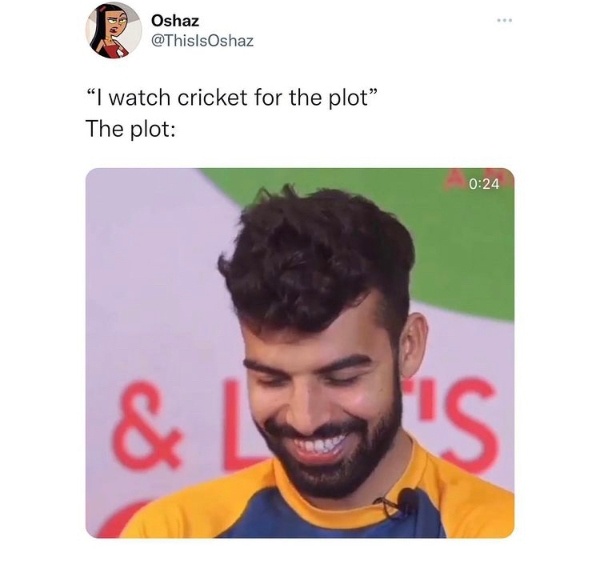 ever since i discovered shadab khan i don't consider myself single

— the weekday (@whoreforabel) November 14, 2021
NAHI MERA DEEMAG SIRAF SHADAB KHAN K KHAYAALO MAIN HAI🙈

— à (@amiixrrr) November 14, 2021
Shadab Khan lost the semi but won many fangirls.

— MH (@KitaabAurChai) November 15, 2021
Doppelganger Found
Since people are so obsessed with Khan nowadays, they have even found his female version. This woman's face was caught on the screen during one of the matches and she is the exact same face. How is that even possible? It's the same features but just longer hair and some make-up onto it; people are at once fascinated and creeped out. Have a look at the female version of Shadab Khan:
How do i unsee this???? 😭😭😭 pic.twitter.com/XXo5tcm0Kz

— iqra (@crackheadenerji) November 14, 2021
Shadab Khan female look alike: Who Is She?
Read more: First Hijabi Cricketer In Britain Breaking Stereotypes
Though her name has not been discovered yet, some are hypothesizing that they are siblings! A netizen added that she is the young cricketer's sister and it would make sense for her to be at the matches. However, others are not so sure and are letting their imagination run wild. People want them to get married and have children in order to produce their own selves back into the world. Others are cheering them on for their resemblance. Have a look at people's reactions here:
— Miss MessedUp (@Bumble_Bee_98) November 14, 2021
Suna ta har insan k 6 hamshakal hotay hain dunya ma . Wo opposite gender bi ho sakty ha ye ab pata chala.

— Zaryab Khan (@Zaryab09) November 15, 2021
If they marry, They can reproduce themselves

— RONA LISA🇵🇸🇵🇸 (@fakihawajihajav) November 14, 2021
That's his sister

— x (@50shadeswalaAli) November 14, 2021
The Pakistani Cricket Team
Our cricket team blew us all away this year with their performance. The defeat of the Indian team still makes us red with uncontainable happiness, the New Zealand defeat is also constantly on our minds. Hopefully, the victories the Pakistani team gathered this year will help them get greater funding and support from their own country.
We wish our players like Rizwan the best of health as they defeat all odds to serve their country on the field. Come at us T-20, 2022!
Read more: Pakistan Cricket Team Clutches T20 Victory With Historic Win
Stay tuned to Brandsynario for the latest news and updates.