Not every girl does hijab (cover head) in the Muslim community but those who do, at most times, feel discriminated against. They do not find many avenues to prosper in. Whenever a hijabi person breaks stereotypes, it is an 'achievement unlocked' moment. Belonging to Scotland, Abtaha Maqsood is Britain's first hijabi cricketer breaking stereotypes in the athletic category.
Birmingham Phoenix Hijabi Spinner
The cricketer aims to be the inspiration for other hijabi Muslim girls that she never had when she was growing up. To ensure that, the spinner in Birmingham Phoenix is going to give her level best at The Hundreds (sort of like PSL in Pakistan, The Hundred is a franchise of 100-ball cricket tournament that involves 16 teams (eight of men and eight, women) from major cities of England and Wales. Through her participation in The Hundreds, she will show people that cricket is a game for everyone, hijabi and non-hijabi alike.
Read more: British Pakistani Lady Becomes The 1st Hijabi Cop In North Yorkshire

Abtaha is 22 years old. She debuted in Under 17s at the age of 12, playing against Ireland. In 2018, she transitioned to senior team played against Uganda. At the moment, she is combining her dream of playing cricket with becoming a dentistry student at Glasgow University.
Representing Scotland
She has already represented Scotland 18 times in Twenty20 Internationals. Even then, she did not have the confidence to register for The Hundreds. But after getting an invitation to join Phoenix and simultaneously, having a change of heart, she decided to be the role model for many more aspiring hijabi cricketers.
Talking to an international publication, she said:
"I've never really felt like I belong on the big stage and now that I'm here at The Hundred I feel so much more at ease and I feel like I do belong. The team has been amazing, they've been really welcoming."
On representing a group of people, she said:
"I think representation matters so much. When I was growing up I never really had a role model to look up to who looked exactly like me; I really hope to be that person for a lot of people and I really hope that The Hundred shows me in that light and people are hopefully able to be inspired by that."
Read More: Australian Muslim Teenager Dreams To Be The 1st Hijabi Ballet Dancer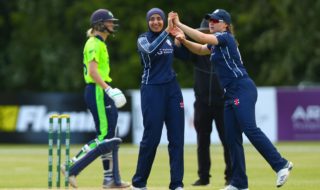 Her journey into cricket
For her, it started in the garden, playing cricket with her father and her two brothers. This was okay; the men were her family. But the reality of being a woman hit her in her first club training session. She says that she went in assuming that there will be at least two or three other girls. That was not the case, however. Her support system at the club training session was her brother. By the end, she had become comfortable and played how she usually did.
Along the journey, she did encounter boys who were not welcoming as such. In a few years though, it did not matter. What mattered was, that she was playing cricket. Now, that is empowering.
Stay tuned to Brandsynario for the latest news and updates!