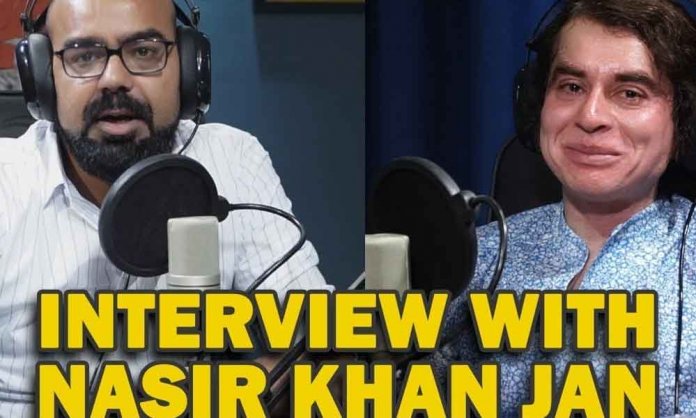 The social media sensation, Nasir Khanjan was recently invited to Samaa TV's Morning show 'Naya Din' and we all know the controversy it created!
The morning show's anchor, Muhammad Shuaeb made him uncomfortable by badgering him with demeaning questions and statements.
Social media was furious over the trending clip and even created a petition to fire the host.
Sham Idrees Exposes Zaid Ali, Shahveer Jafry & Ducky Bhai in Latest Video
However, Nasir remained cool and replied to the accusations without losing his calm.
An Apology Much Needed
The social media backlash prompted the anchor to issue an apology. Taking to live television, he expressed regret for his insulting behavior.
"It hurt the sentiments of Nasir Khan Jan, his fans, and our viewers. And I am deeply apologetic to all of you because what I did was extremely wrong."
Nasir Khanjan's Interview with Junaid Akram Now in the Spotlight
The entire hullaballoo on social media raised the question of responsible journalism and condemned the bullying of social media stars on live television.
Just a few days ago, popular local comedian Junaid Akram had invited Khanjan for a podcast. His heart-to-heart with the YouTuber has sought social media spotlight, post his unfortunate tryst with Samaa's anchor.
The podcast showcased the unseen side of Nasir Khanjan and revealed details about his rise to fame.
What's more, the interview was conducted with grace and with no intention to make the guest uncomfortable.
Nasir Khanjan Responds to Samaa TV Anchor's Rude Behavior During Morning Show
Twitterverse was quick to draw a parallel between Samaa's interview and that of Junaid Akram's
Yesterday i watched the podcast of Junaid Akram with Nasir Khan Jan and believe me or not it changed my whole perception related to him.
Yes he makes videos just to entertain us and never tried to spread hate like Sham idrees and other YouTubers.
Shame on Shuaeb. #NasirKhanJan

— Sidra Ansari. (@sidraansari890) May 7, 2019
Junaid akram ne b nasir khan jan ka interview lia use utni hi izat di jitni kisi b indan ka haq hai…..

— DilNawaz (@DilNawaz78) May 7, 2019
And without a doubt, it was a dialogue done respectfully.
Mainstream media has lost it. These buffoons think they can get away with anything for ratings.

In contrast, Junaid Akram did a wonderful interview with him.https://t.co/bbG71u76rB

— Buffetkhor (@BilkulSahiKaha) May 7, 2019
Learn from Junaid Akram, how to conduct a decent interview.https://t.co/EruUUtPIs3

— Rashid Jaffar (@RashidJaffar) May 7, 2019
Mr Junaid akram also did podcast recently with Nasir Khan Jan I saw this he was conducting this very professional and asking the questions in a very respectful manner get didn't insult Nasir Khan jan at once perhaps that anchor should learn from him how to conduct an interview.

— Usman Ajmal (@usmanajmal296) May 7, 2019
This is not the first time that personalities have been targeted by hosts on the show.
In 2016, Aamir Liaquat came under fire after he humiliated the 'Eye to Eye' singer, Taher Shah on his Ramadan show.
A year later, Aamir also faced backlash for inviting Meera and mocking her live on television.
What are your views on the story? Let us know in the comments below.
Stay tuned to Brandsynario for more updates.