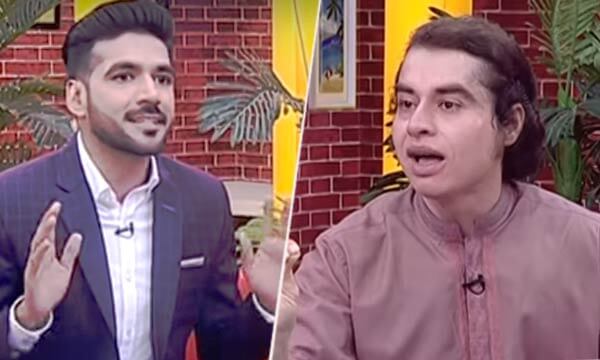 The social media sensation, Nasir Khanjan was recently invited to Samaa TV's Morning show 'Naya Din'.
Apparently, things went south after the morning show's anchor made him uncomfortable by badgering him with demeaning questions and statements.
It is no secret that Nasir Khanjan remains controversial for videos which are often deemed "against the cultural norms of the society'.
Consequently, he was invited to attend Naya Din for an interview and the host, Muhammad Shuaeb questioned Khanjan for a contentious video that went viral on the internet.
Calling it 'vulgar', the anchor seemingly adopted a bullying tone to school Nasir for posting it on social media.
Watch the clip going viral for yourself here.
https://www.youtube.com/watch?v=vr7vBVAFA_g
However, Nasir remained cool and replied to the accusations without losing his calm.
Nasir Khanjan Breaks Silence
Thanking his fans for the support, Nasir stated that he felt insulted and had no clue about the questions beforehand.
He added that it is important for channels to treat their guest respectfully and promote them in a positive manner.
Here's What Samaa TV Anchor Has to Say
Meanwhile, the host Shuaeb released a statement on Twitter claiming that silence is his best response and schooled haters for watching the complete show.
I respect criticism and silence is my best response. Watch complete show, Live session afterwards and then follow haters. Simple 🙂

— Muhammad Shoaib (@mshoaib336) May 7, 2019
Social media is furious over the trending clip!
Here's how Twitter is reacting over the entire fiasco.
First time ever i liked Nasir Khan Jan for keeping his cool and tried to control the situation with argument. Right or Wrong i'm no one to judge. What stupid hosting was that ? Insane. These folks can stoop down to the core of besharmi just to get ratings. Disgusting !

— Ziddi Khattak (@ZiDDi609) May 7, 2019
A protest has started against the male host, Shuaeb.
Seriously! On the first ramazan Twitter trends in Pakistan include #Nasir_Khan_Jan.@SAMAATV this kinda content is just a shit,Which we already have been served by stupid anchors like #lodhi and #liaqat many times… so,Please grow up….@nadeemmalik You should protest against

— Idrees Tareen (@EDREES_TAREEN) May 7, 2019
And fans want him to apologize to Khanjan.
This Samaa morning show anchor is the most unethical rude and disrespectful guy I've seen on tv please tag him and he should immediately apologise to Nasir khan Jan 🖐 pic.twitter.com/r1VXlR2z1Q

— Leena Raza (@Leenzu) May 6, 2019
@SAMAATV should apologize to Nasir Khan Jan on treating him that way.
Is that for what you invited Nasir Khan Jan?? Is that's the way you should treat your guests??
Invite some educated YouTubers and they will give you answers to your disrespectful questions..😑 pic.twitter.com/TBwUZvhVyx

— Waqar Gohar (@WiKiGohar) May 6, 2019
Nasir Khan Jan – 1
Samaa News Host – 0
What a shameful act by @mshoaib336
This is the ethics you're promoting? This is the way you're "educating" kids of this nation?
Oh, "It's Dhandaa" – okay! https://t.co/zUDTXOPSyx

— Assad (@Assad_says) May 7, 2019
Kudos to Nasir Khan Jan for handling it well, and giving him a shutup call! https://t.co/IAFhyc1aon

— Aisha Randhawa (@HariMirchein) May 7, 2019
Other Pakistani journalists and media personalities were also spotted criticizing the anchor.
Who decides what is wrong and what is vulgar? Certainly not ill-mannered news anchors with an urgency to prove themselves right. This is no different than Aamir Liauqat calling Taher Shah on his show and embarrassing the life out of him. Is hammam mae sab nangay hain https://t.co/7FUTc9rIUD

— Rafay Mahmood (@Rafay_Mahmood) May 7, 2019
This is pretty shameful – I know morning shows are not doing well on most channels, but this one on Samaa takes the cake – invites a guest only to insult him – copying this from Arnab Goswami I presume who has perfected it to an art – credit to Nasir Khan Jan who kept his cool pic.twitter.com/p90ecYwcor

— omar r quraishi (@omar_quraishi) May 7, 2019
Why is this Samaa host bullying this person? They invite a guest to their show to insult them? If he thinks Nasir Khan Jan's posts are not entertainment, what makes him believe his dumb show is entertaining enough. Such anchors also bullied Taher Shah… https://t.co/0oejxyajDn

— Bilal Farooqi (@bilalfqi) May 7, 2019
This is not the first time that personalities have been targeted by hosts on the show.
In 2016, Aamir Liaquat came under fire after he humiliated the 'Eye to Eye' singer, Taher Shah on his Ramadan show.
A year later, Aamir also faced backlash for inviting Meera and mocking her live on television.
What are your views on the story? Let us know in the comments below.
Stay tuned to Brandsynario for more updates.